'The X Factor': Simon Cowell In British Beast Mode, Is The Third Year A Charm?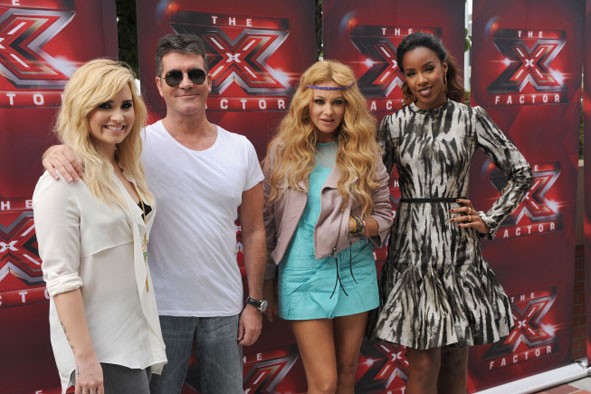 Year three of the 'The X Factor' and we start it off just the same as we have in each of its first two iterations: Like a brand new show.

This year, we get two new judges (Paulina Rubio and Kelly Rowland) and, for the first time, all four on the panel finally seem to be sentient human beings capable of expressing thoughts out loud. No more Britney reiterating what she (allegedly) hears through an IFB (interruptible foldback earpiece), no more Nicole Scherzinger espousing praise on anybody capable of producing a sound. Now we may finally get another couple Demis and Simons up there for a complete quartet.

Yes, Paulina is a bit in the nutty realm with the purple hat to match, but she seems more like Nicki Minaj than she does Paula Abdul. In other words, the right amount of crazy to add some fun to the judges' table while also providing some insight. Something we need from all four judges.

Simon must be feeling the heat too as he was as searing as he'd been since he started on his old program. It was like 'Idol' auditions of yore as he delivered creative insults like some sort of pompous warrior poet. He's as funny, grumpy and brilliant as he's ever been. Exactly what this show needs to finally push it near the heights he claimed it would reach during his bombastic press conferences of 2011. It might not ever get there, but it will certainly be a more enjoyable attempt with Simon in British Beast Mode.

The format has also changed this season, and it's looking like an improvement so far. No more following the judges around backstage as they play pranks on PA's and step out of expensive cars. Now we're focused on the contestants, and the singing - Y'know, the thing that people want to see when they watch these shows. The polished documentary feel remains, but the improved focus promises to make these audition shows a lot more fun to watch than last year's exploration into what Britney is getting from craft services that morning.

And hey! It's Mario Lopez! Not sure that we need a host for the auditions, but hey! He's...there.

Normally, these show reviews don't include any mention of the contestants, but since this is "The Year of the Contestant", let's pick one at random. How about Lillie McCloud? You know her. The 54-year-old who looks like she's 28. The lady with the giant afro that's dwarfed by her titanic voice? The artist who may have just given the best audition in the history of these singing contest shows? That girl.
It's no hyperbole. She was otherworldly with her scintillating rendition of Alabaster Box. Nobody'd ever heard the song, but even if they had, it was all Lillie's after the first measure. An absolute stunner. So what if she had a few albums in the eighties, nobody has ever heard of "Nicole McCloud" so let her have a second act. Everyone deserves one.

Hell, this show is already going for a third.

What did everybody else think of the new judges and format?

Make sure to check back tomorrow for a traditional recap of 'The X Factor' Night 2.