'The X Factor' Semifinals: The Final Four Underwhelm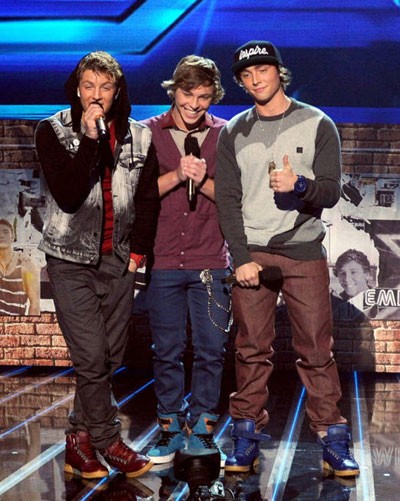 Emblem3's First Performance: "Baby, I Love Your Way" by Peter Frampton
LA Reid Said: I just saw you have your big $5 million moment.
Britney Said: That performance felt really special. You're way more than a boy band.
Demi Said: That's what makes me love Emblem3.
Simon Said: If this doesn't get you into the final, nothing will.
The Verdict:
Yes, this was just the Big Mountain version of this song from 'Reality Bites' (jeez, I could write for Buzzfeed with 90s references like that), but it really worked for our favorite mimbos.
This is definitely the type of record I could see them having success with: The reggae-tinged pop. Kind of like a less threatening 311. If that's even possible.
This was the first time that I wasn't' like, "Hey, Simon's got those kids running around again". This is where I saw them starting to turn into a legitimate singing group and developing a real sound.
A perfect time to become real stars.
Grade: A-
Emblem3's Second Performance: "Hey Jude" by The Beatles
LA Reid Said: You actually are teen heartthrobs like The Beatles.
Britney Said: That was an "A" level performance.
Demi Said: I don't think you can compare it to The Beatles, yet, but they're getting there. (That might be the most ridiculous thing any judge has ever said on any reality show ever)
Simon Said: You have nailed it on both songs.
The Verdict:
This was like a barbershop quartet from Huntington Beach singing The Beatles for quarters on the Venice boardwalk. That's really the only way I can describe it.
Except for the end when it turned into a bunch of Z-Boys singing the outro at a skate park in 1999.
Neither one was what I'd call "enjoyable".
Grade: D
Fifth Harmony's First Performance: "Anything Can Happen" by Ellie Goulding
LA Reid Said: The very best performance you've ever done.
Britney Said: I loved everything about it. It was like magic.
Demi Said: It felt really great.
Simon Said: Anything now can happen.
The Verdict:
If you didn't see this performance, it's really worth describing.
The five girls sat at a pink table with Marie Antoinette's cake orgy around them and dressed like children at an "Alice in Wonderland"-themed birthday party. Once the beat kicked in, a group of waiters dressed like butterflies brought them various desserts which they accepted and rejected, I guess based on how they were feeling.
I mean. Did they even need to sing after that? Shouldn't that win it for them right there?
Of course, they did sing and this was one of their better performance. A hybrid of the old stuff with the singing in turn and the new stuff with some real harmonies in spots. Some really cool harmonies to be exact.
The song was arranged really well for them too and they filled it out again to make it seem like it was better performed by a group than the girl I saw getting a pie in Los Feliz last night.
Okay, that story wasn't true, but my friend did have us going with it for a good ten minutes before coming clean.
Wait? What was I talking about again? Oh yeah. Fifth Harmony. Solid Stuff.
Grade: B
Prediction: The judges slammed him, and, even though he took it well, that seemed like his final shot.
Fifth Harmony's Second Performance "Impossible" by Shontelle
LA Reid Said: Your first performance was finals-worthy. That one wasn't.
Britney Said: It was pretty good, but I'd be really surprised if you guys were here next week.
Demi Said: I think you did great, but is America going to vote or not?
Simon Said: It was a reminder of why I fell in love with you as a group in the first place.
The Verdict:
Pretty and boring. Kind of like the group.
Grade: C
Final Thoughts:
I wanted to do it. I wanted to say that Carly Rose's mediocre performances in the middle of the show might see her getting voted off, but it's not going to happen.
Fifth Harmony is dunzo. Though Ms. Carly could see herself facing off with them in the sing off. Which she will win.