'The X Factor' Semifinals: The Final Four Underwhelm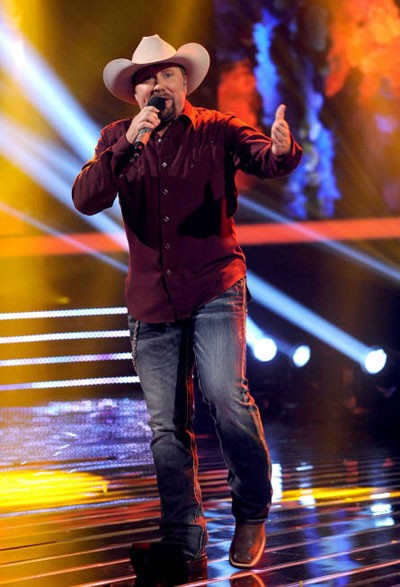 As we've reached the final four, it's time to come to a harsh reality: The talent this season is about as bad as we've ever seen on a singing show.
Look at what we've come down to. A middle-of-the-road country singer, a teeny-bopper girl, a group of three male airheads, and a thrown together girl group who only recently discovered harmony.
That's it? That's what we're supposed to be choosing between? I think the reason 'The Voice' took off is because everybody on it is really good. Granted, that's because everybody on that show is a legitimate recording artist already, just you haven't heard of them, but that's beside the point.
Right now, we want real talent and 'The X Factor' really failed to deliver that this year. Well, unless you count the ability of its hosts to walk awkwardly across the stage in every intro a talent. In which case, this is the greatest showcase of them all.
Let's see which of these frightening four prevailed last night.
Tate Stevens' First Performance: "Bonfire" by Craig Morgan
LA Reid Said: That was the most fun I've had since doing this show.
Britney Said: At this point, I think it has to be your best and I don't think that was your best.
Demi Said: That was a freaking amazing performance.
Simon Said: This is you being who you are. You're going to have a brilliant career.
The Verdict:
I just want to say something about this song. I hate this crap. These stupid country songs about how great it is to sit around and have fun with your friends. Of course it is! Everybody knows this! You don't need to sing 17,000 songs about it. If rappers singing about their high-flying lifestyles is annoying, then singing about the simple life with the same aplomb is certainly at least irritating.
Of course, I had to go off on that tangent because I've nothing new to say about Mr. Stevens. He's just a country star. That's exactly what he is. He's ready. He's gone from this show. He doesn't need it. He's so good it's boring at this point.
Grade: B+
Tate Stevens' Second Performance: "Fall" by Clay Walker
LA Reid Said: You were great again.
Britney Said: I feel like that was a direct hit.
Demi Said: You are such a good guy and you're so talented.
Simon Said: That was a great song. There's about as much a chance of you going back to your old job as there is me flying to the moon tomorrow.
The Verdict:
This is a great contrast performance for Tate. After he showed he can do upbeat and fun country, he comes and just kills a country ballad. And that's really all there is to country music, right? Just those two moves.
So from what I can tell. Tate can do it all. And do it all very well.
Grade: A-
Carly Rose's First Performance "Your Song" by Elton John
LA Reid Said: You picked a very risky song, but you did things with it that I've never heard done before.
Britney Said: I'm so proud to be your mentor.
Demi Said: It's still very predictable, but this was still my favorite song you ever performed.
Simon Said: I thought that was a beautiful version of a fantastic song, but I think you can do better.
The Verdict:
This is kiddie karaoke through and through.
This is a prime example of why children should not be in this competition. Carly just seems completely out of place singing an adult love song. She doesn't have the capability to own it and put her heart into it. So it just comes down to singing it. Like a solo in a show choir.
Yes, her voice is good. Crazily smoky considering her age. But that heart is completely absent from the performance and makes it feel flat and empty.
When you're singing a love song like this, you need more than just a good voice.
Grade: C+
Carly Rose's Second Performance: "Imagine" by John Lennon
LA Reid Said: You always know how to bring the house down.
Britney Said: I feel like it is time for you to go beyond this stage.
Demi Said: The only predictable thing about that performance is that it was going to be amazing.
Simon Said: I would have kept you at the piano. It was like five things went on during that song. It made a beautiful song fussy. I'm not sure that song needs those big notes. It was overcomplicated.
The Verdict:
Again. This just feels like kiddie karaoke. It feels like a kid with a good voice singing a song she doesn't understand and she doesn't have the experience to interpret properly. I mean, she made this into a torch song from a musical. That's not what this song is. She may as well have been singing gibberish set to the same tune, she was that out of touch with what she was actually signing.
Yes, she's got a great voice, but I want more than that. And she doesn't have anything beyond that.
Grade: C-