"The X Factor": Season 2 Premiere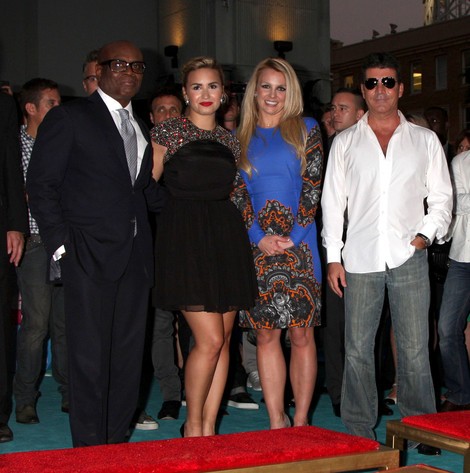 While "X Factor" fans await the debut album release of season one winner Melanie Amaro; season two premiere's with a two hour episode that featured only a few auditions, singer's video clips, and several mash ups of judge's negative comments as Britney Spears and Demi Lovato join the judging panel.
It was eleven minutes before the first auditon was heard from Austin, Texas.  Twenty one year old Paige Thomas, a nursing student and mother, gave a performance that LA said reminded him of Rihanna.  Simon said Paige looked and sounded like a pop star; adding that it was one of his favourite auditions because Paige took her job of mother seriously.  Simon said that he had good feeling about Paige.  Paige received four yeses from the judges.
Airline worker Shawn Armenta wasn't as lucky.  After making an attempt at his original song Simon said I was just wrong.  Shawn left with a bad attitude.
Thirteen year old Reed could pass for Justin Bieber's twin brother.  Reed had to sing two songs for the judges before the judges passed judgement.  Saying that he may be a future pop star Simon and his fellow judges gave Reed four yeses.
Simon felt that Kaci Newton sounded like she was dying when she sang.
On to San Francisco..and more quick bad video auditions; but one odd audition caught Simon's attention as he performed "Born this Way" dressed in a white wedding outfit complete with veil.  Only LA said no.
Former boy band member Vincent Thomas took on Sir Elton's "Sorry Seems to be the Hardest Word" but failed to impress the judges.  Simon called Vincent the boy band member who doesn't sing.
But the three teen aged boys who called themselves Emblem3 not only impressed the judges but did so with an original song.  Demi said that she can't wait to hear the boys on the radio and Simon loved everything about them.  The boys got four yeses for their performance.
New York vocal coach Don Phillip felt it was his time to shine.  When he walked out on stage, Brittney recognized him as a former recording partner.  Despite his past recording experience Simon told Don that he did not have a good singing voice.  Don got four nos.
Next stop Providence, Rhode Island…
Janelle had the croud going and LA said that he was feeling her.  Simon said she was, "on the money".  Janelle earned herself four yeses for her audition.
The final audition of the night was from Jillian who told a story of being bullied.  She broke down on stage during her audition.  After the performance Demi went to the stage to hug and chat with Jillian.  LA said that he had never heard anyone pour their emotions into her singing.  Jillian got herself four yeses for her performance.