'The X Factor' Review: The Good, The Bad, The Simon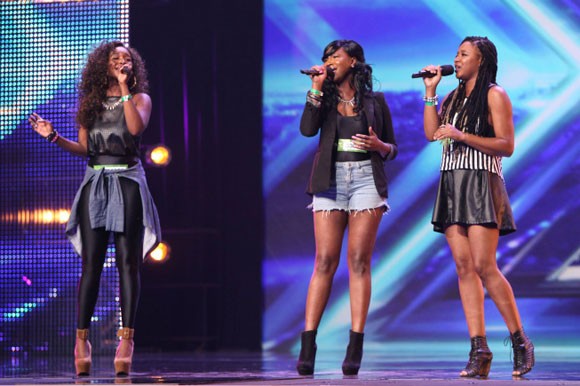 This could be the beginning of the end.
'The X Factor' has ever been the rating juggernaut that its creator's former series was, but it still normally led Fox to a ratings win every Wednesday. Even if just barely.
Now it seems like a disaster.
Last night, the Fox singing competition series delivered a mere 2.1 rating for its season premiere. That up against essentially no competition whatsoever. Unless you count Simon's former showmate Ryan Seacrest's 'Million Second Quiz' as competitor. Which nobody does.
Going for the show is that it's cheap to produce, has endless promotional tie-ins and Fox seems to keep these shows on despite horrible ratings (see: "So You Think You Can Dance"), so don't count it out yet.
However, something tells me this is it for 'The X Factor'. Fox will have a hard time justifying filling 20% of its schedule with a sub-2.0 rating as it heads into next year's upfronts and with such a glut of these shows in the air these days Fox may want to finally stop cannibalizing its flagship franchise and keep 'American Idol' as a solo artist next year.
But don't despair X-Fanatics (see what I did there?) we still have a full season ahead of us. And judging from last night, it seems the show may finally have found a way to balance how desperately it's trying to be different from other singing competition shows with the things that have worked well on the shows it can't pretend not to be emulating.
Let's just hope it gets a chance to continue to get better in subsequent seasons, but enough talk about ratings - last time we discuss it this season - from here on in, it's all about the fun of the good, the bad and the Simon that is 'X Factor'...
The Three Best Auditions:
Jeff Brinkman
This is the guy who looked like a cross between Michael Rooker and Judge Reinhold and sounded like a cross between Joe Cocker and Michael Bolton with a voice that instantly makes an 'X Factor' recapper look up from his laptop and wonder what the Hell is going on.
Appropriate that he sang 'You Are So Beautiful', a song made most famous by Cocker, the guy shows voice Brinkman definitely emulated, but not in a way that was a copycat. More like a purer accessible version of that great British singer. Good enough to even make a cold British judge dispense the kudos.
Jorge Pena
This was in the incredibly confident Ice Cream Man who came in dressed like a cross between Don Johnson and Terrell Owens and was more smug than the two combined. He referred to Demi Lovato as "Woman", asked the crowd how much they liked him and had facial hair that he clearly shaves and grooms every single day.
He also sounded like a young Jon Secada and seemed totally comfortable onstage, probably because he's such a d-bag, but it serves him well in his performance and affords him the ability to wear white pants in public. I kinda like this guy.
Roxy Montana
Hey! It' a group! The only group of the night that really got much stage time. Yes, they still have groups on this show.
The Roxy sisters didn't do a whole lot with their first song. Some decent solo work, but not much coming together as a group. Then, they get a second chance to sing a capella and suddenly sound like a trio of soul divas that are about to cut their fourteenth record. A shocking turn - just take away the music and Roxy Montana becomes En Vogue. We'll see how they do with backing tracks going forward, but Simon said they had the most potential of any group he's ever seen on this show.
Kind of a backhandend compliment seeing as they never show groups on this show, but still.
The Three Worst Auditions:
Yosselin Marquez
You know her. She's the girl who sounded like a Paulina Rubio impersonator and had absolutely no idea who Simon Cowell was. You know, the guy that you're most trying to impress and was on the most popular show of the last decade. Yeah. She didn't know him.
She also didn't know the words to "Only Girl in the World". You know that song. By Rihanna. Went to number one on the billboard charts? Well, Yosselin didn't seem to. At least not enough to prevent her from using a cell phone karaoke app and headphones to feed her the lyrics and give a performance that looked like a grandmother trying to work her phone's GPS Feature. At least she thought all the judges were wrong.
Jocelyn Hinton
This was the girl who thought she was the next Whitney but lacked the ability to sing. Or self-edit or not be annoying. After insisting that she was a true diva, she proceeded to forget the words to 'Firework' (a feat considering the song only has about fifteen of them) and stumble around the stage like somebody trying to pick up their laundry with the lights out.
Then, she really went over the top. After a hard "no" from the judges and the crowd, Jocelyn did the ultimate bad audition move - she kept singing! Singing and singing. She went through about five songs and strangely kept getting worse and worse until Simon finally had to coax her offstage and back into reality.
Well, as close to reality as she gets.
Russ Pouillot
This was the guy with the long hair who clearly had taken a lot of professional voice lessons because he sounded just like somebody who couldn't sing but had been taught how to sing.
His audition wasn't too too bad, but it's worth mentioning because it finally gave us the moment we've always wanted to see since he started making kids cry a dozen years ago: Simon sang! Well...kinda, his singing was really just a mockery of Russ's gargling Dalmatian vocal style, but this is the closest yet we've gotten to see the harshest singing critic in the world actually put his notes where his mouth is.
After 'The X Factor' gets cancelled and Simon washes out of the bottom of the television industry, how much is somebody going to pay him just to sing a song? $1 Million? $5 Million? It's the great mystery of television. Certainly enough for a Geraldo special...can this guy sing? We may find out sooner rather than later, but for now, let's just enjoy his venom:
Best of Simon:
"You don't have The X Factor and Denver hates you."
"Have you ever gotten a shirt back from the laundry and it has too much starch in it and it feels of wood? That's you."
"It would be like trying to chop down a tree with a banana." - Responding to Kelly's request for a contestant to show more edge.
"It sounded like two three-year-olds who've got the flu trying to sing."
"I think the best part was when you forgot the words."
"You're like an elephant trying to skydive with a tiny parachute indoors." (Demi, doing her best Simon impression)