'The X Factor' Recap: Two Shocking Eliminations + Power Rankings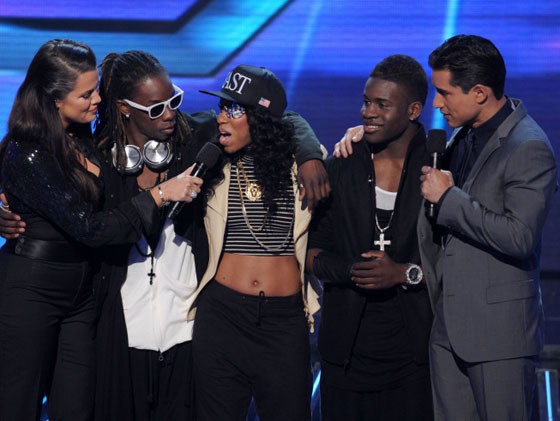 When you're wrong. You're really wrong.
There wasn't much I got right in my predictions in yesterday's column. Right down to the number of acts that would be sent home. That would have probably been easy enough to look up, but sometimes Diva Night just numbs your mind to the point that you can't check.
Yes, I had three chances to get one of three people in the bottom three (I cheated a bit) and missed them all. No Leopard Face, no Beatrice Miller, no Arin Ray – though the latter two were fourth and fifth-to-last, respectively.
Instead, we got a pretty surprising cornucopia of acts in the bottom three. First, was Lyric 145 – the quirky hip hop group that I thought was really refreshing and standing out from this sing-song pack simply by being like nothing else on the show. I thought that would carry them a nice voting bloc and at least get them into the top 6 or 7.
Instead, they didn't even get a chance to sing for their lives, finishing dead last and on their way out. Too bad. I would have liked to see what children's song they turned into a hip hop fantasia next.
The other two acts at the bottom were an even bigger surprise. Demi's girl power duo of Paige Thomas and Jennel Garcia were left to sing for their lives as Leopard Face remained the surprising one safe member of Demi's stable.
Based on performance so far, Jennel seemed like the favorite to stick around, but Paige absolutely crushed her with a Coldplay rendition that made me think it was a Whitney song. Of course, Jennel chose to sing Hoobastank, so maybe she torpedoed herself.
That leaves just the top 10. Let's rank them, shall we?
Power Rankings
1 (1) – Emblem3
This is probably just stubbornness on my part, as they've yet to crack the their namesake on the vote totals, but I just can't come off my pre-season prediction of a group, and these guys, winning it all.
2 (3) – Tate Stevens
Two consecutive weeks with the most votes, shows this country boy has locked down his voting bloc and they're going to keep him around for the long haul. The question is whether he's got a plurality right now that can grow into a majority or will just diminish as votes get spread thinner.
3 (6) – Carly Rose
I hate putting a little kid this high (since they're the most likely to deliver a lame performance and get eliminated early as a result) but she nearly topped the vote totals this week and may be America's sweetheart. Or she's using her special powers to control us all. Either way.
4 (8) – Vino Alan
It's hard to ignore those consecutive third-place finishes. It's also hard to ignore those tattoos covering his head. I don't know which way to go with Vino.
5 (2) – Arin Ray
First a lead-off spot and then getting hammered by the judges has left Arin as the lowest vote getter not to be up for elimination each night. I still think he has the ability to break out and make a late run, but that remains to be seen at this point.
6 (9) – Diamond White
The spunky little soul diva keeps hanging around, but near the bottom of the vote totals each time. She's the most likely person left to deliver a clunker and get the ax that same week.
7 (7) – Paige Thomas
Her performance may have gotten lost, resulting in her bottom three finish, but I thought it was her best so far. That doesn't bode well for her long term chances when her best doesn't crack the top nine.
8 (10) – Leopard Face
I think Leopard Face got herself some sympathy in the pimp spot this week, accounting for her rise up to the fifth spot in the vote totals. She really needs to dig herself out of her vocal rut, though, to make a run in this competition.
9 (11) – Fifth Harmony
Groups haven't fared very well on this show in the past and Emblem3 is clearly the best of the bunch. I don't think Fifth Harmony has a chance of winning.
10 (12) – Beatrice Miller
She keeps sticking around, but an eighth-place finish in the vote totals shows that's not set to last much longer. Especially when Carly Rose is the better of the pipsqueaks.