'The X Factor' Recap: The Viewers Outdo the Judges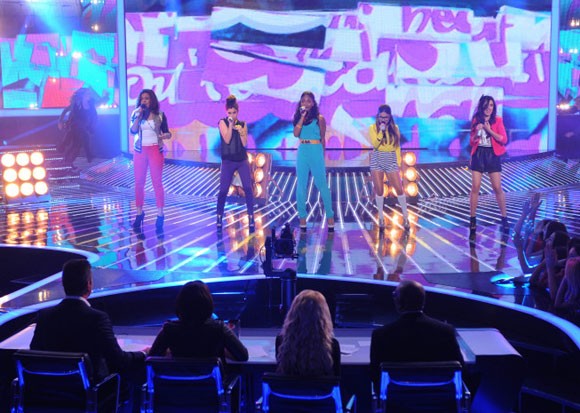 Fifth Harmony Sang "Set Fire to the Rain" by Adele
LA Reid Said: I still didn't see any harmony. They should have called you Fifth Unison.
Britney Said: I don't know separates you from the other girl groups.
Demi Said: The group thing hasn't clicked for me.
Simon Said: These are the nicest and most humble group of people I ever worked with. (That reminds me of when John Fox called Tim Tebow "A Nice Young Man")
The Verdict:
I just can't take these girls anymore.
Every week it's the same performance as the last. Just girls taking turns singing without any harmony or group dynamic at all. They're almost like a group of girls sitting around at a café trying out-sing each other, rather than actually sing together.
This performance was dreary and boring. They did nothing to the song other than suck the soul and life out of it with a dull trudge of a performance that was just begging for a curtain to fall over it so we could end the misery.
Thankfully, it was only a couple minutes.
Grade: D
Prediction: The judges slammed him, and, even though he took it well, that seemed like his final shot.
Fifth Harmony Sang "Give Your Heart a Break" by Demi Lovato
LA Reid Said: I actually heard harmony and it was really good.
Britney Said: A friend of mine does this song very well, and so should you guys.
Demi Said: This song should have been your song.
Simon Said: We've shown you're a legitimate girl group.
The Verdict:
I was about to simply write: "See Above" as this started as just another Fifth Harmony performance and then something crazy happened: Harmony!
Real dynamic harmony. No more unison. No more taking turns. Backing vocals came to life on the solos. Vocals meshed seamlessly and the girls actually sounded good together. Like a group!
Plus the performance was fun. It was interesting. The song choice really worked for them and they transformed into a group rather than a collection of singers through the tune.
This was easily their best performance ever on the show, and I kind of dug it.
Grade: B+
Prediction: They may have saved their collective skins with that second performance, but it's going to be close.
Diamond White Sang "It's a Man's Man's Man's World" by James Brown
LA Reid Said: You brought showbiz and attitude.
Britney Said: You not only nailed it, you destroyed it.
Demi Said: You pulled it off.
Simon Said: It was a little bit screechy in parts, but you made up for it in the end.
The Verdict:
I want to say this is just good karaoke, because she didn't really do anything different with the song, but she brought so much verve and attitude to it that I think it went beyond just a rendition of the song.
Another crazy performance from a little thirteen-year-old. She sang that with the attitude of star. Even if her voice wasn't quite on that level, the rest of her performance made it seem like it was.
This wasn't a killer performance like Carly's, but it at least wounded us a bit.
Grade: B
Diamond White Sang "Diamonds" Rihanna
LA Reid Said: I didn't love your rendition of it.
Britney Said: I feel like the song was made for you.
Demi Said: I feel like you definitely did it justice.
Simon Said: It's just your luck that you're in a very competitive top six. Overall you've had a good night.
The Verdict:
Ugh. She tried to sound like Rihanna the entire time, down to putting on a bit of a Barbadian accent at times.
On top of that, she seemed so timid and confused on stage. Not so much of a performance as it was a meandering walk to different points on the stage where she could belt and sing like as much like Rihanna as she could.
Her voice did sound great at parts and she hit some stunning big notes, I just don't know why she couldn't go beyond just trying to do an impersonation.
Grade: C
Prediction: She's vulnerable with a couple of performances that could get lost, but I think she hangs on.
Tate Stevens Sang "Livin' on a Prayer" by Bon Jovi
LA Reid Said: I stand behind you.
Britney Said: You're getting away from the country which is what you do best.
Demi Said: This performance is a little boring and you skipped out on the high note.
Simon Said: You doing that song on unplugged week is like taking a goldfish for a walk: You can't.
The Verdict:
More Bon Jovi from Tate. This one far more boring than the last.
There's just nothing to really find interesting in this performance. The vocal is fine but there's nothing spectacular about it. The setting is just maudlin and Tate is hamstrung into being a less enthusiastic Trace Adkins.
This is opposite to the fun country guy that Tate is, that rose to the top of the rankings. This is like something Vino Alan would sing after too many Quaaludes and a particularly bad self-flagellating session.
I don't know what either Tate or LA was thinking here, but it didn't work at all.
Grade: D-
Tate Stevens Sang "If Tomorrow Never Comes" by Garth Brooks
LA Reid Said: Thanks to America you are back.
Britney Said: That felt like a Tate Stevens performance. That was brilliant.
Demi Said: I got a little sleepy on that performance, but you have a huge future.
Simon Said: Welcome back, Tate Stevens.
The Verdict:
Tate should count himself lucky that he got to sing twice this week. The first performance seemed poised to Vino him out of the competition, but he rebounded with the solid professional Tate Stevens performance that we've seen so many times on this show.
You know, the ones that are so good that reviewing them is becoming worthless.
Grade: B+
Prediction: Salvation in the Pimp Spot for Tate with a signature Stevens performance.
Final Thoughts:
It's kind of funny how much better the song choices were from schlubs like me watching at home than the multi-million dollar mentors who work with the groups every week. Are the mentors getting too cute, or do we just know their artists better than them through our obsessing versus their glancing up from their iPhones long enough to play a quick glance?
I'd say it's a combo of both. Either way, I hope Simon makes good on his promise for more audience picks next week.
Speaking of next week, two acts are going to be leaving the show before then, and it's pretty clear there's a disconnect between the three that are definitely in (Tate, Emblem3 and Carly Rose) and the three that will have to fight it out next week (Diamond, Fifth Harmony and Leopard Face)
Personally, I think Leopard Face would win a sing-off, but she's going to get the least number of votes, so she's gone. That will leave Fifth Harmony defeating Diamond White for a pot in the semis. You can bank on it.
(Better not)