'The X Factor' Recap: The Viewers Outdo the Judges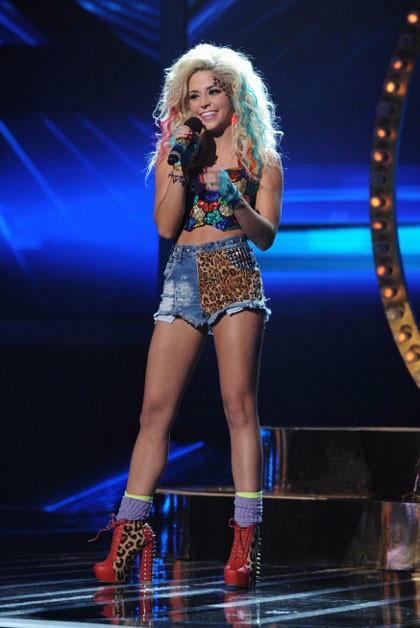 Six Acts! Two Songs Each! 12 Performances!
We don't have any time to waste - Let's just get to the performances:
Leopard Face Sang "Edge of Glory by Lady Gaga
LA Reid Said: You've proven that sometimes we get it wrong. I'm becoming a fan.
Britney Said: At this point, it should be great, but it was just good for me.
Demi Said: I think this was one of your bet vocal performances.
Simon Said: I don't think you are worth a $5 million recording contract.
The Verdict:
God, this is almost good.
Leopard Face flashes some of the brilliant vocals that got her to this point for much of the song, but there are just too many sour and wrong notes pouncing periodically that undermined the whole performance.
I always thought this was the area where Leopard Face would thrive: song choices that allowed her huge voice to sing for itself, but now it seems like she needs the window dressing to mask what are some pretty major flaws.
I just don't know what happened to Leopard Face.
Grade: C+
Leopard Face Sang "Part of Me" by Katy Perry
LA Reid Said: That was karaoke. If there was ever a karaoke performance, that was it.
Britney Said: I found it very entertaining. I loved it.
Demi Said: You made me proud.
Simon Said: I liked the way you were defiant through all the performance. If you go home, I'm going to miss you.
The Verdict:
Why can't Leopard Face sing? She deserves to be able to sing. She's such a rock star and looks so great that she really should have the vocals to match it.
She just doesn't. It's mediocre karaoke. It's a voice that makes you turn your head for a second and sounds good when you're half-in-the-bag in Koreatown, but is never going to turn into a recording artist.
Kind of like Leopard Face.
Grade: C+
Prediction: Leopard Face got stuck up front and did sort of okay by herself and the judges. With some other lame performances, she could get in the sing-off, but I'm not optimistic.
Emblem3 Sang "Just The Way You Are" by Bruno Mars
LA Reid Said: At least one of Simon's groups can sing harmony. This was really good.
Britney Said: Hands down, this was your best performance in the competition.
Demi Said: It's a downgraded version of the Jonas Brothers five years ago.
Simon Said: You were both fearless and incredible.
The Verdict:
Wow. It turns out Emblem3 can sing! Who knew?
That's not to say they can sing remarkably well, but they can at least flash some level of vocal competence, highlighted by some truly solid harmonies.
Individually, their vocal flaws were on major display as the sour notes outweighed the sweet ones at times.
Overall, though – this showed that a stripped down Emblem3 can work and that there is some musical talent to go along with the engaging brah trio.
Grade: B
Emblem3 Sang "Forever Young" by Alphaville
LA Reid Said: Tonight, you nailed it.
Britney Said: I thought it was a superstar performance.
Demi Said: I am a fan, but I want to see you command the stage more.
Simon Said: I think you've been really really good tonight. Emblem3 have landed.
The Verdict:
Ok. They just sound like stupid mouth-breathing people singing. That's really the best way I can describe this performance. The sound of stupidity set to music.
Plus, it was poorly sung, far more boring than it should have been given the song choice and the performers, and just kind of lame.
This is supposed to be a fun pop group and this just felt empty and flat and wrong.
Grade: C-
Prediction: I am not coming off my prediction that they are going to win, so of course they're making it to next week.
Carly Rose Sang "As Long As You Love Me" by Justin Bieber
LA Reid Said: That was maybe my favorite of yours for my taste.
Britney Said: Every week you make each song your own.
Demi Said: You sang it better than the original.
Simon Said: I'm seeing a star emerge in front of me.
The Verdict:
Carly Rose has now officially smashed all my biases against the tweeny singing set.
This performance was just sensational. It's amazing how connected she was with the song, how sassily she sold every second of it. This is the level of confident sass with the big voice I thought we were going to see from Leopard Face, instead it comes from everybody's favorite creepy half-pint.
I kind of can't believe what just happened. It doesn't make any sense. The level of maturity and poise she showed with just dominating and owning that song like a serious superstar.
Scintillating stuff.
Grade: A
Carly Rose Sang "If I Was a Boy" by Beyonce
LA Reid Said: You never let me down. You are so talented.
Britney Said: You are the definition of the X-Factor.
Demi Said: That's a phenomenal vocal.
Simon Said: You have had a phenomenal night tonight.
The Verdict:
As poised and commanding as she looked in her first performance, Carly seemed just as lost with a big-eyed stare throughout this performance.
She struggled through the initial part of the song, forgetting her lyrics and failing to find control enough to handle the quieter vocals.
She came alive when she had to belt, but some weird echo effect kind of undid her vocals. You could tell something was good there, very good, but it just kind of flapped around when it should have been solid. Kind of like Carly, flapping around stage like the a little kid.
Maybe because she is a little kid.
Grade: B-
Prediction: Carly Rose is probably the safest bet of them all after all those raves from the judges this week.