'The X Factor' Recap: The Top Ten Takes On The Brits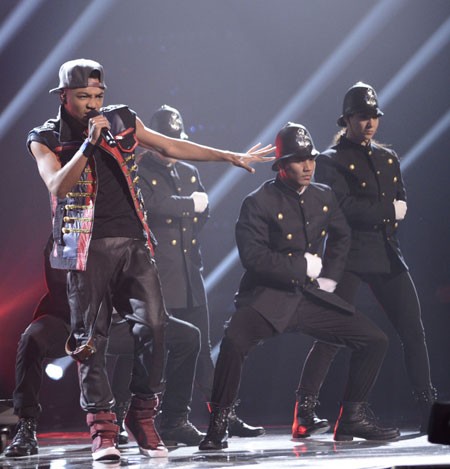 Last night, 'The X Factor' took on the British Invasion, sorta.
And by sorta, not at all. Only one song really fell into the British Invasion Era last night. Yes, every song was by a British artist and one was by a British Invasion band, but was recorded after the Invasion. The term was as liberal as it gets right down to including a song from 2013 in the phrase "British Invasion."
So who actually chose a song that fit the theme? Read on to find out.
Jeff Gutt Sang "Bohemian Rhapsody" by Queen
Demi Said: I'm really really happy to see you continue to do amazing. This was your best performance yet.
Paulina Said: I love that you're feeling it. The transitions were a little bit rough for me.
Kelly Said: You rocked this week. I am so proud of you.
Simon Said: I think this is, by far, your best performance.
The Verdict:
Jeff Gutt singing from the Iron Throne - is he going to be Joffrey or Robert Baratheon?
He certainly looks like the former as he sits sniveling in a gold Union Jack jacket and the rest of his de rigueur rock star get-up. Complete with being too thin for his own good.
The performance is definitely tribute band. Total wannabe rock star. Jeff's vocals are fine, but the it factor required to be a true rock god is definitely missing. The charisma is absent. That certain something required to really carry a song like this and own the stage.
Maybe we could call it the X Factor?
Grade: C+
Tim Olstad Sang "Sorry Seems to be the Hardest Word" by Elton John
Demi Said: I don't think you even needed the piano to be sexy.
Paulina Said: I feel like you're gaining the sex appeal.
Kelly Said: You definitely stepped it up a couple of notches this week.
Simon Said: You're like a singing hamster and they want you to be a singing lion.
The Verdict:
Timmy O playing the piano. Just trying to confirm his place as the most earnest and soft-souled guy on the planet. A singing teddy bear creepy enough that it might maul you a la Chucky at any time.
Tim's vocals are good again here. The kid's got pipes, that's undeniable. The song choice though, is a total misfire. Complete and utter boredom abounds as Tim slogs through the dreariness of the song and the abundance of dry ice on the stage. He just doesn't have anything beyond his weird doughiness to rely on and when the song is all about the vocal and connection, he just can't carry the performance.
Though I'm afraid to be too critical because I feel like there's a 14% chance he's a serial killer.
Grade: C-
Khaya Cohen Sang "Let it Be" by The Beatles
Demi Said: Your voice is insane.
Paulina Said: Tonight was the most amazing performance.
Kelly Said: Your voice has such incredible power, but it needs to sound fuller.
Simon Said: I thought the beginning was okay, but then you hit your stride half-way through.
The Verdict:
After two weeks as the cool little jazz siren, all Khaya needs is one Beatles song to deliver a total pageant performance just as she was looking like a contender.
Yes, the unreal tone is still there. Sure, her vocals are right where they need to be. But the way she delivers the song is just begging for a tiara, a sash and a scepter in the air as she entertains the state fair crowd.
In that motif, the times she slips into her unique jazz runs now seem out-of-place and forced. Like a different girl should be singing them, not the one hoping the judges' didn't notice when she slipped in the evening gown portion of the evening.
The girl can definitely sing, but it was all just so out-of-context tonight.
Grade: C
Josh Levi Sang "Sweet Dreams (Are Made of This" by Eurhythmics
Demi Said: You have the potential to be as big as Chris Brown.
Paulina Said: Nobody can dance and sing like Josh in this competition.
Kelly Said: I think you are so incredibly talented.
Simon Said: You are one of the artists I look forward to each week, but Paulina must have been drunk when she put that performance together. It was bonkers.
The Verdict:
The British paraphernalia is really in odd full swing tonight as Josh steps out of a Danger Mouse phone booth dressed like Sergeant Peppers Michael Jackson with bobby cops marching around him.
It's a rhythm track slow down of the electropop classic for Josh as he turns it into an R&B slow jam and it totally works. Somebody, somewhere, put this kid in the bottom of his power rankings in week one. That person is starting to look like a nitwit as Josh is showing the star-quality confidence of Astro with actual vocal chops that are turning his performances into bits of mini-events.
The kid needs to work on the dancing - too much Thom Yorke mixed with Elaine Benes for most tastes - but that was about the only thing wrong with this performance.
Cool cover. Cool vocal. Cool kid.
Grade: A-
Alex and Sierra Sang "Best Song Ever" by One Direction
Demi Said: I think this is your best performance yet. I'm going to go download that tonight.
Paulina Said: You guys are good together, but we need to see more of that rock 'n' roll.
Kelly Said: I feel like you have to rise to the occasion. It has to be spot on.
Simon Said: That is a record. That is original.
The Verdict:
This is so mind-numbingly stupid that it barely deserves a mockery. Alex and Sierra on a fake bridge singing a version of this song that would make the guy who got his guitar smashed by John Belushi in 'Animal House' seem like Lemmy Kilmister? Yeah, that's just not going to work.
Please make their pitchy ear-assaults stop before my ear drums rebel against my body. Please?
Grade: D-