'The X Factor' Recap: The Top 8 Take On Big Band Night...Sorta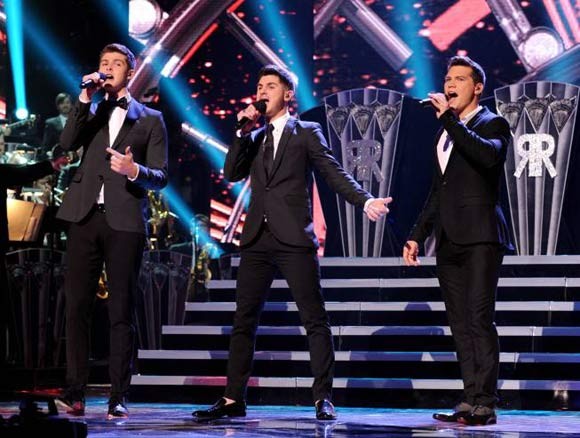 It's Big Band Week on 'X Factor'! Why? Because it's Thanksgiving of course! I guess?
Really, there's no reason why, in 2013, they're still doing Big Band on these shows. What does it say about somebody's ability to be current?
Well, when you don't actually sing big band, it's amazing what can come out of it. Yes, last night the theme was thrown around harder than a pebble in a wind storm as contestants sang country, alt-rock, pop and just about everything but Big Band.
A few did stick it out though and a even came up aces. See who it was below...
Rion Page Sang "Swingin'"
Demi Said: I think it was your best performance.
Paulina Said: I love you so much. That joy and happiness.
Kelly Said: Rion Page just put her diva hat on and worked the stage like a pro.
Simon Said: Perfect song. You are as cute as a cupcake.
The Verdict:
It's Grand Ol' Opry time on 'The X-Factor'!
Rion goes full Dixie Stampede here complete with the backing band as she turns LA into Branson for a few minutes with a fun little country performance ready for "Hee Haw".
Yes, those two sentences just set the record for most old-timey country references in under 100 words, and yes they were all apt. This was completely corny and completely cruise ship, but it was nice to see Rion break away from the ballads for once and try something that gets the crowd moving.
It didn't quite all work as she couldn't overcome exactly what she was forced to do with the big band, but her voice is still one of the best on the show, so it wasn't all bad. Definitely not the train wreck it could have been.
Grade: C+
Restless Road Sang "Life is a Highway" by Tom Cochrane
Demi Said: You guys look like stars up there.
Paulina Said: I can feel your energy and chemistry on the stage.
Kelly Said: Everything just really came together for you this performance.
Simon Said: You made a country song work with a big band.
The Verdict:
Because nothing says Big Band quite like lightweight 90s alt-rock sung by three country boys in tuxedos.
Nothing about this performance makes any sense. The arrangement isn't even big band with screeching electric guitars dominating the music. Just like Benny Goodman used to do.
The song choice is abhorrent. It's not even country. If you're going to cheat at least cheat in your genre. Here they just sound like three guys who attempted to quickly mash together a barroom performance of the jukebox song to impress some girls because they saw it in a movie.
This performance didn't come together on any level at any point. Just a misguided debacle.
Grade: D
Jeff Gutt Sang "Feelin' Good"
Demi Said: You killed it. You did amazing.
Paulina Said: What a great job. What an amazing performance.
Kelly Said: I can't wait to download that on iTunes.
Simon Said: It was absolutely fantastic.
The Verdict:
The obligatory "Feelin' Good" performance that ends up feelin'...creepy.
Jeff does his best industrial rock vocal on a big band song in the middle of strange lighting and the result almost sounds like it should be some sort of an incantation. Like a black magic song evil wizards sing around the cauldron to create a monster.
A monster was created here. Jeff Gutt Singing Big Band-enstein, and it needs to go back in its cage before it scares whatever children are still watching this show.
Grade: C-
Josh Levi Sang "Treasure" by Bruno Mars
Demi Said: You're adorable.
Paulina Said: You're fantastic.
Kelly Said: You have so much charisma.
Simon Said: Choreography was dated a bit.
The Verdict:
The first thing that stands out about this performance is how cool the arrangement of this Bruno Mars song is with the big band. The second thing is that Bruno Mars could probably exist in any decade and be just as successful.
Then there's Josh. Looking like a cute little private eye in his kid's suit and tiny fedora as he dances around a fake stage door and park bench like he was born to be on this stage.
Maybe he is. Maybe he is the star that this type of show really needs. Or maybe he's just going to the best lead ever in his High School's next production of The Music Man.
Whatever it is, I'd like to watch.
Grade: B
Carlito Olivero Sang "La Copa De La Vida/Un, Dos, Tres, Maria" by Ricky Martin
Demi Said: Amazing. My favorite performance of yours so far.
Paulina Said: I love you so much.
Kelly Said: It seemed like you were actually having fun.
Simon Said: You looked really comfortable up there. This shows who you should be.
The Verdict:
Remember the late 90s? World Cup in France. Ricky Martin is the biggest in music. Yeah, those were the big band days...
This is a horrific performance. Carlos has always been a pretty solid singer, but tonight he seems like he's bringing his minor league voice hoping that the song choice and theme will be enough for him to squeak by.
Instead, he seems like he should be singing on the front of a parade float complete with the feathered dancers behind him. It's maximum effort with minimal quantity. The type that belongs on a cruise ship, not national television.
Grade: D
Alex and Sierra Sang "I Knew You Were Trouble" by Taylor Swift
Demi Said: You guys made me like the arrangement.
Paulina Said: I love how you love each other.
Kelly Said: I'm not crazy about the arrangement but you two sounded great together.
Simon Said: You delivered a great vocal.
The Verdict:
This is a joke. This is a comedian's bit. This is "Let's sing new pop songs like old jazz singers, It'll be hilarious!" That's what this is. It's not music, it's a mockery.
Grade: F
Lillie McCloud Sang "Summertime"
Demi Said: I am blown away.
Paulina Said: You always deliver.
Simon Said: It's too Broadway.
The Verdict:
The only person in this competition who actually benefits from this ridiculous theme night is Lillie and the old soul diva doesn't miss the opportunity to dominate the night.
She's just a complete pro. She looks great, she sounds great and she belongs on the stage in front of an audience. Yes, it's a little bit cabaret, but when you're doing big band, how is that a bad thing?
It's really all good things from Lillie here as the jazz and soul flow from her with ease and she shows why she's still easily the best pure singer in this competition. And she did all that sticking with the theme! Remarkable.
Grade: B+
Ellona Santiago Sang "Mama Knows Best"
Demi Said: I couldn't be more proud of you.
Paulina Said: I believe you are a superstar.
Kelly Said: That was your best performance since you've been here.
Simon Said: That is what we call a game-changer.
The Verdict:
Whoa! What happened? Ellona can suddenly sing? No more underwhelming voice and finally the full range of a pop star? And all it took was a white suit? Crazy.
Ellona made a run at Lillie here. After weeks of being the worst singer on the show, she comes out here and seems like she might be the best. Just an absolutely epic vocal, the runs, the range - it was all there. Like it was different person.
I don't know who this Ellona is, but I could get used to her.
Grade: A-
Final Thoughts and Prediction:
There was something called the Final Face Off at the end of the show. It consisted of every act singing parts of "Cry Me a River" in weird succession. Not sure what it was meant to prove, but it at least filled the rest of the show!
And what a pointless show it was. Filled with brazen theme night fraud, and endless mediocrity, this is something that will have us all reaching for that extra glass of wine to forget it at Thanksgiving tomorrow. Maybe that's why they chose the theme!
As for predictions, I think this has to be the end for Alex and Sierra. Their performance was so absurd that audiences must have been annoyed enough by it to finally send the pair packing.
We can only hope.