'The X Factor' Recap: The Top 16 Perform and Four Go Home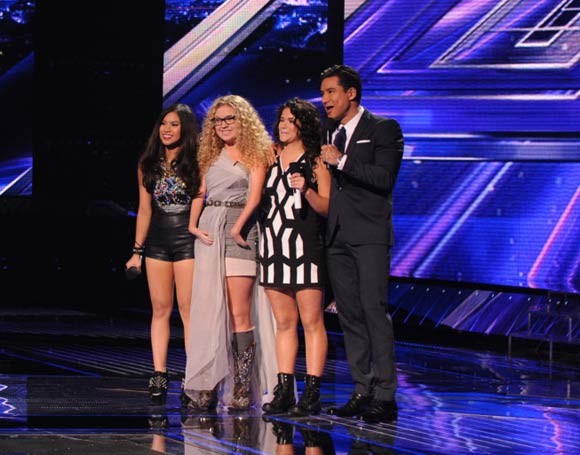 'The X Factor' is back and I couldn't be more excited! So excited, in fact, that I can't even be bothered to write an intro. There were 16 performances last night for crissakes. Let's just get to it!
Ellon Santiago Sang "Til the World Ends" by Britney Spears
Kelly Said: Thatwas so magical and you are so on fire.
Paulina Said: I love you from the beginning to the end.
Demi Said: You really really kicked butt.
Simon Said: I believed in you and I was right.
The Verdict:
Yowza, Ellon goes weirdo 80s post-punk dance diva all over Britney Spears and it just couldn't be weirder. Between the ridiculous dancers, the moderately good vocals, and videogame lighting, this was just a Willy Wonka locomotive into a neon ball of frights.
Yet...it kinda sorta worked! Just kinda, but it really did. Maybe it was just too scary to disparage, but whatever just happened, there needs to be more.
Grade: B
Danie Geimer Sang "Wrecking Ball" by Miley Cyrus
Kelly Said: I liked the energy, but I was expecting more from you.
Demi Said: I feel like your performance lacked a lot of energy.
Simon Said: You had real moments there, but how do we make you not boring?
The Verdict:
The girl who tore up auditions suddenly sounds like a scared five-year-old with a touch of strep throat. No power in the voice and just a huge bundle of nerves as she cannot handle a pretty simple song with some atrocious pitch problems and the stage presence of a folded drape.
At least she got her moment to do that weird reaching at the camera thing. I think we have Celine Dion to thank for that move.
Grade: D+
Rion Page Sang "Skyscraper" by Demi Lovato
Paulina Said: I love this performance. I feel the power you have.
Demi Said: I'm so proud of you. You really engaged the audience with your emotions.
Simon Said: That was really seriously good.
The Verdict:
Do we give her an incomplete for going with a Demi song when her fate is in the pop star's hands or credit for taking it on in front of the original artist?
Whichever it is, this was just too mediocre and boring to really lean in one direction. Just a totally plain vocal without much of interest going on at any point throughout.
Rion's a good singer. She's not a great one, though.
Grade: C
Khaya Cohen Sang "Mercy" by Duffy
Kelly Said: I absolutely love your voice, but I don't want to see you move as much.
Demi Said: Your vocals sounded fantastic, but it was still a little uncomfortable.
Simon Said: You've got the most commercial voice out of the four girls we heard.
The Verdict:
How about super-poised stage presence with a side of unreal tone? Can I interest you in that dish.
Then maybe you'd like Khaya, who seems like a polished pop star right now. A mini Adele with a bit more jazz and a bit less power, Khaya's the first performer of the night who really has the chops.
Ok...The X-Factor.
Grade: B+
Josh Levi Sang "Only Girl in the World" by Rihanna
Paulina Said: I believe in your vocals and the talent you have.
Demi Said: You have a lot of potential, but I'm not crazy about the song choice.
Simon Said: I think you are a great performer, but you need a hell of a lot of work on your vocals.
The Verdict:
There was not a moment of this performance that wasn't creepy. First, Josh looks like he should be on Sesame Street and the performance looked like it was filled out with extras from that and The Electric Company.
Then he sings about sex. And poorly. Very poorly. Barely audible over the track.
The dancing was okay in spots, but this was just an out-of-context brain-bender that totally fell apart.
Grade: D