'The X Factor' Recap: The Top 13 Underwhelm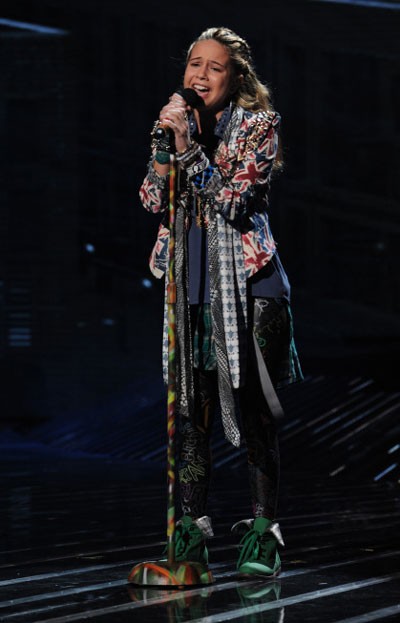 Beatrice Miller Sang "Iris" by The Goo Goo Dolls
LA Reid Said: The tone of your voice sounds like a hit record.
Britney Said: I feel like you have the best personality out of anyone in this whole competition.
Demi Said: The way you pour your soul into a song at your age is remarkable.
Simon Said: You're like a great performer. A few vocal issues, but I can see you working.
The Verdict:
Beatrice just isn't there yet. She's got the tools. She's got the passion. She's got the ability to interpret a song. It just doesn't all add up as she can't maintain the consistency to make the song and the performance her own. So many flat notes. So many times where she just doesn't fill out the vocals. It all just seems out-of-place from this pint-sized songstress. Especially when she starts attempting to rock out. All four-feet of her prancing around stage like she's Lemmy, just doesn't work.
She did have a pretty bad-ass jacket, though.
Grade: C-
Prediction: She's bound to get lost in the shuffle with that performance. I already forgot what she sang. I think she's in trouble.
Jennel Garcia Sang "I Love Rock 'N' Roll" by Joan Jett
LA Reid Said: It was just a Joan Jett parody.
Britney Said: Hot! Hot! Hot!
Demi Said: I think you look beautiful. I think you did amazing.
Simon Said: I don't like what Demi has done to the way you look. It was just a straight cover.
The Verdict:
This song needs to go away. Seriously. Never play it again. If there was one song that I could just wipe of the planet it would be this one. It's so un-Rock 'N' Roll, so mundane, so stupid and so overplayed. It's just a nuisance at this point.
Jennel doesn't do anything to tear it away from that reputation. Just yelling and attempted rock vocals over a boring attempted rock song. I think Demi took that rocker chick thing from last week a little too much to heart and gave Jennel just the worst song possible to sing and Jennel had nothing to do with it.
Granted, she could have and didn't, but I don't think this was all her fault. It's just impossible not to do lame karaoke with a song like this.
Grade: D
Prediction: Another boring
Tate Stevens Sang "Wanted Dead or Alive" by Bon Jovi
LA Reid Said: I'm really proud of you.
Britney Said: You definitely are a true cowboy. You nailed it.
Demi Said: I really think you have what it takes.
Simon Said: Tonight you've arrived back in this competition.
The Verdict:
The pro from last week has suddenly morphed into just the good solid bar cover band rocker last night.
He seemed like he should be at a rodeo in a small town performing in between bull-riding events rather than on stage in front of millions. He galloped around the stage like an unbridled amateur and his vocals never rose above somebody you'd ignore while you were going to get a hot dog.
Just a boring and flat performance all around.
Grade: C-
Prediction: The country boy has his voting bloc and he's going to ride it for awhile.
Lyric 145 Sang "Supercalifragilisticexpialidocious" by Julie Andrews
LA Reid Said: I hated it. I completely hated it. But I think I'm going crazy because it was really good.
Britney Said: I felt like your theatrics and everything you brought to the table was really intriguing.
Demi Said: You guys got me so hyped! You guys nailed it.
Simon Said: You were bloody fantastic.
The Verdict:
If Nikki Minaj and Li'l Jon were tasked with making a theme park ride that literally scared troubled children to death so they wouldn't grow into future criminals, it would look exactly like this performance.
Why did this happen?
Grade: F
Prediction: I thought that was the end of the line for that freak show, but the judges seemed to bail them out.