'The X Factor' Recap: The Top 13 Underwhelm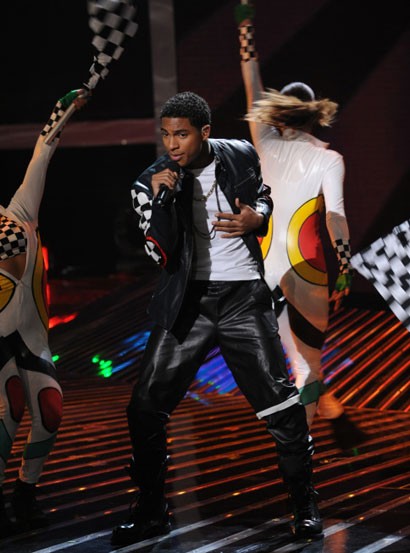 The post-election hangover was raging, so I made my own executive decision and removed any trace of having people tell me to vote from my viewing experience. The happy side effect of that was having no Khloe Kardashian in her Selina Kyle get-up ruining my night with 'The X Factor'.
Hmmm…Maybe I could get used to this.
Anyway, on to the performances:
Arin Ray Sang "American Boy" by Estelle
LA Reid Said: You're a different person than you were the first time I met you. I think you just found your own vocal identity.
Britney Said: You owned it. You rocked it. You're definitely a true star.
Demi Said: I am a little speechless. You look like a star up there.
Simon Said: Britney, you've done a really really good job with this guy. You're turning into a little pop star.
The Verdict:
Arin Ray continues to look like an Usher-in-training. He's almost got the swag, he's almost got the moves, he's almost got the voice.
Yes. Almost on all counts. The training wheels are still on though, and they come out in the person of lapses in concentration, sour lyrics and flat notes.
He keeps getting closer though. This was his best yet, and I imagine we'll see his best again next week.
Grade: B
Prediction: Always tough to overcome the leadoff spot, but he's got all the ingredients necessary to make his placement irrelevant.
Paige Thomas Sang "Take My Breath Away" by Berlin
LA Reid Said: It was good, but I wasn't blown away.
Britney Said: The beginning was the best part.
Demi Said: I think that you did so amazing. It was so beautiful.
Simon Said: The beginning was great, but I think it needed to go somewhere.
The Verdict:
I can't tell if the theatrics in this were meant to be ironic, earnest or a commercial for some sort of moisturizer. Maybe it was just all three.
What I was sure about, was that Paige sounded markedly better than she has prior to this performance. Normally her voice is weak, flat, uninteresting as she tries to ascend to heights she cannot reach.
Here, she stayed in a milder zone and felt right at home in a nice simple R & B mode, even as some weird dude was kissing her neck for reasons of which I'm unaware.
Maybe because her new moisturizer just left her neck that soft.
Grade: B
Prediction: Forgettable is normally what dooms the early performances. I think the angel thing was enough to make people remember to vote for her.
Vino Alan Sang "When a Man Loves a Woman" by Percy Sledge
LA Reid Said: You nailed it.
Britney Said: Your performance showed just how special your voice is.
Demi Said: That was a phenomenal performance.
Simon Said: You went from zero-to-hero in one week.
The Verdict:
Such a better song choice than last week. No longer do we have to see the raw rage turn Vino's eyes black like one of the aliens from 'The X-Files'. Instead, we get to see that sweetly rough soul that made him seem like a contender before he started flagellating himself after each performance.
That's not to say this was transcendent, or even that good. It was almost too passionate as he was laughing, or laugh-crying the whole time. Like the demons were trying to escape, but he needed his vocals to keep them down.
It got to be a bit distracting at times, and I think his voice can be strong enough that he doesn't need to over emote. Once he learns to harness that rather than have it overtake him, he has a chance, but this was a bit too messy.
Grade: B-
Prediction: A good guy who I think is starting to gain some steam. That should carry him through to next week.
Emblem3 Sang "My Girl/California Girls" by The Temptations and Katy Perry
LA Reid Said: I really wanna be critical, but you guys are actually perfect so I don't know what to say.
Britney Said: I was really blown away by the way you guys were able to make the song yours.
Demi Said: I thought you guys were great, but I wouldn't have used a One Direction track.
Simon Said: Every time you come out, it's energy and fun and everything you should be.
The Verdict:
This is a perfect song choice (or choices) for these little scamps. It played to all their strengths. That is, shouting, running around the stage, looking good, and not having to do math.
It wasn't so much a performance as it was just a fun time. Vocally, meh. Rhythmically, meh. But in terms of appealing to that key voting demographic? Just about perfect.
Grade: B+
Prediction: My pre-season pick that a group will win continues to look very very safe with these three boys.