'The X Factor' Recap: The Top 13 Tackle Motown, Goes Live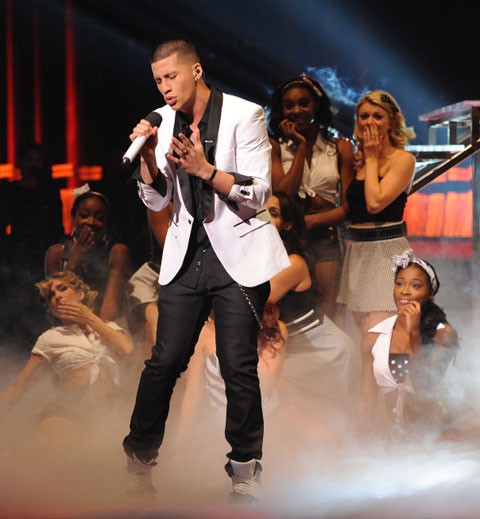 Carlito Olivero Sang "Stop! In the Name of Love" by The Supremes
Kelly Said: You pour yourself into a song, but you do get a little pitchy.
Paulina Said: You're learning and improving as we talk.
Simon Said: It was a little bit girly and too theatrical.
The Verdict:
There's one performer in this competition that's actually a pop star and that's Carlito. A little Bruno Mars, a little Jason Derulo and enough swag to overcome any pitchy moments he may encounter.
Slowing down was a good choice here as it showcased that he really can sing and isn't all just a bunch of bombast. He handled a ballad version of the pop classic like he was sliding into a warm easy chair. Totally effortless and completely in command.
This kid's actually got it all.
Grade: B
Lillie McCloud Sang "All's Fair In Love and War" by Ronnie Milsap
Kelly Said: asljfaljdf
Paulina Said: laskjlasdjf
Demi Said: Your voice is amazing, you look like a star, but it was outdated.
Simon Said: I thought that was absolutely fantastic.
The Verdict:
After the best performer in the competition we get the best singer. Dressed like an Oscar statuette.
This performance is not quite award-worthy. Just a little too dreary and overdone. If Carlito was theatrical than Lillie was the full Broadway cast with enough garish flourish to satisfy Ethel Merman at her hammiest.
Just too old-fashioned and AM Radio for this stage. Yes, Lillie's a grandmother, but she doesn't have to sound like it.
Grade: C
Sweet Suspense Sang "You Just Keep Me Hangin' On" by The Supremes
Kelly Said: There hasn't been a girl group that's tapped into the market in awhile. Go get it!
Paulina Said: Everything! I love you guys!
Demi Said: Every time I see you, I think you're absolute stars.
Simon Said: There's something special about you.
The Verdict:
Fitting that Simon put them in a cage because that performance was a crime. Absolutely no harmonies, shouty the whole way through and choreography reminiscent of that music video Jessie Spano made when she was addicted to caffeine pills.
Was this a performance in 2013 or a 1982 commercial for Jostens? You decide.
Grade: D
Rion Page Sang "Ain't No Mountain High Enough" by Marvin Gaye and Tammi Terrell
Kelly Said: I love that song, but I'm not sure I like that rendition of it.
Demi Said: I'm really proud of you.
Simon Said: You pulled it off. You turned it into a beautiful version.
The Verdict:
This is an odd arrangement. Kind of falls into that country-instead-of-Motown range, but works very well the entire way. Rion's definitely got the twang and unlike Rachel actually knows how to make a song interesting beyond just having a good voice. And her David Bowie cowboy boots from Labyrinth are an excellent touch.
Rion can straight sing and has a great ability to just own a song like a pro. This performance was a fine example of her full talent package.
Grade: B
Tim Olmstad Sang "I'll Be There" by The Jackson 5
Kelly Said: It sounded like a watered-down version of 'I'll Be There'. I'm expecting more from you.
Paulina Said: You are a work in process. You are so good in what you are coming from. I love the way you performed this song. I think you are the choice for the people.
Demi Said: You have an incredible voice, but that sounded like a really really really really good karaoke song.
Simon Said: I really liked it. You're Donny Osmond.
The Verdict:
OK. There's something creepy about Tim. It could be that he's a funeral director. It could be that he's too normal looking. It could be his sappy song choices, but whatever it is, he's coming off creepy.
He can definitely sing though. Despite all the creepiness and insistence that he's not a funeral director, he can just kill a song with a level of emotional authenticity that nobody else seems able to muster on this soul.
Maybe that's what's so creepy about him.
Grade: B+
Prediction and Final Thoughts:
Tim can exhale after Simon gave him a vote of confidence. He was ready to go home after getting trashed in the pimp spot. Simon's word still carries some weight so Tim should live to sing next week.
That takes us back to the front of the show. Typically, it's tough to overcome those slots at the top of the order and there were two lowlights from early in the singing rotation that really stuck out.
Carlos and Josh, enjoy singing for your lives on Thursday. And, because it seems crazy for the judges to bring somebody back just to kick him off again, I think this is curtains for Carlos.