'The X Factor' Recap: The Top 13 Tackle Motown, Goes Live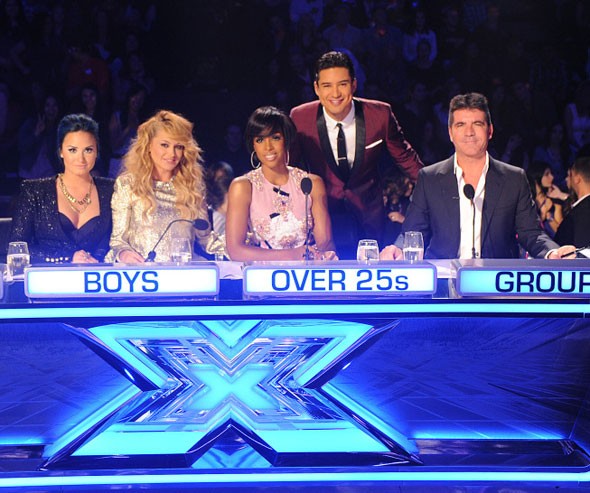 After so many chairs, so many purposefully bad auditions and so many Paulina comments skipped - we've finally made it to The X Factor's live shows where America can vote and make a difference in something far more important than the Virginia gubernatorial race.
That's right, it's election day, America. X Factor-style! Here's my ballot:
Josh Levi Sang "Who's Lovin' You" by The Miracles
Kelly Said: The choices that you make when it comes to notes and everything...Houston grows them best.
Paulina Said: You're born to be a star.
Demi Said: It was the smartest thing Paulina did: Bringing you back.
Simon Said: You went from zero to hero.
The Verdict:
A definite shocker of a wild card pick shows exactly why it was such a surprise to see him asked back. Totally out of key, completely overwhelmed by the song and utterly out-of-place on this stage.
Josh just could not handle this. He was nothing more than a kid singing in a high school talent show. Certainly not ready to tackle a real Motown song. It's weird that he's back and won't be surprising when he leaves.
Grade: C-
Rachel Potter Sang "This Old Heart of Mine (Is Weak For You)" by The Isley Brothers
Kelly Said: It was a wonderful performance.
Paulina Said: I love it!
Demi Said: I'm worried about you for my category.
Simon Said: It started great, but when the track kicked in, it was horrible. You took a pretty song and made it insane.
The Verdict:
Here it is. The country reworking of a Motown song that completely defeats the purpose of a theme night. If she's just going to sing a country song, why not let her sing a country song? Why do we have to pretend she's singing Motown? It just makes no sense.
Rachel's got a solid country voice: pretty little twang, but not much beyond that. She's got the stage presence of a high school waitress and the move of her mother. She's a total dud stiff up there on stage and it pours through in confusion about what to do next and how to make the song interesting.
Which, of course, results in a dull and awkward performance that has nothing more to offer other than her above-average voice.
Grade: C+
Carlos Guevara Sang "What's Going On" by Marvin Gaye
Kelly Said: I felt like you could have done better.
Paulina Said: I believe in you and you did great.
Simon Said: I don't think you gave us a moment there.
The Verdict:
Hey, everyone! Let's watch a guy sing a song about the Vietnam War like it's a love song. That won't look like a sitcom joke or borderline offensive at all.
What a horrific performance. Carlos barely swings and walks around like a 13-year-old in his dad's bathrobe trying to imitate Hugh Hefner. Does he have any idea what this song is about? Does he have a clue how to connect to what he's singing?
Clearly not, and this was just shameful.
Grade: F
Restless Road Sang "Easy" by The Commodores
Kelly Said: I think you should be very proud of yourselves.
Paulina Said: Together you brought special magic onto this stage.
Demi Said: Simon actually did a good job. Well done, boys.
Simon Said: This is an act that can work in the real world.
The Verdict:
Again with the country. Stifle with the country already. It just makes no sense!
This, at least, has an arrangement that makes sense and actually works with the song. Actually works quite well. As much as it goes against the frustrations caused by defying the theme, this is a pretty solid performance. They sound good together and this could be released as a single pretty easily.
And the screams are undeniable. They're going to win so grades are borderline irrelevant.
Grade: B+
Ellona Santiago Sang "Baby Love" by The Supremes
Kelly Said: You are a little powerhouse.
Paulina Said: laskjlasdjf
Demi Said: I couldn't be prouder of you.
Simon Said: You absolutely nailed that song.
The Verdict:
Yikes. This performance presents a tough decision: What's worse the vocal, the outfits, the arrangement or the dancers?
Hard to choose when Ellona can't sing, she's dressed like the greeter at Willy Wonka's Chocolate Factory, the arrangement sounds like it's stuck in the mud and the dancing is has about as much rhythm as a broken trash compactor.
In other words, nothing worked here. At all.
Grade: F
Jeff Gutt Sang "Say You, Say Me" by Lionel Richie
Kelly Said: I'm so proud of you. You gave people another layer.
Paulina Said: I didn't expect that. I love the energy you manage on stage.
Simon Said: That was outstanding.
The Verdict:
Very nice to see Jeff Gutt not sing SO HARD! He tones it down a little bit from his Gin Blossoms tribute band delivery and actually finds a really cool rock voice. A bit of Sebastian Bach and a bit of 90s alternative as he turns this saccharine ballad into a piece of power pop.
Like the country arrangements, this defeats the purpose of the night, but like Restless Road, he makes it work so well that it doesn't matter. If this popped onto Jack FM and you heard it was a single off The Scorpions' covers album, you wouldn't think anything of it.
There's a compliment in there somewhere.
Grade: A-
Alex and Sierra Sang "I Heard it Through the Grapevine" by Marvin Gaye
Paulina Said: I want you guys to kiss so it's not boring.
Demi Said: This was sexy and hot.
Simon Said: You've just done incredibly well two weeks in a row.
The Verdict:
Ugh. These two are just the definition of a parody of everything everybody hates about pretty people with limited musical talent who won't take "you suck" for an answer.
Well, you suck, Alex and Sierra. You suck.
Grade: D
Khaya Cohen Sang "My Girl" by The Temptations
Kelly Said: You just killed it, miss thing.
Demi Said: Your voice could have the best vocals in this competition.
Simon Said: Shutting my eyes, it was like listening to Amy Winehouse.
The Verdict:
Normally, Khaya's tone is a big asset to her when she's delivering a song, but tonight it was like all tone and no singing. An overdose of tone and runs that actually distracted from her singing rather than enhancing it.
It almost was like what if a drunken Bette Davis started singing in the middle of "All About Eve" - it was that old-timey sounding and desperately fake-jazz that Khaya couldn't just get the song out.
Too...confusing.
Grade: C-