'The X Factor' Recap: The Top 12 Takes On 80s Night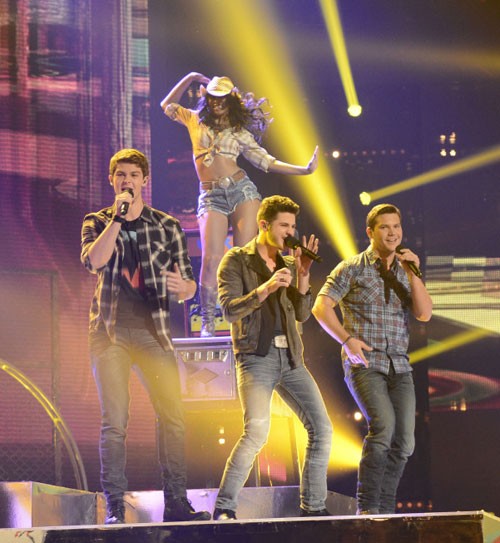 Restless Road Sang "Footloose" by Kenny Loggins
Demi Said: This could have been your song.
Paulina Said: I love the concept. I love it!
Kelly Said: I'll be right there front row at the concerts.
Simon Said: I love that you love being here. I've got a real good feeling about you guys.
At what point do we just stop reviewing these guys? They're consistently quite good, turning whatever song they want into a bit of fun country that portends a string of top ten Billboard hits.
Simon's turning these guys into a country One Direction every week on this show and there's not much that's going to stand in their way of winning. Even if they continue to litter the stage with cowgirls on Pinball machines.
Wait. Please keep littering the stage with cowgirls on pinball machines.
Grade: B
Rachel Potter Sang "Alone" by Heart
Demi Said: You make me so proud every week even though you're not in my category.
Paulina Said: After this performance you can show everyone that you're an entertainer.
Kelly Said: There's nothing wrong with having edge.
Simon Said: Thank God you had a proper song to sing this time.
Somebody had to do it. Somebody had to go ahead and cork their bat by singing the queen of all X Factor/Idol/Voice song choices. You can't get through 80s night without 'Alone'. It would just be foolish not to have somebody pick it.
Since it's Rachel, we got a little country twang, but she didn't veer too much from the original. And since it's 'Alone' we knew before she even started singing that she was going to kill it. It's just impossible to do a bad version of this song if you can sing, and Rachel can definitely sing.
The surprise in all this is that Rachel came out dressed like a dominatrix complete with knee-high fright boots and enough leather to clothe all of Sturgis. Plus, she clung to the cage from Hell in a Cell like Vega in Street Fighter 2.
Sexy. Scary. And it rocked.
Grade: B+
Ellona Santiago Sang "I Wanna Dance With Somebody" by Whitney Houston
Demi Said: You have such an incredible voice.
Paulina Said: I love how you're a perfectionist. That's why you're here.
Kelly Said: This voice is just bigger than your tiny tiny body.
Simon Said: I thought the first two-thirds of the song were literally mad, but the last 30 seconds were great.
If you're gonna do Whitney, it really helps if you can sing. Like really sing. It's kind of essential to take on a predecessor like the ultimate 80s diva.
Problem is that Ellona cannot sing at all. A fact that's been well-established in a string of atrociously flat performances that show the vocal range of a piano key. She just doesn't have the voice to do much of anything besides sing at children's birthday parties.
This was another terribly mundane and flat vocal that did more to show her limitations than demonstrate any of her vocal strengths.
Maybe because she just doesn't have any.
Grade: D+
Josh Levi Sang "Straight Up" by Paula Abdul
Demi Said: You are amazing and so incredible.
Paulina Said: This is a great achievement.
Kelly Said: I think you have just arrived.
Simon Said: We're watching and listening to a future star.
It's weird that this song has become the "Let's make a crazy cover version of it" tune of the decade. Ever since Andrew Garcia killed it with his acoustic guitar, everybody wants to do their own take on Paula Abdul's semi-classic.
Josh Levi's definitely ranks among the best. He stripped it down to the rhythm track in an electro-R&B pop song that seemed ready for the radio right now. Plus, he found his voice again, making it two consecutive performances that he seems like a legitimate singer.
Guess it's time to revise the power rankings.
Grade: B+
Jeff Gutt Sang "(I Just) Died In Your Arms Tonight" by Cutting Crew
Demi Said: I think you did so great. You're one of my favorites in this competition.
Paulina Said: I love it. I think every week you're giving us more.
Kelly Said: I love that you are not afraid to work hard.
Simon Said: You're a little bit like "I wanna be a rock star". It's all a tiny bit "Spinal Tap".
Jeff's initial problem here is that nobody will ever do this song better than Will Ferrell.
Now that that's out of the way, this was what has already become typical Jeff - he's a great rock singer. He could totally front a Van Halen tribute band that only plays tracks off Van Halen 3. And I swear that's a compliment.
His second problem, then, is that he just doesn't have much range. He's going to come out, put together a solid rock vocal and exit the stage. He's just very predictable and only really capable of staying safe on each performance.
Even if he gave a weird little jacket striptease last night.
Grade: C+
Alex and Sierra Sang "Addicted to Love" by Robert Palmer
Demi Said: It looked uncomfortable and it was a little pitchy.
Paulina Said: I love that you're bohemian.
Kelly Said: It was a little weird at first, but then the whole performance changed.
Simon Said: This wasn't as good as it should have been.
It's impossible to quantify just how much I hate the faux-artistry of this coffee shop collection taking the teeth out of whatever song they sing and making it was overwrought and treacly as possible with their stylized voices and total lack of charisma.
At least they got over themselves long enough to let the rhythm pick up by the end of this performance and turn it into something that somebody might actually want to consider watching somewhere down the road.
Might.
Grade: D
Final Thoughts and Prediction:
As with most non-constrictive theme nights, last night was solid almost all the way through. Nobody stood out as too terrible, other than my insane hatred of the final act, and many contestants delivered their best performances. Particularly Josh Levi and Rachel Potter who surprised by taking their performances well beyond levels they showed previously to become real threats to win. Maybe every night should 80s night.
Predictions are both easy and hard this week, with two contestants going home and a lot of solid performances from which to cull those two choices.
The easy part is Carlito Olivero. He's very gone. Couldn't be more gone. Both bad and forgettable in the second slot on the show. There's just no way he sticks around.
The second one is a bit tougher. Nobody really stood out as bad among the remaining contestants. I hated Alex and Sierra and they actually got obliterated by their mentor, but I have a feeling they have enough appeal to stick around.
That's why I'm going with Lillie McCloud. Going first is almost always doom and she just wasn't memorable enough to inspire a lot of voters. Not deserved, but I think she joins Carlito in the losers' circle tomorrow.