'The X Factor' Recap: The Top 12 Takes On 80s Night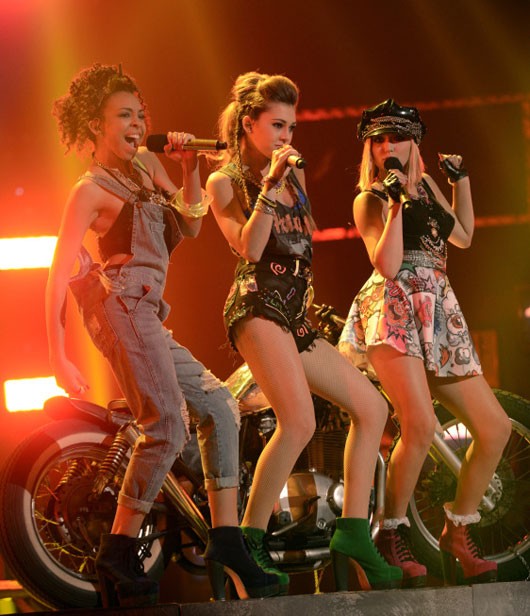 It was 80s night on 'X Factor' last night which apparently meant a lot of really cheesy costumes, day-glo sets and enough Demi Lovato Pat Benatar Blue Hair to star in its own Smurfs Sequel.
So who came out on top of this throwback fever dream? Read on to find out.
(Also, Carlos went home, as predicted. Also, predictably, nobody cared)
Lillie McCloud Sang "Ain't Nobody" by Chaka Khan
Demi Said: I don't know why you didn't take off in the 80s.
Paulina Said: You are a goddess.
Kelly Said: You worked so hard this week and I'm very proud of you.
Simon Said: You made an attempt to be current. You looked and sounded like a proper singer.
Lillie's rendered almost unrecognizable with a new hairstyle that makes her look about 15 years younger and less diva-tastic than did her giant fro.
It also seems to have had a Samson-like effect on her voice, as the best pure singer in the competition suddenly had trouble really belting out a song here. She just didn't have that awe-inspiring power and brilliance that we've seen in the past.
This was, however, a brand new Lillie and she was much more fun and vibrant than the stately diva of weeks before. So a little less voice, but a lot more performing power. A combination that actually works quite well for her.
Grade: B-
Carlito Olivero Sang "Rhythm Is Gonna Get You" by The Miami Sound Machine
Demi Said: I found myself paying more attention to the dancers than I did to you.
Paulina Said: I think we need to work on your face.
Kelly Said: I feel like you're not getting lost as a performer. You're straining too much.
Simon Said: You've gotta start making more control of what you're doing. You were a dancer who was singing. I think you're gonna go home.
What an astonishingly awful song choice. It's right there in the title. Nowhere does it say "The Vocals are gonna getcha" - it's just the rhythm. This is not a song for singers and not a song to choose for this competition. There's just no way to showcase yourself with it.
Carlito doesn't do himself any favors beyond the song choice with a pretty uninspired vocal that anybody who isn't just an intolerable listen could pull off without much effort.
At least the dancing was good.
Grade: D
Rion Page Sang "We Belong" by Pat Benatar
Demi Said: This song choice was great for you.
Paulina Said: I love how you feel the music and bring us up inside your story.
Kelly Said: You soared on the way home, momma.
Simon Said: I like that whatever song you're given that you give 110%, but I want you start progressing as an artist.
We go from the worst possible song choice to maybe the best a contestant can make. Pure singer's song that allows Rion to belt and show off her full vocal range.
So why didn't it work? Why did Rion struggle so much with this? The girl has a gigantic voice and couldn't reach back and knock it out in the chorus. She just sounded lost and incredibly pitchy when the song required her to go big.
It's a shame because her voice could not have been more beautiful or delicate in the verses. She built so nicely to what should have been a show-stopping moment, and couldn't quite get there for whatever reason.
She was definitely having fun though. More than you can say for most of the kids on this show.
Grade: C
Sweet Suspense Sang "Hey Mickey!" by Toni Basil
Demi Said: My favorite part of the whole thing was the fire.
Paulina Said: I feel like you're much much better. We feel you as a group.
Kelly Said: I felt like this week, you fell into a rhythm with each other, but it's just all right singing.
Simon Said: Your best performance of the competition so far.
Sneaky-good song choice here for Sweet Suspense. Simon has them right in their sugar-corn pop wheelhouse with a song that actually allowed them to showcase their individual strengths and improved ability to harmonize.
Fun performance, fun girls and fun song. It all worked into another sweetly mediocre Sweet Suspense performance. These girls certainly aren't vocal queens, but have the look of a pop star trio.
Grade: B
Tim Olmstad Sang "Against All Odds" by Phil Collins
Demi Said: You have a wonderful voice, but there's no X Factor.
Paulina Said: Do the song your own. You sang like Tim.
Kelly Said: That fell flat for me this week.
Simon Said: I was so distracted by the dancer. It was a bit like a horror movie.
Of course Tim Olmstad is going to sing "Against All Odds". Of course there's going to be some babe in half of a dress shirt dancing around the 'Phantom of the Opera' set in front of him while he sings for no apparent reason. Of course Tim Olmstad is going to kill the vocal while singing in a bunch of old TVs - this is exactly what we knew was going to happen.
The kid really is turning into a Josh Groban-lite. He doesn't quite have the Grobes' voice but he does have his borderline creepy earnestness that's got to play to some fan base. It certainly works for him on this performance as he makes the song feel totally current while staying true to the original. What is with this dude?
And hey, Sarah Hyland was digging it. That's got to count for something.
Grade: B-
Khaya Cohen Sang "Borderline" by Madonna
Demi Said: Work! You killed it.
Paulina Said: You're singing better than ever.
Kelly Said: I'm getting the feeling like you're ready for this whole music thing.
Simon Said: I think we discovered somebody very special.
One of the best little pop tart songs of all time turned into a smoky-jazz-Adele funk tune by Khaya bringing it right into her wheelhouse. Even singing it right into Simon's face.
She's oozing with confidence at this point as she knows her voice is a weapon that just isn't going to fail her. That unreal tone never misses pitches and fits perfectly into whatever song she wants to sing with it.
Plus, she made this one her own. This was a true cover rather than a karaoke sing-a-long and she rocked it the whole way, finding gears throughout that just kept pushing the performance farther and farther up the quality scale.
To the borderline of great.
Grade: A-