'The X Factor' Recap: The Guys Face The Four-Chair Challenge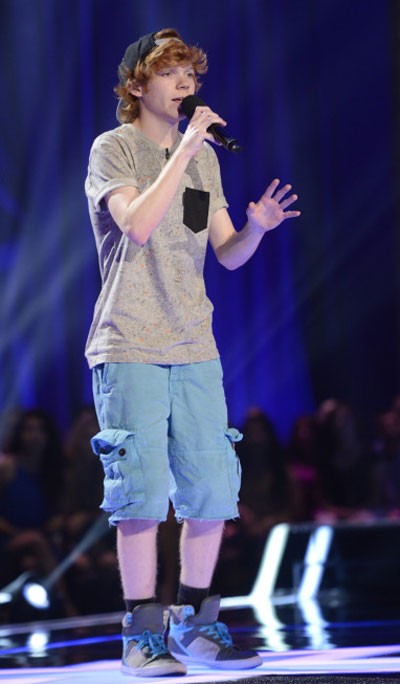 Chase Goehring Sang: "Airplanes" by B.O.B. featuring Hayley Williams
Kelly Said: I don't know if I liked hearing you sing that song as much as one you wrote.
Demi Said: This seemed unnatural for you.
Simon Said: We like you, but I almost wish I never heard that.
Paulina Said: I really liked your audition the first time better.
The Verdict:
This might have been a high school talent show performance, but the kid would have won the high school talent show.
Seeing the ginger prince's song choice, rapping seemed a very real fear, but he pulled it off with some sing-speak that actually fit very well and he seemed totally comfortable with all aspects of the material.
He's like Emblem3 by himself. But better.
I swear that was meant as a compliment.
Grade: B
Result: GONE
Tim Olstad Sang: "The Climb" by Miley Cyrus
Kelly Said: I can already hear your voice on the radio.
Demi Said: I cannot see you being let go on this competition.
Simon Said: I think you are an artist who is going to appeal to people much older than you.
Paulina Said: I feel like you have something special.
The Verdict:
Tim was the best boy in the auditions, but this performance was beyond what we expected. He got by earlier on not much of a voice, but a very apparent passion for the music.
This time, the passion remained (with a Miley Cyrus song no less!) but he matched it was a cool tone and a much better voice and surprisingly robust range that wasn't there in his first audition.
So nice to have somebody like this on the show. Even if he did set the record for fastest-ever Melanie Amaro Wild Card Slot ever.
Grade: B+
Result: SAFE
Carlito Olivero Sang: "Dreaming of You" by Selena
Kelly Said: I think you're gonna have these girls dreaming later.
Simon Said: The first time we saw you was better. You did struggle with it a little bit.
Paulina Said: I feel like you have something special.
The Verdict:
Carlito's the first guy who really seems like he has the ability to be a pop star. He's got the voice, he's got the look and he has the stage presence that seem completely authentic.
He outsang everybody last night and was in a class by himself in terms of poise and comfort on stage. He looks like he belongs up there, while everybody else has looked like they're just trying to get there.
Grade: A-
Result: SAFE
Timmy  Thames Sang: "The New Girl in Town" from 'Hairspray'
Kelly Said: I did like your audition much better than your performance today.
Demi Said: I can't say I was blown away.
Simon Said: If I was watching everyone for the first time today, you would be the one I would remember.
Paulina Said: I feel like you have something special.
The Verdict:
Disqualified. Disqualified! Don't sing songs from musicals on 'The X Factor'. This is a show for pop singers, not an audition for whatever that show was where they cast somebody in 'Grease' or something back when NBC was only pretending to be a network.
Also, if you're going to choose a show tune, it would probably help to not make it so atrociously boring that a guy in a backwards Kangol who just got done playing hacky sack wants you to put a little life into it. How exactly is it possible to make a song from 'Hairspray' that lifeless?
His voice sounded nice though.
Grade: D+
Result: SAFE
Josh Levi Sang: "I Can't Make You Love Me" by Bonnie Raitt
Kelly Said: I just want you all to know what a superstar we're looking at right now.
Demi Said: You can't let him go.
Simon Said: We are looking at a future star here.
Paulina Said: Everything you just did was perfect.
The Verdict:
Turn down this kid. Turn down his voice. It's so damn pitchy. What's with this choice?
Hey! That may be my first song parody ever in this column. What took so long? Guess it took a special type of over-sung, ultra-annoying level of bad to pull that out.
Actually it wasn't that bad, it was just kind of annoying and the song choice was so asinine that he deserved to go home on that alone.
Of course, he wasn't. Not after his weird mime dancing.
Grade: C-
Result: SAFE
What did everybody think of Paulina's choices?
Make sure to check back tomorrow for a recap of the group four chair challenge that started last night.