'The X Factor' Recap: The Groups Finish The Four-Chair Challenge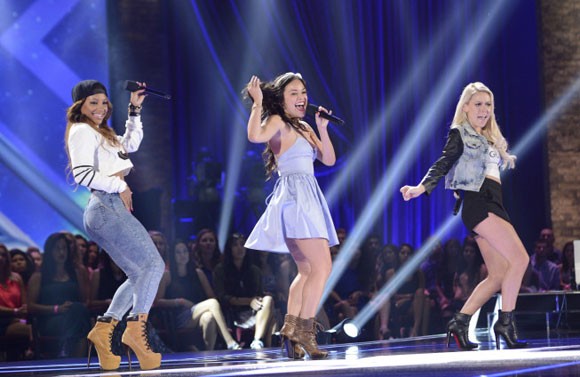 The four chair challenge filled the last of its twelve vacant seats on Wednesday and Thursday night as it was Simon's turn to lay his now four eyes on the groups.
Simon in old professor's glasses has been a weird juxtaposition this year with the normally venomous Brit somewhat neutered by spectacles. It's as if he's gone from being Snape to McGonagall just by wanting to correct his vision.
So who did the less-scary Simon pick for the final four slots? Read on to find out.
Girls United Sang: "Tonight is the Night" by Outasight
Kelly Said: I applaud you for the harmonies.
Demi Said: I think it was a little on the young side.
Simon Said: You were well-rehearsed, but vocally I have heard a lot better.
The Verdict:
The fact that it took me Googling other recaps of this show to figure out what in the world they were singing probably says it all. It was impossible to make out their lyrics. They had absolutely no harmony. None of the girls stood out because they were all equally horrific.
Or maybe it's just the fact that I've never heard of Outasight.
Either way. No good.
Grade: D
Result: GONE
Wild Thingz Sang: "Party Rock Anthem" by LMFAO
Kelly Said: You guys are all the way turned up.
Paulina Said: I really like that performance.
Demi Said: Can you guys stand still?
Simon Said: I don't know which one of you is more annoying. I don't think that was music. I think it was unintentional comedy.
The Verdict:
Here's what stood about that performance:
Tall socks.
Suspenders.
Crawling.
Running.
Jumping.
No Singing.
Stripping?
It's unclear what the strategy was for that or how exactly they grow beyond an annoyance at a college party, but it'd be fun to find out.
Grade: C+
Result: GONE
Glamour Sang: "When I'm Gone" by The Carter Family
Kelly Said: I wish it was a little bit tighter, but I'm really proud of you guys.
Demi Said: I wonder if you're ready for the industry right now.
Simon Said: Instead of delivering something substantial like a three-course meal, you delivered a lollipop.
The Verdict:
Hey! Who ordered Motown with a dash of current pop? I guess that would have been whoever chose Glamour to move through to the Four Chair Challenge.
Great arrangement on this old folk tune turning it into a Supremes song and the girls turned back the clock along with it with some fun choreography, cool harmonies and an abundance of positive energy that is just infectious.
This is the kind of fun these too-serious singing shows really needs.
Grade: B
Result: GONE
Restless Road Sang: "Love Somebody Like You" by Keith Urban
Kelly Said: You are a great country trio. This was a brilliant idea.
Paulina Said: I'm really really proud of you.
Demi Said: I got chills all over my body because it's just so right.
Simon Said: I saw talent and friendship tonight. I'm really impressed.
The Verdict:
Let's see...three good-looking country guys who can actually sing. I think we know who is winning this show. No reason even airing the rest of the season, Restless Road has this one locked down. It's almost impossible to imagine somebody beating them.
A country boy band? How come nobody's thought of that before?
Grade: B
Result: SAFE
Sweet Suspense Sang: "Wishing on a Star" by Rose Royce
Kelly Said: There's something special here.
Paulina Said: You guys look like superstars.
Demi Said: I'm so proud of you.
Simon Said: This is incredible.
The Verdict:
Goodness. These three youngsters come out like En Vogue all over the stage. Super tight and crisp harmonies and a remarkable chemistry that doesn't usually exist in groups on this show: Usually it's just a bunch of solo singers.
These girls sounded like they'd been singing together for ages, and not just thrown together at auditions. Yes, there were some pitch issues and neither of them has remarkable voices, but together they mesh extremely well and sound better than they should.
Grade: B+
Result: SAFE