'The X Factor' Recap: The Girls Face The Four Chair Challenge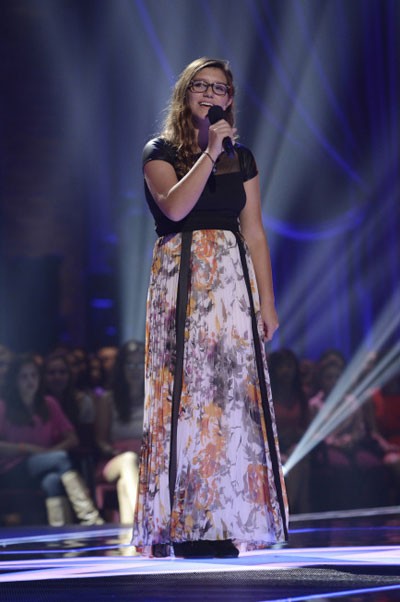 Danie Geimer Sang: "Georgia On My Mind" by Ray Charles
Kelly Said: You just sang your face off, momma.
Simon Said: I hope you never change, and I don't think you will.
Kelly Said: I am absolutely blown away.
The Verdict:
In complete contrast to her predecessor, Danie knows exactly how to connect to a song and just pull the raw emotion out of it through her vocals and performance. Danie's got a stellar voice and brings a depth of passion to her singing that's beyond anybody else in her bracket.
She separated herself with this performance and showed the real talent this show has been lacking thus far.
Grade: B+
Result: SAFE
Rylie Brown Sang: "Angels" by Robbie Williams
Kelly Said: I'm just not sure you're ready for this competition.
Simon Said: It feels like everything you did tonight was chosen by your mother.
Demi Said: You have a lot of potential, but I don't think, vocally, that you're ready for this competition.
The Verdict:
'Angels' has almost gotten to the level of Heart's 'Alone' on these shows: It's just a great song choice for everybody to the point that it's impossible to screw up and should almost be illegal. A performance enhancing song.
Rylie tread on the line here, with a slowed down country version of the tune that almost didn't work. IT was a bit slow and muddled at first, but she managed to bring it home with a nice flourish at the end.
The streak continues for 'Angels'. We'll see if somebody better pulls it out in the live shows.
Grade: C+
Result: GONE
Primrose Martin Sang: "Blame it on the Boogie" by Michael Jackson
Kelly Said: This was completely different from what I was expecting.
Paulina Said: I don't know what Demi should do.
Simon Said: That was actually beyond awful. It was seriously seriously dreadful. It was the longest minute and a half of my life.
Demi Said: Just stop.
The Verdict:
Good Lord, Primrose can't dance, Primrose has swag, Primrose is a Kool 'N' The Gang progeny, Primrose has an endless supply of confidence. But Primrose can't sing. Primrose can't sing at all. Primrose got booed after and during her song by the audience. Primrose sounded like somebody performing in a high school talent show who started impressing people and just began to wait for the applause and stopped singing the last verse.
Then, when the judges' lambasting settled in, Primrose started singing again. Primrose started begging. Primrose started crying.
Ultimately, Primrose went home.
Grade: F
Result: GONE
Rionn Page Sang: "I Won't Let Go" by Rascal Flatts
Kelly Said: I just love watching you.
Simon Said: I think we're just scratching the surface here.
Kelly Said: You are an incredibly special singer.
The Verdict:
Goodness gracious. Rionn comes out of nowhere to sing like a 20-year veteran country diva. Where has this girl been hiding. For some reason, her performance reminded me of somebody who sings a song that gets nominated for an Oscar. She just sounded so honest and authentic like she was telling a story as she sang.
She's got immense talent and is more polished as a singer than makes sense at her age. If she's really just getting warmed up, it will be hard for everyone else to keep up.
Grade: A-
Result: SAFE
Ellona Santiago: "Clarity" by Zedd featuring Foxes
Kelly Said: Ellona, you are a beast.
Paulina Said: That was amazing.
Simon Said: That was one of the best vocals we've heard in this category.
Kelly Said: I feel like that star quality isn't there yet.
The Verdict:
Imagine that. A contemporary girl trying to appeal to a contemporary audience chooses a contemporary song and it all comes together for her. It never makes much sense when these young girls dig into the back catalog and end up looking either old-fashioned or out-of-touch. Why not just take a song that's on the radio right now and absolutely kill it?
That was Ellona's plan and it paid off perfectly.
Grade: B+
Result: SAFE
What has everyone else thought of Four Chair Challenge so far? Did Kelly and Demi make the right choices or was somebody left out? Sound off in the comments.