'The X Factor' Recap: The Girls Face The Four Chair Challenge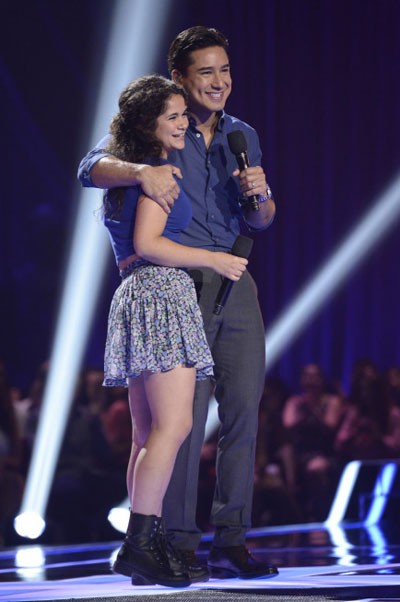 The epic showdown of singing that is the Four Chair Challenge continued last night, picking up right where last night's parade of girls left off.
Right where it left off. Right in the middle. So much so, that it makes the most sense to just pretend that this is a continuation of yesterday's recap. Probably because it contains parts from the first Four Chair Challenge.
This is getting confusing. Let's just break down Demi's Ladies:
Bree Randall Sang: "I'm Glad You Came" by The Wanted
Kelly Said: I thought the performance kind of dragged.
Simon Said: You brought the right outfit and personality, but didn't bring your voice.
Demi Said: I don't think you're ready to compete.
The Verdict:
If looks alone could carry a contestant through this competition then Bree would have a really great chance of moving on. Unfortunately, she actually had to sing and perform. A problem because she couldn't really do anything. Her singing consisted of being almost entirely out of tune with a terrible version of a terrible song choice and her idea of a performance was just dawdling around the stage.
Too bad she doesn't have access to AutoTune.
Grade: D-
Result: GONE
Khaya Cohen Sang: "Locked Out of Heaven" by Bruno Mars
Kelly Said: Demi, you better put her through.
Simon Said: I know a lot of great producers who'd want to work with you right now.
Kelly Said: I'm blown away. The entire competition needs to watch out for you.
The Verdict:
This could finally be the girl who breaks the plethora of unpleasantness that's been little girl singers. Khaya has a voice that sounds like it's been singing for decades yet somehow doesn't lose any of her youthful verve.
She's definitely still a little raw, but with some mentoring (that's what this show's about, right?) she will develop into a contender to win the show.
Grade: B
Result: SAFE
Jamie Pineda Sang: "Don't Speak" by No Doubt
Kelly Said: I love your voice, but sometimes you look uncomfortable onstage.
Simon Said: There's nothing particularly special about your voice, but when you switch it up, there's a market for you.
Kelly Said: You look like a star.
The Verdict:
Jamie digs into a 90s alternative rock song like a real 90s alternative rock diva with an updated pop vibe. Her voice could definitely be bigger as she doesn't seem to have that extra gear to really blow a song away, but at least she does the super patronizing thing of switching to Spanish for no reason in the middle of the song. So there's that.
Grade: C
Result: GONE
Ashly Williams Sang: "I Don't Wanna Miss a Thing" by Aerosmith
Kelly Said: I love listening to you.
Paulina Said: I'm just speechless.
Simon Said: I didn't like the song and there were some real tuning issues throughout.
Demi Said: You're in my final four!
The Verdict:
Anytime you go on national television for your big chance to impress judges and move on in a competition like this and you have the chance to wear a pink blazer, acid-washed jeans and a Cleopatra headband, you just have to do it.
Ashly can't sing. Flat out can't sing. She is pitchy all over the place, off-key and struggles to find any real power. But she masks all that with an unreal attitude onstage and a real passion that goes into her performances. It's almost like the singing is secondary and it almost makes the whole thing work. Almost.
Grade: C-
Result: GONE
Simone Torres Sang: "A Change is Gonna Come" by Sam Cooke
Kelly Said: You sang the hell out of the song.
Paulina Said: I really like it.
Simon Said: The arrangement of the song was a joke.
Demi Said: I don't know if I'm seeing a star.
The Verdict:
This is one of the strangest performances. Simone sings a song about Civil Rights with a voice that sounds like it should be singing commercial jingles. Then the arrangement makes it sound like a Belinda Carlisle song and Simone bops around the stage like she's singing 'Walking on Sunshine'.
There was just absolutely no context here. If you're going to sing a song like that, pick a different song. Sing something from 'Wicked' for crissakes. When you bop around the stage like everything is right in the world when you're singing about people not being treated equally, you clearly have no clue how to connect to a song.
It was just so strange to the point that it needed to be done in a Glamour Shots photo booth at the mall. Not on 'The X Factor'.
Grade: D+
Result: GONE