'The X Factor' Recap: The Final Four Are Set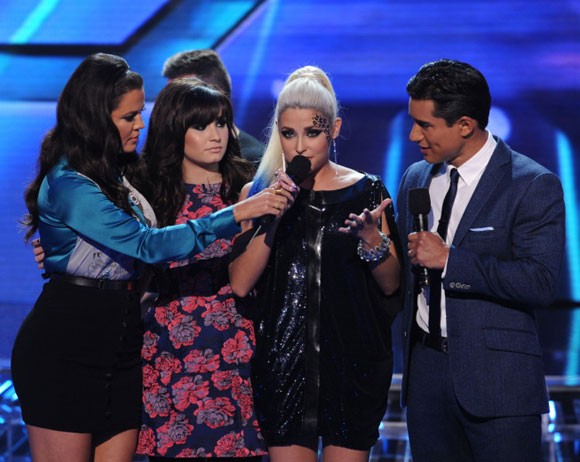 For the first time all year, I was completely right.
It's not like it was that hard. There's a very clear top three in this competition: Tate, Emblem3 and Carly Rose are poised to battle it out on the final show. That made it incredibly easy to predict the results of last night's show. Sorry for the spoiler everyone, I guess I don't know my own powers sometimes.
Okay, enough of the self-congratulaion. Let's bid a fond farewell to Leopard Face. Actually, a not-so-fond farewell.
Leopard Face was the biggest disappointment in this competition. Not only because of the fact that she couldn't really sing, but because she refused to embrace the heel role that's normally edited into show's like 'Hell's Kitchen'.
Leopard Face should have owned it. She should have flicked off the audience and taken to Twitter in rants telling people to "H8 all they want". This was the perfect place for her to go sickeningly diva and instead the Leopard Face got de-clawed.
She watered herself down into a nearly demure shrinking violet that was fierce onstage but tried to be all lovey-dovey in between songs. I really wish we'd gotten the real Leopard Face. Maybe there's still a Twitter meltdown coming. We can only hope.
Oh, and Diamond White left too. I dare you to remember who she is at any point in 2013. It will be impossible. Kind of like remembering who Melanie Amaro is in 2012
And with that, let's get to the power rankings:
1 (Rank Last Week: 1) - Emblem3
They continue to finish third each week, but I think they'll absorb all of Fifth Harmony's votes going into the finals and pull out the victory.
2 (3) - Tate Stevens
He had his weakest week and actually moved up. He's now the Mimbo Trio's biggest threat.
3 (2) - Carly Rose
Despite being so young, she's probably the best yet. A bad sign for this season. Even so, I don't think she's going to beat either of the boys.
4 (4) - Fifth Harmony
I thought there name should be First Out. That was definitely my worst prediction of the year. But calling them Last Out won't be.