'The X Factor' Recap: The Contestants Battle It Out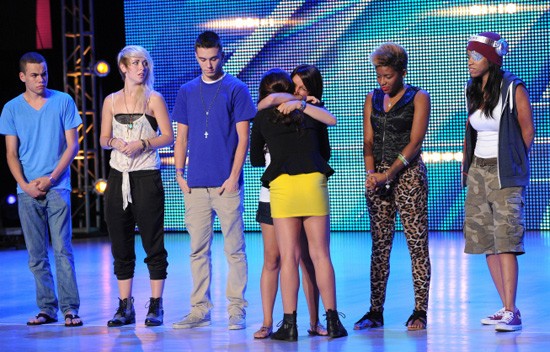 I've never watched 'The Voice' past about fifteen seconds of the spinning chairs rounds, but I've always been told there was something called the battle rounds where the contestants sing at each other in a means of vocal warfare.
I also know that 'The Voice' has been annihilating 'The X Factor' in the ratings both in America and abroad. It's hard for me not to think the latest addition to boot camp of competitive duets was not in some way a response to its rival singing show.
What's worse is that despite the drama, we didn't get any winners from these battles. They just went, sang, and left the stage with only a few hushed comments from the judges to take away from the duels.
That's not going to stand here. Here are the winners of each of the featured singing duels from last night's show:
Boring Girl 1 vs. Boring Girl 2
So boring I don't even remember who sang. I do know they sang 'Landslide' in a manner that would make a funeral seem like children's birthday party by comparison. The judges were predictably bored and silenced them as quickly as possible. This match was too boring to call. It's a draw.
Beatrice Miller vs. Carly Rose Sonenclare
In the battle of the 13-year-old girls, creepy was the real winner as their song choice was 'Pumped Up Kicks'. Lyrics about hand-rolled cigarettes and gun crime made this half-pints seem like those creepy kids in horror movie trailers. Carly did, however, hit some very staggering notes, considering her age and I completely forgot Beatrice existed once her competitor hit the mic. Carly wins this battle.
Vino Alan vs. David Correy
It's the battle of the tattoos with Marvin Gaye's 'What's Going On?' as the soundtrack. Vino absolutely blew a very mediocre David out of the ring with his rock solid rock rasp and an intensity not usually seen in these singing competitions. He was so good, he inspired LA Reid's first closed-eyed air conducting session of the season. It wasn't good enough for Vino though, as he went into a blind rage after he was done, insisting he'd cost himself a shot. The judges didn't seem to agree and I think Vino was the clear winner in this duel.
Dinah vs. Diamond.
Another battle of youngsters. The performed a pretty cool slowed-down version of "Stronger" by Kelly Clarkson. This led to a little bit of oversinging and not a lot of bright spots. I'll give the slight edge to Dinah but neither really wowed.
Sister C vs. Lauren
This was a quick shot, but worth mentioning as Lauren scored three knockouts by outsinging the trio by herself. Plus, Sister C got tagged as "annoying" by Britney. Ouch.
Willie Jones vs. Tate Stevens
This was supposed to be a country battle except they sang Babyface instead of country. Willie totally botched his lyrics, and barely even sang when he remembered what he was supposed to be singing. Tate, on the other hand, turned the song into a cool country ballad while Willie just stood and watched in awe. Tate Stevens in a first round TKO.
Arin Ray vs. Normani Hamilton
Arin's a former Intensity member from last year – the Kidz Bop abomination that got mercifully voted off early. They discussed how much they needed chemistry at their duet, but it seemed more like the typed of staged acting you'd see in a grade school play. Plus neither of them could really sing. I'll give it to Normani since she didn't make me watch Intensity last year.
Jillian vs. LaTasha
After a big bragadocious pep talk in which LaTasha basically said everything short of that she was going to eat Jillian's children, LaTasha got three lyrics out before she broke down and said, "I can't do it!" Really? You can't sing? It's not like you're going into battle here. Doesn't seem like that tremendous of a task. Y'know. For a singer.
Jillian tried to pick her up but eventually had to go into her own half. She absolutely nailed it with her cool smoky voice. An absolute blowout here. LaTasha never even answered the opening bell.
Leopard Face vs. Paige Thomas
Leopard Face went with the, "I'm not here to make friends" cliché of all clichés! Who could ask for more before the start of this battle?
Paige was super squeaky and off-tune and out of pitch the whole time. Leopard Face was a little over emotional, but she's a better singer. Leopard Face wins.