'The X Factor' Recap: Tate Stevens Wins + Year-End Awards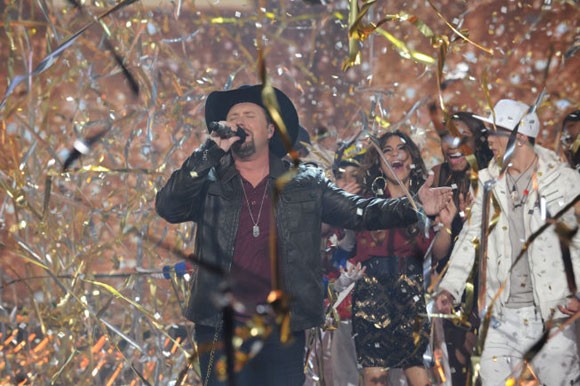 It took awhile, but I finally got it right.
All year, I had a group as a winner. First it was Emblem3. Last it was Emblem3. I'm still kind of in shock that they didn't win despite the fact that they were voted off last week. I thought everything in the conventional culture was aiming in their winning this show. One Direction. Two Direction. Emblem3. It's a natural progression and I think only one of those groups is fictitious.
But that did not happen. Instead it was Tate Stevens, and I probably should have seen it coming. These shows have long trended toward the White Guy with the Guitar and Tate was the whitest and the guitarist, despite Emblem3's best efforts at triple teaming that subset.
So Tate Stevens has The X-Factor. He's the last man standing. Probably not what Simon Cowell envisioned: A middle-aged country guy taking down his pop star factory, but this is the world in which we're living. Tate's world. Or so it would seem.
It seems almost unnecessary for him to win: He's so good and so guaranteed to have a successful career in Nashville that winning almost seems superfluous. He never needed this show. He was going to score a record contract regardless. Poor Fifth Harmony. Poor Leopard Face. They're back to selling stamps and five different things. While poor little Carly Rose will probably head back to Broadway to focus on her "career."
So while Tate is the big winner, he's not the only one. Let's take a look at this year's X Factor Awards:
Best Judge
Maybe the easiest award of all time. Demi Lovato. Man did she smoke Simon. Man did she lambaste LA Reid. Man did she bowl over Britney. The one judge whose hiring I couldn't understand prior to the season's starting turned out to be the most indispensible by season's end.
Her insights were routinely spot on. Her criticisms were absolutely wicked. She seemed to spit venom even if it wasn't warranted. Kind of like…me. Okay, Molly Dewolf Swenson may be my American Idol girlfriend but Ms. Demi is clearly my X Factor Girlfriend.
Worst Judge
Britney. Easy. She was so…vacant. There is no reason to assume there wasn't a producer in her ear via an IFB telling her a one sentence sound byte (all she could remember) to say to each contestant. If you found out Britney had her brain taken out of her body or she'd undergone Electo shock before each show, would you be surprised? Would you be expecting it? No to the first. Absolutely to the first. Not at all to the second. LA Reid is unfortunately gone. Hopefully Britney joins him, because I have no use for her whatsoever next season.
Best Change From Last Year
Everything about the audition shows was improved this year. The documentary feel. The way they made it feel like an event and ratcheted up the dram with extensive backstage plotlines for most of the auditioners, those early shows just felt so much bigger than last year. Especially with the absence of Steve Jones. Which brings us to our next award…
Worst Change From Last Year
Now I'll never say that getting rid of vacuum-cleaner-salesman-in-training Steve Jones was a bad idea, but did they have to replace him with Mrs. Lamar Odom? Wouldn't any other female on the planet have been a better choice than the half-drunk wonder weirdly walking around the stage and awkwardly reciting spoonfed lines to the judges that were never funny or well delivered?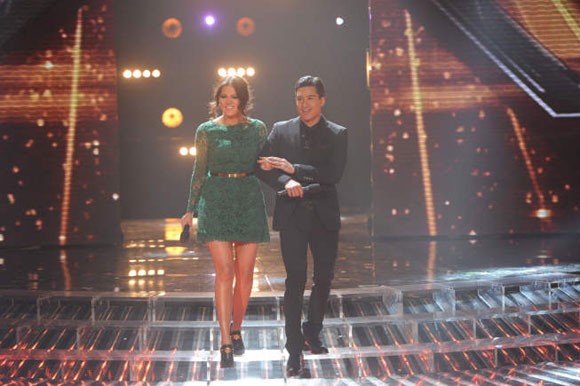 It's a shame because I actually liked Mario Lopez on this show. He brought the appropriate amount of energy while staying out of the way. I think the best solution would be to split the hosts again with Mario Lopez as the on-stage host and somebody like Erin Andrews doing backstage stuff. Just anything that doesn't involve Khloe.
Best Musical Guest
Did I mention Demi Lovato was my 'X Factor' girlfriend? It may be cheating but her performance with Fifth Harmony on the final performance show was definitely the highlight for me of non-contestant performances this season. Did I mention she's now my 'X Factor' girlfriend?
Worst Musical Guest
How am I supposed to decide between Josh Krajcik and Melanie Amaro? How exactly do you choose somebody aping Nickleback vs. somebody singing as poor a pop song as one can sing on national TV?
I'm not going to choose. Let's call it a tie between last season's winner and runner-up. And where was Chris Rene?
Worst Performance
This is tough, but given the quality of the group and the lack of quality of the performance, Emblem3's take on "I'm a Believer" has to rank at that bottom. Between essentially shouting the song, coming off as a high school talent show trying do its own version of "Glee," and making Smash Mouth look brilliant, I have to say this was the worst.
Remember when I had them pegged as the winner? I'm glad I got that one wrong.
Best Performance
Come on. Are you really going to tell me that this performance wasn't the best on the show? Of course you aren't.
Until "Idol" starts, I bid you adieu.