The X Factor Recap: Stars Join The Contestants In A Ludicrous Finale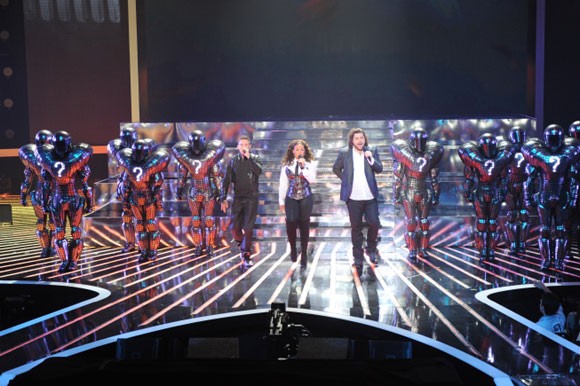 There have been a lot of stupid ideas on TV: AfterMASH, giving Christopher Moynihan a second series, that dancing show where Paula Abdul stood on a huge globe, but last night may have been the biggest brainfart in the history of television – having the contestants stop their performances to introduce a duet with an established star.
Not only was this move distracting and off-putting, but it totally undermined the point of the competition. These are supposed to be discovered talents, not established stars doing duet performances, and that's exactly what this move made them seem like.
Additionally, putting them next to pros just showed how green they actually are. These contestants probably poured hours and hours into their parts of these songs and then the stars came in off the streets and absolutely blew them away. It was actually kind of pathetic to watch them try to sign their sides of the duet. Like they were at a fantasy camp or something.
So I thought that was the dumbest idea in the history of television. Thought. Past tense. Because almost immediately the finalists were joined onstage by an army of dancing Fox NFL robots to some mid-90s Michael Jackson song that I think was just made up of outtakes of him talking between recording sessions. Yes, somebody thought it was a good to have three people simply stand on stage and yell, "They don't care about us," for two consecutive minutes.
So I thought that was the dumbest idea in the history of television. Until the show ended and saw the first 45 seconds of "I Hate My Teenage Daughter". See, kids. There's always a worse idea.