'The X-Factor' Recap: Stacy Leaves, Astro Throws A Tantrum, + Power Rankings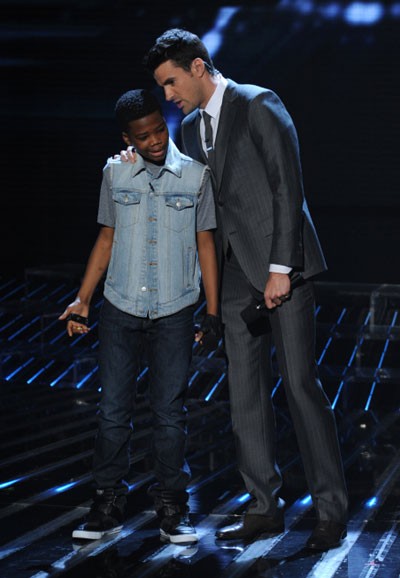 Sometimes I wonder how I'm going to fill even more than a few sentences about the hour-long list reading that is The 'X Factor' results show. Am I going to insult the performer? Am I going to remark for the 47,000th time how inane the group number is? Will I think of new ways to mock overgrown chin Steve Jones? It's a constant struggle. But this week, I didn't even have to think twice. All thanks to that pint-sized pile of poison that is Astro.
The sad thing is that I'd actually started to like Astro. His punkish audition was growing so distant a memory, washed away by his excellent performances each week, that I almost forgot how much I wanted to wring his neck when we first we met. That feeling stormed back last night when he decided that he was too good to perform for the judges' votes amid some of the most aggressive boos I've ever heard directed at a contestant on television.
The main issue with reality TV is that we're often painted over-edited portraits of the characters. The producers can manipulate anybody into being a hero or villain by selecting which clips to show. This is one of the rare cases of a reality contestant turning heel completely on their own. On live TV, Astro basically voted himself off with an outburst that couldn't be manipulated as it was all just pure Astro for the cameras to see.
The craziest thing about the whole incident was that the judges decided to save him after his outburst, despite each (including LA) really criticizing him down the line. The judges always go on about contestants "wanting to be here" and performing like there's "$5 million on the line," yet when they're met with a snarky little scamp who screams about how he'd rather be somewhere else and complains about the inconvenience of having to perform again.
To me, that doesn't seem like somebody who's in it to win the $5 million, and somebody who should have been sent home. Even as bad as Stacy had been the last few weeks, this was a perfect time to send Astro home.
But that was not to be, and Astro lives on. Though let's see where he falls in the Power Rankings:
1 (Rank Last Time: 1) – Drew Ryniewicz
She definitely needs to do something new to hold on to the top spot and ultimately win, but I think Simon is going to find a way to shake it up in due course. She seems to have the biggest fan base.
2 (2) – Melanie Amaro
If Drew has the biggest fanbase, then Melanie's is probably the second – the cheers for her were deafening each night. I worry about her smugness ultimately undermining her talent though.
3 (4) – Josh Krajcik
He's the underdog and the only guy with a real shot. Guys have done so well in these competitions the last few years, especially when they're rockers. Josh is trying to paint himself into that role and if he does he may just become the darkhorse.
4 (3) – Rachel Crow
I thought people really liked her, but the audience didn't seem too upset when she looked like she might have been in the bottom two. I may have overestimated the support for her.
5 (5) – Marcus Canty
He's the enigma in this competition. I could see him winning and I could see him going out next week just as easily. I just don't know what to make of him.
6 (9) – Chris Rene
He's starting to rise as he sings better and picks better songs. It seems like people genuinely like him. I just don't know that he has the talent to compete until the end.
7 (9) – LeRoy Bell
The judges seem to have it out for my man, LeRoy which is never a good sign going forward. Though he didn't bottom two despite bad reviews out of the leadoff spot this week. So maybe there's hope.
8 (11) – Lakoda Rayne
It's pretty clear at this point that a group just isn't going to win. At least Paula didn't become completely irrelevant after only three shows.
9 (6) – Astro
Yup, he's all the way at the bottom now. I think America is completely done voting for him after that outburst.