'The X Factor Recap': Sob Stories Aplenty for Thanksgiving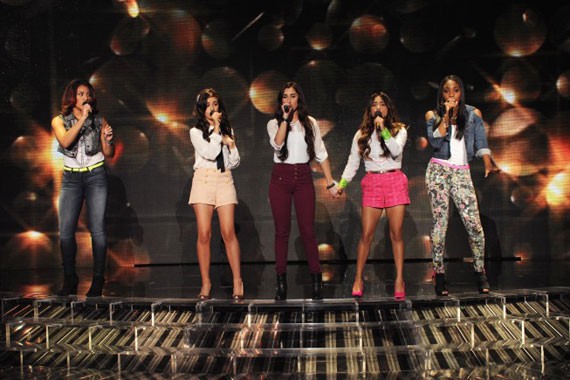 Fifth Harmony Sang "I'll Stand By You" by The Pretenders
LA Reid Said: My critique is that was great.
Britney Said: What a touching rendition of this number.
Demi Said: I wasn't too crazy about the song choice, but you made it work.
Simon Said: I was crazy about the song choice and crazy about the performance.
The Verdict:
Their performances continue to underwhelm me and are like a repeat from week-to-week. A couple solos, some poor harmony and a couple more solos.
Yes, these are five solo acts combined into a group, but you'd think they'd come together with a bit more chemistry at this point, beyond just taking terms on mediocre karaoke and occasionally singing simultaneously – not harmonizing, singing simultaneously.
Their performances just lack anything compelling. It's nothing that would make you stop if they were singing in the middle of the street, and certainly not worth taking over an entire stage for.
And why does a group need a choir again?
Grade: C-
Prediction: That's the type of performance that gets forgotten. They could be in trouble with two eliminations.
Beatrice Miller Sang "Chasing Cars" by Snow Patrol
LA Reid Said: You're an inspiration for every girl your age.
Britney Said: I think it was your vocal performance so far.
Demi Said: I feel like it's not progressing. It's the same song every week.
Simon Said: This song actually really meant something to you. I preferred this week to last week's performance.
The Verdict:
They really did try everything with Beatrice here, didn't they? The leaves, the wind, the glitter, the weird gate behind her, the electric youth get-up. There was a lot going on up on that stage.
Unfortunately, also going on onstage was a lot of mediocre vocals. Beatrice just sounds like a little girl with a half-decent voice who really likes to sing along with songs. Probably because that's all she really is, with just a little bit of cool tone thrown in there.
This is a prime example of just too young and too soon to do much of anything on this show.
Grade: D+
Prediction: She could be gone after her low results the last few weeks and a performance that seems destined to be forgotten.
Vino Alan Sang "God Bless the USA" by Lee Greenwood
LA Reid Said: You are the truth, my friend.
Britney Said: This is the first performance that's been spot on. That was amazing.
Demi Said: There is something special in you and I see it tonight.
Simon Said: We could be seeing you at number one tomorrow.
The Verdict:
I refuse to review the performance of anybody who sings this piece-of-garbage song.
Grade: I
Prediction: That's the sort of blatant plea for votes that always works.
Paige Thomas Sang "Everytime" by Paige Thomas
LA Reid Said: While I thought it was really good, I didn't think it was good enough to get you out of the ten spot.
Britney Said: I think you performed it beautifully. It was really beautiful.
Demi Said: It was pitchy. The emotions did take over you.
Simon Said: I thought there were moments when you sang it really well, but your voice was muffled at parts. Your emotion took over.
The Verdict:
Wow. What a vocal catastrophe this was. I couldn't understand a word she was saying, her pitch problems were abhorrent and she totally struggled to hold together any semblance of poise as she let her emotions control her to the extent that they doomed her to fail.
It's one thing to channel emotions into a performance to strengthen the connection to the song, but it's another to just cry while you're supposed to be singing.
This was much more crying than singing and it was a total sobby mess that undid some glimmers of excellence from a performer who seemed ready to come into her own.
Grade: D
Prediction: Wow. Even Demi Crushed her. Looks like Paige is dunzo after being in the sing-off last week.
Carly Rose Sang "Over the Rainbow" from 'The Wizard of Oz'
LA Reid Said: When you least expect it, you dig deeper.
Britney Said: I will never get over the fact that you're 13. It's unreal. You're unreal.
Demi Said: I really honestly don't believe you when you say you're only 13. You're like an alien.
Simon Said: You are the best alien I've ever heard sing in my life.
The Verdict:
In the a capella portion, I was all ready to crush her again for being overwhelmingly creepy in the shadowy light. She stood there over-singing, over enunciating, as the look of creepy preciousness overwhelmed her every motion.
Then the music swelled and so did she. And I finally got it. I finally got why she keeps finishing so high in the rankings and has become America's li'l Sweetheart. This kid sang the teeth out of this song with such easy passion and vocal power that she actually seems beyond her years, rather than just somebody good for her age.
This was her best performance so far, and the best of the night overall.
Grade: B+
Prediction: Killing it in the Pimp Spot always makes you safe. Always.
Final Thoughts:
My brain is too fried for thoughts after actually watching an entire two hours of that show and all its behind-the-scenes nonsense to muster any thoughts beyond the predictions, so here goes.
Paige is done. She won't be in the sing-off. She's just done. After finishing near the bottom last week and getting absolutely crushed by the judges so late in the show this week, there's just no way she's going to stick around.
Arin is obviously in real danger as he's just missed the sing-off each week and got crushed again. He'll be singing for his life alongside either Beatrice or Fifth Harmony who were just too forgettable to court many votes.
I think Arin might beat either of them and I'm going to say Beatrice joins Paige Thomas on the train home for Thanksgiving.