'The X Factor Recap': Sob Stories Aplenty for Thanksgiving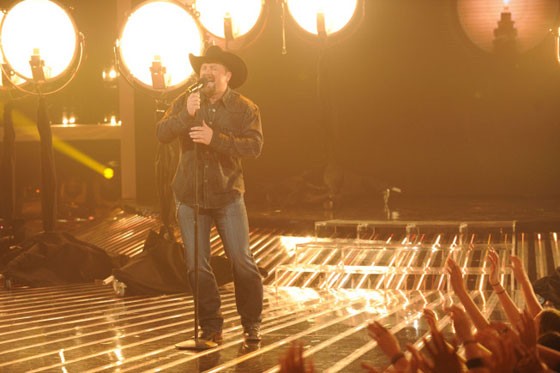 I'll make a confession. I've never watched this show live.
Living on the West Coast, we get a tape-delayed airing of 'The X Factor' which I routinely DVR to cut out all the fat and make sure I don't miss anything important. Being in a DVR-less Thanksgiving zone, I was forced, for the first time, to watch this entire show live, and boy. For anybody who does that. I tip my cap to you.
By my rough estimate, 20% of the show was singing and judgment. Y'know, the stuff we tune in for. The rest was commercials, endless sob stories, and Khloe Kardashian stumbling over multi-syllabic words. Just an absolute torture chamber slough through a lot of what we don't want to watch to get to those nuggets of what we actually want to see. Like an NBC Primetime Olympics package, but with Khloe Kardashian.
So on this Thanksgiving, I'm thankful for one thing as it relates to this show: The ability to DVR my way through it.
Let's just get to the performances:
Tate Stevens Sang "I'm Already There" by Lone Star
LA Reid Said: America loves you.
Britney Said: Your performances are always so touching and so special.
Demi Said: You always do a wonderful job. It wasn't your best performance but it was still incredible.
Simon Said: I loved the song, but it wasn't as confident as previous weeks. Does that mean you're going home? Not a cat in hell's chance.
The Verdict:
Tate Stevens remains the consummate pro, even as he's forced to lead off the show. I really don't see any discernible difference between him and the 19,000 country singers that I come across when I'm trying to get a station on my shower radio to complete futility.
I'm not sure if that's a compliment to Tate or an insult to the current country music scene, but I meant it as a compliment.
Grade: B+
Prediction: The only thing working against him is the first spot, but I can't see anything derailing him right now.
Diamond White Sang "Because You Loved Me" by Celine Dion
LA Reid Said: You've had many amazing moments on the stage, but you've never had a moment like that.
Britney Said: It was really beautiful, sweetie.
Demi Said: The fact that you gave your heart and soul to it – I'm blown away.
Simon Said: You were both fearless and incredible.
The Verdict:
This such a weird and contradictory performance.
The problem I always have with these young pups is their inability really interpret and capture the emotion of the song. Here, Diamond does that in spades. She conquered the stage with this song, pouring herself into it and owning the performance with complete believability.
And that's what's so weird. With such a poised performance, you'd expect a vocal prodigy like Diamond to just blow this one away. Instead, she was flat the entire time. She was continually off-pitch and couldn't hit any of the big flourishes when the song called for it.
It was so weird, because when I saw what she was ready to bring to this song, I expected her to soar. Instead, she never rose above mediocre karaoke.
Grade: C-
Prediction: The raves were so strong from the judges  that she is definitely safe for next week.
Emblem3 Sang "Secrets" by OneRepublic
LA Reid Said: Your performance lacked emotion.
Britney Said: It's a really nice change of pace from the previous performances.
Demi Said: I saw more emotion than I have in past performances.
Simon Said: I want to thank you guys for being an absolute pleasure to work with.
The Verdict:
Another week, another solid Emblem3 performance certain that elicited more screams than the rest of the contestants combined.
It was a slight departure, as they slowed it down a little bit, and actually showed an ability to sing beyond just running around the stage and basking in the love from the audience. This was probably their most complete performance and actually established them as more than just an object, but an actual singing group in this competition.
Grade: B+
Prediction: They are definitely sticking around. Even if the producers killed their mics after their performance.
Arin Ray Sang "Hero" by Enrique Iglesias
LA Reid Said: I felt like it was too big, and it was a tough one for you.
Britney Said: Last week was tough, but this week was better.
Demi Said: If I owned a record label, I wouldn't have signed you.
Simon Said: I feel like you're being trapped in a cage with these songs.
The Verdict:
Let's just put away the fact that Arin decided to sing this song to his brother and all the creepy implications therein. We'll just pretend that never happened. Agreed?
This actually may have been Arin's best overall vocal. It was missing his normal flat notes and lazy vocals that have always kept him from matching his charisma with his actual singing ability.
But as those vocals came back, his charisma evaporated. He stood on the stage like the red laser dot of a sniper was keeping him there and just focused so heavily on the vocal that he sucked all the life out of the stage in the process.
With Arin, if you're choosing between the vocals and charisma – you'd much rather have the latter. It's his forte.
Grade: C-
Prediction: The judges slammed him, and, even though he took it well, that seemed like his final shot.
Leopard Face Sang "Wind Beneath My Wings" by Bette Midler
LA Reid Said: Your emotions was so genuine and so real that I felt the words. You're a champion.
Britney Said: I just thought you were amazing.
Demi Said: That was awesome. You really poured your heart and soul into that.
Simon Said: I really like you and I hope the public keeps you in the competition.
The Verdict:
After a few weeks on the big stage, it's become clear that Leopard Face simply cannot sing. That voice that blew away the room in the early audition rounds and boot camp, just seems to have been swallowed by the magnitude of the moment from week-to-week.
So many pitch problems, so many flat notes, so little ability to belt anymore. Her voice was the thing that was going to overcome her unlikability, and now that seems like it's not going to carry her forward anymore.
Instead, she's now verging over to likeable with an incredibly heartrending story about her late sister. The emotion was palpable as she sung heavenward in honor of a sister she lost too soon.
That aspect of the performance was incredibly compelling, but her voice…just not there.
Grade: C-
Prediction: I think the performance and the story behind are enough to keep Leopard Face around for another week.