'The X Factor' Recap: Sick Simon, Arrested Contestants and a lot of Good Auditions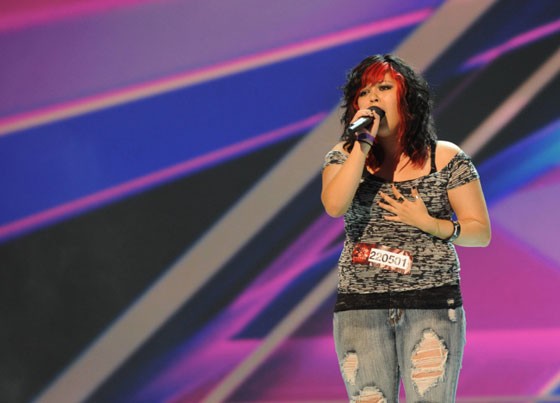 'Twas a tale of two judges last night.
In the first half, an ailing Simon was replaced by his fellow judges from the original 'X Factor', Louis Walsh. This part of the show was much warmer and cuddlier than we're used to from this program. Everybody was great. Everybody was having fun. There was absolutely no snarking or sniping between the judges and everyone seemed downright upset when it was time for Louis to leave. So lovely all around.
Then Simon came back and things got decidedly more Cowellian. The un-British English teeth were out as montage-after-montage of no's greeted contestants, as well as some of Simon's best barbs:
"It's like six of you were waiting for a bus and somebody asked you to sing a Demi Lovato song."
"I thought the song choice was boring. I won't remember you in fifteen minutes."
"You're a bit like a singing candle. You just stand there and melt. I wouldn't play that at my funeral."
Personally, I preferred the Simon version. Let's wish him continued good health.
Of course, this show isn't only about the judges. There were auditions too! Here are the good, and bad, from last night.
THE GOOD:
Cece
This is the gorgeous 20-year-old who trolled around backstage ostensibly attempting to get inside everybody's head. So much so that she's actually espoused the most cliché of all reality show clichés: "I'm not in this to make friends." Plus she kept us in suspense for about 20 minutes wondering whether or not it was makeup or a tattoo on her face.
She first attempted "Unchained Melody" in a boring lack of control that was so bad it almost seemed contrived. That's because when she went into Christina Aguilera's "Ain't No Other Man" she exploded into a ball of charisma and her voice went from a 5 to a 9 with relative ease.
Vino
A tatted up combo of Everlast and Josh Krajckick from last year. Except his head full of tattoos made him even scarier than that image. He sang "Trouble" by Ray LaMontagne and flashed the raw gritty voice that suited it perfectly.
Tate
This is the older guy in the cowboy hat who was an absolute country pro. So much so that he seemed more like one of the ringers they bring in on "The Voice".
(Quick aside: Everyone knows "The Voice" is fixed right? Nobody on that show is undiscovered. They're all pros and semi-pros that just aren't famous. That's why that show is moronic.)
Anyway, Tate was good enough to be one of those semi-pro singers on Blake Shelton's team.
Citizen
This was the group of five multi-ethnic hunks who took on En Vogue and brought us back to the 90s in the process. Simon did not care for them at all, thinking they were too much of a throwback. I think they were a throwback in a good way. Strong harmonies, clean vocals and a ton of sound. Plus they all seemed to sing will individually.
I'm telling you: A group is going to win this season.
Adrianna
This was the fourteen-year-old with a nose ring who decided to take on "Rumor Has It" by Adele. At least she tried to, but after yelling the first few lyrics, Simon waved her off and she was done. We also learned that Simon hates "Rumor Has It" and didn't want to hear any more Adele songs. Very interesting.
Diamond
This is the goofy little thirteen-year-old who dismissively said that she didn't have a dad. I guess you sadly get used to that after awhile.
Now, I hate kid singers. I want all under-18s stricken from these competitions. But this girl did not sound like a young singer. She was good-good. Not good-for-being-young-good, but actually good. She dug into "A Man's Man's Man's World" with a gigantic and powerful soul instrument that absolutely brought the house down. From her smiling and giggling persona, this seemed impossible.
But she was good enough and the contrast was startling enough that I just might have to call her the little kid Susan Boyle.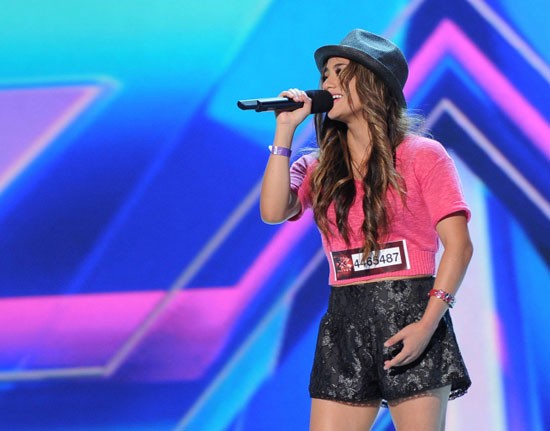 Ally
This was the girl in a weird little hat and the giant family waiting backstage. She was so good it was boring. Just the most middle-of-the-road but good voice. It got a little more interesting when she refused to stop singing and went a capella for about 90 seconds for no real reason. She was definitely good enough to get through, but there was nothing that really stood out about her.
Panda
This is the woman who was even bigger than the eponymous bear and whose mother gave birth to her while incarcerated with a white cell mate. She also wore a necklace that said "Single" and had been in the hospital just the day before with pneumonia.
She seemed like a surefire candidate for the scrap pile and then she reached down deep for a syrupy smooth soul that absolutely murdered the song.
Simon said it best when he said: "You sound like a legend."
And…then she went back to the hospital after having to spit a lot. Classy.
Jessica
This is the girl from "The South Side of San Antonio" (cue huge cheer) who comes from a place where apparently people really understand how much $5 million is worth. I'm not sure how money spends differently there, but I'd love to know.
She gave us a real performance rather than an audition. The track was perfectly synced, her vocals impeccably times, it almost felt like she'd rehearsed with the producers prior to taking the stage. In other words, the typical 'X-Factor' audition.
Oh yeah. She was also great.
THE BAD: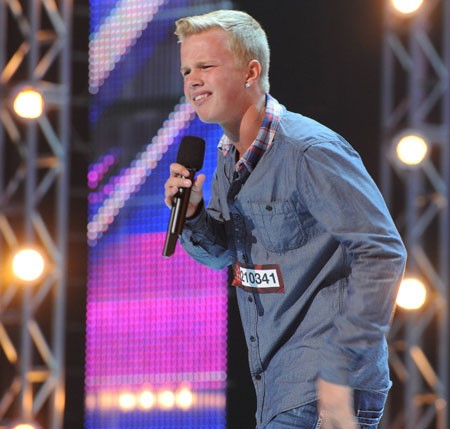 Rizzlo Jones
This was the cornfed white rapper with the NFL Wide Receiver diamond earrings. He decided to freestyle. Like, literally make up a rap on the spot like an improv game. That's great for "Whose Line is it Anyway?" but I'm not sure how it fits in with a singing competition. Especially when most of his lyrics seemed to be "Let's go!" I'm reasonably confident I could have rapped about 85% as well as he did. And been 850% more gawky.
DeAngelo Wallace
The most infamous audition of the evening. He was so bad that the judges assumed he was pulling a fast one on them (I think he was sincere) as he sang a Chris Brown song like a 12-year-old going through puberty.
His audition is not the part that is most memorable from Mr. DeAngelo. That would be the moment where he stole his microphone, confessed to the crime on camera, and then bragged, after being arrested, that he would be out in just a few hours.
Something tells me that's not the last time DeAngelo will feel the cuffs on his wrists.