'The X Factor' Recap: Picking The Best Team And Top 32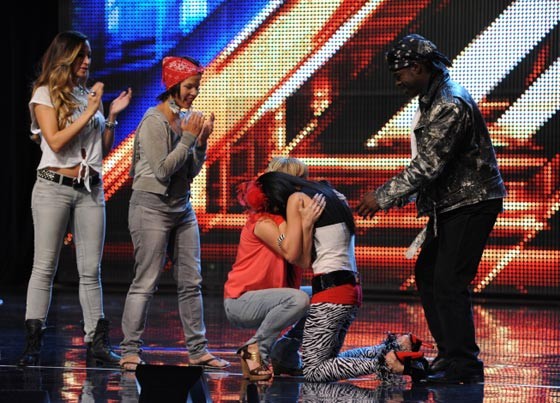 After almost buying in last night, I'm now entirely in on 'The X Factor'. The auditions for this show were terrible. Stale, over processed pieces of nothing that distracted from the music, judges and contestants and just focused on the schmaltz. For those first 8 hours, I was beginning to rue the day I agreed to recap this show. The thought of a dozen more weeks of entertainment on that levels was about as bleak as a Russian winter.
My animus softened with the group round in Boot Camp week. The show suddenly transformed from a boring piece of non-musical nothing, to a show that was all about the music. It skipped the backstage fighting and focused on some excellent performances. Suddenly, I was entertained. I didn't think that was possible three weeks ago.
The show took another step last night with the way it divided its contestants and how it presented them in their solo auditions.
The show went away from a singing contest and became a real competition in one night. Dividing the aspirants into four different groups, each spearheaded by a judge, is an ingenious step toward making this show a much more cutthroat version of the typically feel-good reality competition genre.
And once the teams were assembled, it was impossible not to pick your favorites, and wonder which judge was going to lead his team to a win and which would get the least from their stable. In fact, let's do that right now.
But first, a word from our sponsor: Common sense.
Last night's episode of 'The X Factor' was 90 minutes and consisted exclusively of group performances. This week's episode had exactly 30 minutes of group auditions, with the initial cut included, and 90 minutes of individual auditions and the final cut down. Wouldn't it have made more sense to put the two-hour episode on Wednesday with the full group round and then separate it into 90 minutes of individual auditions in the a different episode, or does that make too much sense? The only explanation I can think of is that Thursday is the most important night for advertisers.
And now, on with the handicapping!
Nicole's Team: The Over 30s
On paper, this looks like the strongest team. It includes Josh, the sweaty burrito maker with the unreal tone and the big booming voice, Stacy Francis, the perpetually running-mascara covered mom with the big soul voice and a half-dozen other strong contenders.
They're also the most seasoned group, obviously. Age is an asset here as they won't suffer the typical nerves, stupid song choices and inconsistency of the younger set. They know who they are and they're ready to go.
Of course, age could also be a detriment. Firstly, if these singers are capable of winning, why have they gone so long without being discovered? Also, voting for this show is typically dominated by the younger set and I don't see them going out of their way to dial up support for a 59-year-old soul singer in a skull cap.
Odds of Winning: 6-1
Paula's Team: The Groups
Just think about it quickly – was there any group that you found memorable? Weren't much of the groups dissonant messes of suspect talent? That's how I remembered them.
Two of them (Illusion Confusion and The Bruer Boys) I don't even recall ever seeing sing. The ones that I do remember (4 Sure and Stereo Hogzz) only stick out because of their ridiculous names and the fact that they didn't sound good.
The only group I thought had any hope was 2 Squared as they gave of an En Vogue-ish sound that I miss hearing on the radio, but I might be the only one that feels that way. I also like The Anser because I'm assuming they're named after the Ping Anser putter, but I'm certain I'm the only one who feels that way.
Put all that together with two groups thrown together at the last second and the fact that Paula's coaching them, and I don't see anyone on this team taking down the prize.
Odds of Winning: 12-1
Simon's Team: The Girls
There's a lot to like in this group. It's got Caitlin Koch, the super-hot rugby coach with the booming voice and the glamorous look. It's got , Tolliver, the soulful firebrand who Nicole and Paula hated for some reason. There's Drew Ryniewicz, the Amy Whinehouse-voiced fourteen-year-old who is singlehandedly making me re-think my bias against the younger set. Plus there's Melanie Amaro who just might be the best singer in the whole damn show. And don't forget Tora, the tattooed cover songbird with a really cool vibe and really solid voice. These five are all capable of winning.
It's also got a lot not to like. Jazzlyn and Simone have made their biggest marks so far by forgetting their lyrics. Then there's Rachel Crow, the annoying little fourteen-year-old with a good-for-middle-school voice who's totally reaffirmed my bias against younger singers. Oddly, she might have the best chance of winning of anyone in here.
So we have a good five and a lame three. Fortunately, the top four are all that matters, and anybody from the five I listed above is good enough to take down the crown, especially with Simon guiding them.
So this should be a slam dunk, right? With so much talent and such a strong mentor, it's impossible for this team to lose.
Not so fast. If form holds, voting for this show will be dominated by young girls. The same young girls who never seem to vote for girls. This group has the most talent at the top, but that might not be enough to win.
Odds of Winning: 3-1
LA Reid's Group: The Boys
I have to admit. There's not a single person in this group of whom I'm fond.
When the standouts consist of a bratty little rapping boy, a cocky guy singing Frank Sinatra, a Scott Disick clone, a guy with weird MC Hammer hair and eyebrows and several people I've never heard of, there isn't a whole lot to go on.
The one guy I do like is Chris Rene, the recovering drug addict with plenty of tattoos and a whole lot of tone. He's a nice story and has some talent, though I think he's out of his depth in this competition.
In other words, there's absolutely no reason to think this group has any shot in this competition. Of course, in the last few 'American Idols' there was no reason to think Lee, Scotty or Kris had much of a shot either, but the tween voters vote as tween voters vote and they took home the prize easily.
I'm not sure who it's going to be from this group, but I imagine the crush will form somewhere.
Just so long as it's not the Scott Disick clone.
Odds of Winning: 3-1
Which team does everybody else think will win?