'The X Factor' Recap: Over-25s Take On The Four Chair Challenge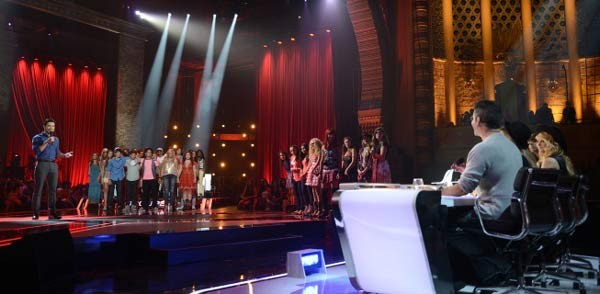 Last night, after weeks of ominous teaser ads, the already legendary "Four Chair Challenge" finally had its debut on 'The X Factor'.
It added an interesting wrinkle to the show and certainly some "Live Show" tension that hadn't quite been there before. The performances suffered compared to the super-slick judges' houses performances, but sadistic musical chairs game more than made up for it.
Essentially it worked like this: The first four contestants sang, they all took a seat and the next six tried to steal one of their seats. The mentor from that category makes the decisions of who gets to sit and who has to get a seat on a flight home. In the end, only four remain. The Four Chair Challenge.
Such a clever name.
Here's how the Over-25s broke it down:
Victoria Carriger Sang: "Make You Feel My Love" by Bob Dylan
Demi Said: I loved the fire behind, but I think the energy was low.
Paulina Said: Your raspy voice has captivated me since the beginning.
Simon Said: The song was great, but on that performance I wouldn't put you through.
Kelly Said: You silenced the room, but then it got boring.
The Verdict:
Obviously, Victoria chose this song because of Adele and meant to do the Adele version of the song. Unfortunately, her raspy and unintelligible delivery was more reminiscent of the song's original artist than the British Siren.
I don't get this girl at all. There's some sort of scary passion behind her that makes you fear for her eight kids, but none of that really manifests itself in anything beyond something that's almost uncomfortable to watch.
Grade: C-
Result: GONE
Kristine Mirelle Sang: "Oops! I Did it Again" by Britney Spreas
Demi Said: It was very pitchy.
Paulina Said: I don't think you're ready for this.
Simon Said: I think you have the potential to get better.
Kelly Said: You are in my Final Four.
The Verdict:
Kristine went with a slowed down version of the new classic pop nugget and turned it into some sort of acoustic soul song. The result was almost a total dumpster fire as she was completely off the melody and even the rhythm with more pitchy moments than not and more wrong notes than good.
A total disaster of attempted artistry that didn't work at all.
Grade: D
Result: GONE
Jeff Gutt Sang: "Amazing Grace" (Traditional)
Demi Said: I think you're so talented.
Paulina Said: You captivate me.
Simon Said: This is by far the best performance of the night so far.
Kelly Said: You bring up all the stakes in the competition.
The Verdict:
I always wondered what it would sound like if a 90s alternative lead singer passed a kidney stone while singing "Amazing Grace". Thanks to Jeff Gutt now I know. Thanks?
Grade: D
Result: SAFE
Rachel Potter Sang: "Irreplaceable" by Beyonce
Demi Said: I think you can do better than that, but it was kinda rough.
Simon Said: Great choice do a country version of that song.
Kelly Said: This girl has crazy pipes.
The Verdict:
I never thought of this before, but "Irreplaceable", it's really a country song. It's absolutely a country song. If it just had the guy loading up a pickup truck it would be perfect because it has all the other elements.
Rachel really hammered that fact home with a pop/country version that sounded radio ready. She's a little rough around the vocal edges, but she's got a presence that exceeds her limitations.
Of course, she gave us the classic "I'm sick" excuse. So there's that.
Grade: B
Result: SAFE