'The X Factor' Recap: Only A Few Really Bring It On Rock Night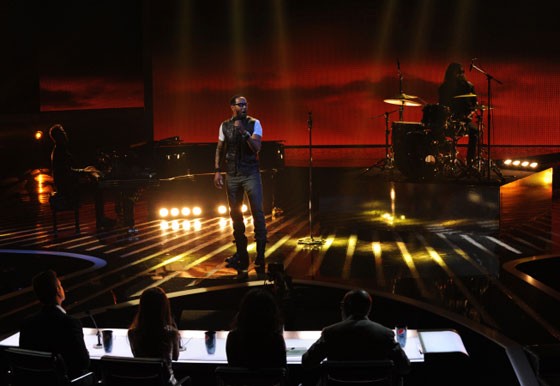 I'm back after a week off for my sister's wedding, and before we get started I should fill you in on what I thought of last week.
The three performances I really liked were LeRoy Bell, Melanie Amaro and (surprisingly) Rachel Crow who I thought flashed a voice I hadn't heard from her yet in the competition.
The three performances I thought deserved to be voted off were Stacy Francis, Chris Rene, and The Stereo Hogzz. Stacy just picked a terrible song, Chris is still struggling with pitch and The Stereo Hogzz were just a mess. Not surprisingly, they got voted off.
And now that we're caught up, let's get to last night!
LeRoy Bell sang "We've Got Tonight" by Bob Seger
LA Reid Said: You look great and sound great but you're still not working it like a rock star.
Nicole Said: I think tonight was the best you ever sung in this competition.
Paula Said: This is live TV and you need to bring it.
Simon Said: Nice song. Good voice. In terms of originality, zero. Right now you're being mentored like a session singer.
The Verdict:
This could not have been a more perfect song choice for Mr. Bell. A spare and delicate ballad that allows him to still stay gritty and keep all the soul in his voice. Dare I compliment Nicole? I think I have to here.
But why should I be like one of the judges and just dwell on the performance of the other judges? Let's give some credit to LeRoy. While this may have been a perfect song for him, it didn't have to be a perfect performance, but he attacked the vocal with aplomb handling the quiet intro with tender ease and showcasing a bigger voice when the band came in.
I would have preferred it stayed stripped down the whole time and I think that would have made a bigger impact, but I still liked just about everything about it.
Grade: B+
Prediction: It's rare for me to like something and then want to go back and change what I wrote because the judges made really good points to the contrary, but this was one of those cases. I think they may sway America too, and out of the leadoff spot, he's in real trouble.
Rachel Crow sang "(I Can't Get No) Satisfaction" by The Rolling Stones
LA Reid Said: Can you sell records? Can you sell tickets? Yes.
Nicole Said: Rock 'N' Roll originated from rhythm and blues music. So that was the perfect song choice. (I'm sorry, I don't follow the logic)
Paula Said: You are one of my favorites.
Simon Said: People are now going to start to respect you.
The Verdict:
This performance pulled the rare feat of vacillating between corny and boring. The costumes, the flash, the dancers that was all incredibly tacky and unnecessary. The boredom? Well that came from the high school band arrangement and the one-key vocals that sucked all the rock and spirit out of this song.
This was a horrible song choice for Rachel and she did absolutely nothing with it. It's not that she didn't sound good, she just didn't sound compelling. Just a pleasant, lifeless, dull and forgettable vocal in the midst of a bunch of cruise ship corn that doesn't belong on national television.
Grade: D+
Prediction: I think America is in love with her, and the judges' love will only spur them on.