'The X Factor' Recap: Not Many Kings On Michael Jackson Night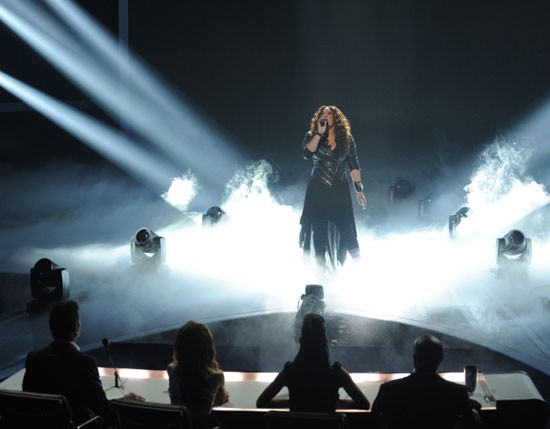 I'm back again after a week off for Thanksgiving this time. Curse you, Turkey and your insufferable way of making me miss 'The X Factor'.
Not to worry though. I will be here for the duration of this season. First, let's get to my quick recap of last week.
I thought it was LeRoy's best performance and I'm a bit dismayed to see him go. After all, he was this year's winner of the Molly DeWolf Swenson Scale and I was rooting for him. I also think he greatly outperformed Marcus in the sing-off. Simon should have had the stones to keep him in there. Maybe it's because he just hates Nicole enough to take out a superior contestant. Who knows?
As for everybody else, nobody really stood out to me. Drew and Astro are getting repetitive, Melanie remains too cocky and everybody else is just kinda… there.
Who knows? Maybe it's because I watched it too fast. That won't be a problem tonight. On with the recap!
Josh Krajcik sang "Dirty Diana"
LA Reid Said: It was a struggle, but you landed on your feet.
Nicole Said: You were as inspiring as Michael. (I can't wait until she gets fired)
Paula Said: You learned how to be comfortable in the uncomfortable.
Simon Said: As a spectacle, it was great, but you got lost in the production and choreography.
The Verdict:
This performance is starting to make me come over to the idea that Josh might be just the slightest big grithenting when he's singing. Between him always being lit from underneath, standing over the microphone like a monster who's just slain its prey and his insistence on adding a bit of Korn to everything he sings, the guy is starting to freak me out.
This was probably his worst performance so far. He just sort of garbled his lyrics like he was forced to sing with shale in his mouth and was oftentimes overpowered by the backing music. This is a guy who's supposed to have a huge rock voice – shouldn't it distinguish itself from the lame backing arrangement that basically murdered this song?
Although his two-note guitar solo was impressive. Y'know, as far as guitar solos with only two notes in them go.
Grade: D
Prediction: Kind of unmemorable in the leadoff slot and not the greatest remarks from the judges. He could be in trouble.
Astro sang "Black or White"
LA Reid Said: That was truly amazing.
Nicole Said: Not your best, but I love the lyrics you wrote.
Paula Said: You're influential and inspirational. You're our past and our present. (Uh-oh, old Paula lurking)
Simon Said: That's what someone your age should do with a classic pop song.
The Verdict:
It's come to this. Astro doing the MacCaulay Culkin portion of the "Black or White" video. Kind of a brilliant move when you think about it. Now that he's become America's most hated kid, why not try to summon the spirit of America's most beloved kid?
Now as for the actual performance, I said it last time, and now I think we've reached that tipping point – Astro is just too repetitive. There's only so much a rapper can do in this format when he's forced to simply come up with some clever way of doing an existing song. He just raps over a familiar track and that's it. It's almost like a party trick rather than an actual performance. Though I did dig all the spectacle on this one – the dancers and whatnot.
Still, Astro is just becoming too repetitive for me. And it's probably just going to get worse from here.
Grade: C
Prediction: There were enough bad performances this week that Astro's public enemy number one status may not cost him this week. His time will come.