'The X Factor' Recap: Jason Brock Goes Home + Power Rankings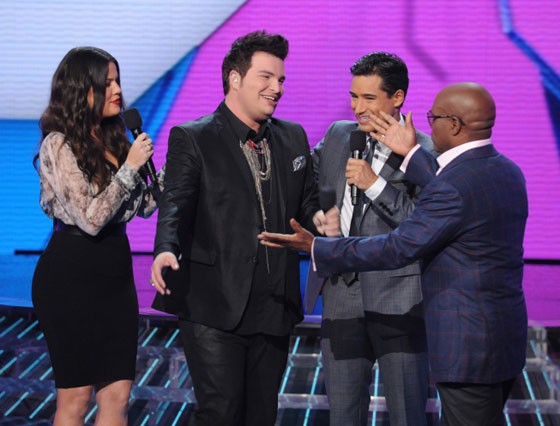 The curse of my favorites comes true again.
Not only did my main man Jason Brock see himself going out first, but my second favorite Leopard Face joined him in singing for her future on this show. There's just nothing worse on these singing shows than being my favorite contestant. It's certain doom.
The problem? Jason deserved to go home. He's got a solid voice and is a lot of fun, but he's a cruise ship entertainer, and one that you wouldn't be that thrilled to be stuck with on a boat either. He was just too theatrical, too cabaret and too out of some sort of weird lounge act parody.
But at least he did it "For the gays and Japan." I guess that's something. Even if I have no idea what any of that means.
As much as I liked him and wanted him to be good, he just wasn't. He went out with class; however, and with a smile – just what we would expect from Mr. Entertainment. He's so much fun on stage that I don't think anyone would be disappointed to see him replace Khloe and Mario Lopez as the host next week. It would certainly make things more fun.
Last night also introduced the very cool wrinkle of actually revealing the pecking order of votes for each contestant. It may seem this will render the power rankings irrelevant, but I think interpreting those results is more essential than the results themselves. Check that out below:
Power Rankings:
1 (Rank Last Week: 1) – Emblem3
I'm convinced they're invincible. Simon is just too dialed in with how he creates their performances. They're going to be consistently themselves every week. And that's enough to win. I don't care if they finished sixth in the voting.
2 (2) – Arin Ray
The guy aping Usher is right in the Usher demographic and has the potential to break out from week-to-week. I give him a shot. Don't believe the voting rankings hype either (he was 11th) – he went first and you're always going to get the fewest votes out of that slot.
3 (3) – Tate Stevens
Can the old guy win? That all depends on how much the voters go country. It works on just about every other show, but this one has been a little bit different. Of course, there's never really been a true country act on this show either. Seeing as he had the most votes this week, it's clear that this show has the potential to follow suit from other singing competitions.
4 (6) – Lyric 145
I think Simon just knows how to guide winners on this show and with this wild card of a group, he has a chance to upset his own top group. And he just might do it.
5 (4) – Jennel Garcia
Kind of a rocky week this time, but I think that had more to do with the song choice than anything else. She's still the most likeable of the girls and the one most likely to draw votes in that demographic.
6 (5) – Carly Rose
I still think she's creepy, and she doesn't have the spunk of other past long-runners in the tweenie set. She's got the voice, but she's missing the oomph to be a real threat despite a second-place finish this week that was mainly a result of her singing in the near-pimp spot.
7 (8) – Paige Thomas
This was her best week so far on the show. She looked amazing and her voice was actually something that could be mildly confused for a real singer with big-time talent. If she continues to improve, she could see herself climbing these power rankings.
8 (11) – Vino Alan
The Soul Man needs to remain a Soul Man in order to remain a hopeful in this competition. It's clear the audience loves that as he finished near the top of the vote count despite going earlier in the show. I'm just worried that one insane rock week is going to see him make an early exit.
9 (NR) – Diamond White
The late entry has some climbing to do, as her voice just isn't as fully rounded as the other girls in this competition. She does have the fun spunk which has appealed to voters in the past. I just think she's likely to have a really bad week that will end her run early.
10 (7) – Leopard Face
It's clear that Ol' Leopard Face just isn't likeable and America wants her gone as quickly as they can see her go. She showed she definitely has the pipes tonight to win a few save-me sing-offs, but I think she might be there every week.
11 (10) – Fifth Harmony
They were in the Pimp Spot, nothing more to see here. They're the weakest group and are one more lame karaoke performance away from the exit.
12 (12) – Beatrice Miller
Here's where I really believe the vote count. She was in the middle of the show and was near the bottom of the voting ranks. She's the second (an now maybe third)-best young girl and it's just impossible to win when you're not the best of the bunch.