'The X Factor' Recap: inTENsity Goes Home + Power Rankings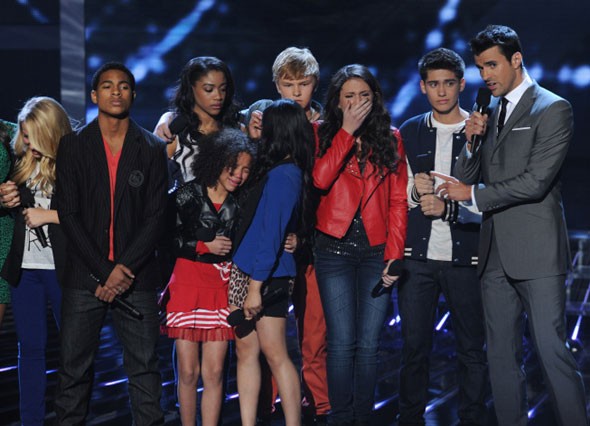 I'm pretty sure this is the first time it's ever happened. In the too-many years that I've been writing about various singing competition shows, I don't think it's ever come to pass that the contestant (or contestants) I liked the least got sent packing on the very first show, but, for once, America got it right. Maybe it's the advent of Twitter, maybe it's the judge-centric format, maybe human fun-suck Steve Jones just created so much animosity, that people had no problem voting out children. Whatever the case, I'm glad they're gone.
Speaking of simple text come to life Steve Jones, believe it or not, his presence caused me to Tivo through about 90% of the show. What I did notice was, him reading the results off a list, endless recaps of the previous night's show, and not much else. What fascinating television!
I did like the voting off wrinkle. I've always thought it best to let the judges make the ultimate decision. There are those rare cases where somebody great ends up on the bottom and it's nice to know that the judges have a chance to prevent those ridiculous early exits. So I look forward to that every week.
Other than that, these results shows seem like another 20-minute Tivo-through spectacular. No matter how many times somebody named Outasight says "tonight".
Let's get to the first edition of 'The X Factor' Power Rankings. Remember, these are listed in order of who is most likely to win, not who I like the most or think is the best.
Power Rankings:
1 – Drew
It just seems like the producers, the judges, and everything else shaping this show is setting her up as the breakout star of the series, and she just keeps delivering. She's set to steamroll the competition at this rate.
2 – Melanie Amaro
Eventually, the memory of Simon's "kicking her out" is going to fade away. Well, if he ever stops mentioning it, it might. It was  a shrewd move to make the best contestant the underdog, but it remains to be seen how long she'll enjoy that position and when there might be some Melinda Doolittle backlash coming her way.
3 – Rachel Crow
I'm sure she's America's Sweetheart. I have no idea why, but I'm certain of it. I don't think she quite has the pipes to pull it out in the end, but she's got a real shot due to the likability factor.
4 – Josh Krajcik
Everybody's favorite burrito maker  is the feel-good story of the competition and he's got some blowaway pipes too. If Nicole stops sticking him with crummy songs, he's a real threat to win it all.
5 – Marcus Canty
I think the top four are the only contestants with a real shot at winning, but if anybody's going to play spoiler, it's probably Marcus. In these singing contest shows, we haven't really seen anybody like Marcus since Justin Guarini – a real soul-pop singer with the ability to actually perform onstage. I think he's a bit out of his depth, though, against the top four.
6 – Astro
A real wildcard in this competition. Ostensibly, this is supposed to be a singing contest, but Astro doesn't sing. At all. He does, however, rap. And quite well. I've heard kids these days enjoy the rap music, so that could give him an edge nobody else has. It's more likely though that it will just turn him into a one trick pony that people tire of.
10 – Stereo Hogzz
Their bottom two was more a function of going first than anything else. I think th
 8 – Stacy Francis
It seems like she should be a stronger contender than this, but with all the crying and the very limited range, she feels like an also-ran at this point.
8 – LeRoy Bell
He's good. But he's old. The young girl contingent won't like that too much.
9 – Chris Rene
Another feel-good story, but unlike Josh, Chris can't really sing. Once the competition gets shallower, he's more likely to get exposed.
11 – Lakoda Rayne
It's pretty clear that Paula's not going to guide the groups to a win.