'The X Factor' Recap: Highs And Lows On No. 1's Night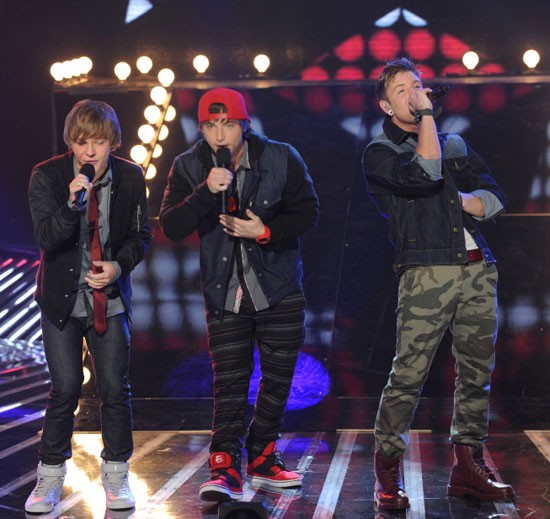 Tonight, I thought I'd have Khloe introduce the column. Take it away Khloe.
"Hey! I. I just wanted to…Hey!
(Walks to one side of the stage)
Simon!
Hey! I'm still here!
(Laughs for no reason)
(Talks over Mario)
(Laughs Again for no reason)
(Walks back to the other side of the stage)
Hey!"
Thanks, Khloe. Now let's get to the performances:
Diamond White Sang "I Wanna Dance With Somebody" by Whitney Houston
LA Reid Said: A for effort. B for execution.
Britney Said: I'd dance with you any day.
Demi Said: I really liked it tonight, but I'd like to see you bring more to it.
Simon Said: I think this was a really good and important performance. You are gunning for number one.
The Verdict:
This performance reminded me of that thing on 80s and 90s family sitcoms when one of the kids decides they have vocal talent and make a weird music video in the course of the show.
The singing is never terrible. It's passable enough to justify the family's overwhelmed reaction to the mall-produced effort, but it's certainly never good enough to make it into a recurring plot point. Then the singing is forgotten the next week.
That was about the level there.
Then the second half of the performance reminded me of somebody who loses the ability to sing, remember lyrics, or look comfortable at all on stage once the tempo picked up.
Oh wait. It didn't remind me of that. It's just that what it was.
Grade: D+
Prediction: Simon's praise is probably enough to help her overcome the leadoff spot.
Vino Alan Sang "You've Lost That Lovin' Feelin'" by The Righteous Brothers
LA Reid Said: I don't expect the other judges to support you because they're afraid you're a threat.
Britney Said: I feel like it's the same thing each week. You need to be freshened up.
Demi Said: You had a lot of soul in your voice, but I wasn't entertained.
Simon Said: At the half-way point, I thought: "This has got to end".
The Verdict:
Boring. Completely boring.
This never came close to rising above standard karaoke. Vino did nothing with the song whatsoever, and just sang it in his weird Vino-Everlast voice with as little flair as possible.
When your idea of performing is wearing a suit with a ten-cent necklace and making hand gestures, you're really not keeping anybody interested enough to not reach for borderline-rancid leftover pumpkin pie.
That's what I was doing during this performance.
Grade: D
Prediction: Vino has been a stalwart in the top three, but this week he is in deep trouble after a boring performance and a slam from all the judges. Including Britney!
Paige Thomas Sang "Never Gonna Give You Up" by Rick Astley
LA Reid Said: That was by far your very best performance.
Britney Said: This was a risk to take at this point in the competition, but it worked.
Demi Said: I saw more emotion than I have in past performances.
Simon Said: This is the first time you've looked and sounded like a legitimate pop star.
The Verdict:
This song was completely unrecognizable . Like a Rickroll of a Rickroll. And it worked so well it was staggering.
Paige Thomas morphed into Alicia Keys with a Rick Astley pop tart of all things. Gone was the window dressing and present was a slowed-down soul performance of a song that's become a complete joke.
This was so good, it's a shame that this song is what it is, because this new version should be a hit in its own right. Too bad Astley ruined it before she had a chance to make it great.
None of the pop culture stigma mattered to Paige though. She just came out and went soul diva all over this with a beguilingly smooth vocal and a track that any producer would cut their heart out to add to their next record.
It's amazing to see something like this on a talent competition show and even more amazing to see it from Paige Thomas.
Grade: A
Prediction: She's gotta stick around after that bit of brilliance.
Fifth Harmony Sang "Fighter" by Kelly Clarkson
LA Reid Said: I thought it was good, but I wanted groundbreaking.
Britney Said: I thought the song really worked for a group.
Demi Said: This was one of the best performance you've given, but the energy was sucked out of it.
Simon Said: What a fantastic performance you just gave!
The Verdict:
I want to get excited about this performance, but I just can't.
I recognized that this is a solid rendition of the song. I recognize the fact that the girls are finally singing as a group rather than taking turns and occasionally singing simultaneously. I recognize that there were some truly great moments in the arrangement here where the vocals sizzled almost as much as the ridiculous flaming background projected behind the group.
It was all there, but it just felt so pedestrian. Probably because they didn't do anything at all with the song, just group karaoke. Outstanding group karaoke, but group karaoke nonetheless.
Something. A new spin, and new track, anything to pull it away from just being Kelly Clarkson's original could have made this great because the group is clearly coming together into a force. It just wasn't there this time.
Grade: C+
Prediction: This one could go either way. It's just good enough to either squeak by or be ignored totally.