'The X Factor' Recap: Final 4 Semi-Finals Is Best Show Of Year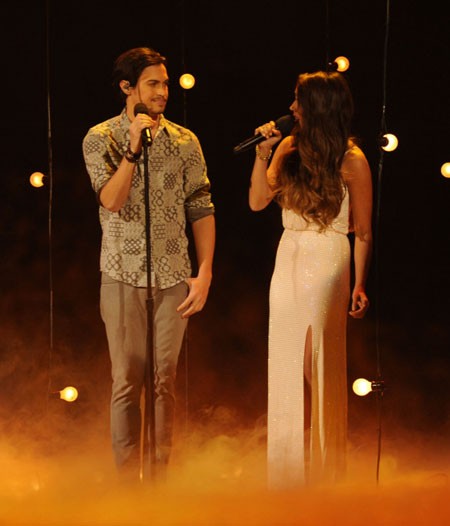 'The X Factor' is down to its final four contestants, and you know what that means: There's a lot of extra time to fill!
Last night, Simon Cowell's creation introduced us to something called the face-off round. Where two contestants competitively sang the same song at each other. Like a duet, but a competition. Like something out of West Side Story.
It didn't really add much to the show other than time and didn't really help determine who was the best contestant either. Pointless? Almost. At least it kept Alex and Sierra from singing "Falling Slowly" during a round that actually matters. Not sure how Simon let them not use that surefire trump card later down the line, but thankfully it's already been wasted.
So maybe the face-off wasn't all bad.
As for the parts that matter:
Carlito Olivero Sang "Boyfriend" by Justin Bieber
Kelly Said: Carlito, I am so incredibly proud of you. I have been waiting on that all season.
Paulina Said: All of the girls. We received the message.
Demi Said: That performance has star quality to it.
Simon Said: You're not the best singer, but you're a great performer.
The Verdict:
Carlito decides that it's time to rap. Not only rap, but Bieber rap. Saying swag. Saying swag more than once.
It's not much of a stretch for Carlito to fall into this type of song. He's definitely that sort of all-confidence pop star and that leather vest just seems to suit him right.
Issue is that this performance is just completely and utterly dull. Find the interesting moment here. You can't. Outside of him saying swag this is like a pop star final exam that put the judges to sleep.
Certainly this recapper.
Grade: C-
Restless Road Sang "That's My Kind of Night" by Luke Bryan
Kelly Said: That's exactly what y'all need to be doing.
Paulina Said: I need Zach and Andrew to be as good as Colton.
Demi Said: It didn't do it for me. It was fun but it was awkward.
Simon Said: This final would not be the same without you.
The Verdict:
This performance is just cheating. Restless Road singing country? Too easy! It's unfair. C'mon, America, pick a tougher song.
As expected, this is a solid performance. Nothing much to it. They trade off stanzas, sing the chorus in solid harmony, and look cute in the process. It's just a country boy band performance plain and simple.
Exactly what they invented.
Grade: B
Alex and Sierra Sang "Little Talks" by Of Monsters and Men
Kelly Said: Y'all just killed that, I can't even say.
Paulina Said: You come stronger each week.
Demi Said: I think I'm looking at the winners.
Simon Said: You're not performing songs, you're making records.
The Verdict:
Normally they're annoying, this time they're just boring.
Sierra's actually all right. She's got her hipster faux-jazz tone down solid here and the song actually makes sense for her. Alex in his backwards orange vinyl hat is another tale. He's got no voice whatsoever on this song. Super flat and just nowhere in Sierra's league. He's holding her back with his moustache.
Together though. They somehow really work. Once they started to sing together after the opening verse, some sort of magic took place. And it must be a spell, because I kind of wanted to hear more of it. I was kind of digging Alex and Sierra.
Good thing that's over.
Grade: B+
Jeff Gutt Sang "Hallelujah" by Leonard Cohen
Kelly Said: One word: iTunes.
Paulina Said: I love this version. I think you did amazing.
Demi Said: I think it's going to be you and Alex and Sierra.
Simon Said: That was one of the best versions I've ever heard of that song.
The Verdict:
Jeff goes for the hammer here. The Jeff Buckley version of "Hallelujah". It's become a cliché on these shows to have the rock guy do this song and Jeff picked the perfect time to go to the old standard as he's a bit out of his depth at this point on the show.
He does something a little different with it than normal as he brings his hair metal rock god into the arrangement. And it works. Surprisingly the Leonard Cohen poem isn't bad being sung by the winner of Making the Band: Quiet Riot, whenever they bring that show back.
Jeff succeeds in turning this song into an anthem and looks like he gets the whole audience behind him in the process.
Maybe more than just a wannabe rock star?
Grade: A-