'The X Factor' Recap: Final 4 Semi-Finals Is Best Show Of Year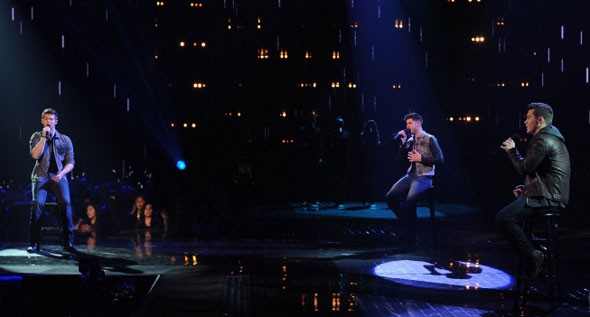 Carlito Olivero Sang "I Need to Know" by Mark Anthony
Kelly Said: Where you been hidin'?
Paulina Said: alskjflajf
Demi Said: Ay, Dios Mio. Muy Caliente!
Simon Said: It was kind of like a singing magic act.
The Verdict:
Why can't Carlito just sing a little bit better? Why can't his voice match is bravado? Why does he have to be so frustratingly close to greatness?
It's almost unfair. Carlito is a pop star. His look, his moves, his poise - everything is set for him to be a legitimate pop star. It's just his voice. It's not where it needs to be. It's so apparent on this song as it's the body of a pop star with the voice of a half-decent karaoke singer.
That's probably why he needs to come on 'The X Factor' to make it.
Grade: C+
Restless Road Sang "Wanted" by Hunter Hayes
Kelly Said: I just love y'all.
Paulina Said: Such an amazing improvement.
Demi Said: This is what you need to continue to do. This is incredible.
Simon Said: You saved the best til last.
The Verdict:
More country from the country boy band. No sense messing around at this point.
The kids can all sing this country tune, that's for sure. Not only that, they've learned to harmonize. They're turning into a legitimate act beyond just Cowell's Country Creation. As the competition is getting tougher, they're hitting their stride at the perfect time. This is one of their best performances. Their first that could really be a record on its own.
And the screams. The screams are still permeating the theater as they sing. These country folks got it goin' on.
Grade: B+
Alex and Sierra Sang "Gravity" by Sara Bareilles
Kelly Said: You're such a flower and I love watching women grow.
Paulina Said: You have the X Factor. I can see it from far far far away.
Demi Said: You sang it flawless. That was so beautiful and captivating.
Simon Said: I would like to just bottle the last ten seconds of that song and have it for the rest of my life. It was absolute perfection.
The Verdict:
Just when you want to like them they turn into some sort of hipster yacht rock parody. This was like The Carpenters in Echo Park on a Wednesday night drowning in PBR. Such weird elevator music from the depths of DUMBO as they try sound relevant and classic all the same.
And their vocals are just awful. Even the usually solid Sierra struggles to hit most of her notes. Meanwhile, Alex sounds like Seals and Crofts swallowed a cat. Not sure what he was trying to do but it was as annoying as it was creepily sweet.
This one just fell right to earth.
Grade: D
Jeff Gutt Sang "Demons" by Imagine Dragon
Kelly Said: lsdakjflasdjf
Paulina Said: What a great opportunity to express everything.
Demi Said: It's your time now.
Simon Said: An incredible song. An incredible performance.
The Verdict:
I think Jeff Gutt got the idea to sing this song by listening to ANY RADIO STATION AT ANY POINT IN THE DAY.
Despite the fact this song is more overplayed that "Royals", Jeff makes it sound new again. I almost didn't recognize it at first as he stripped it bear and built it back up into a rock anthem that's so much better than the original it's almost criminal.
Jeff made this song his own in a fashion that births great covers. And that's what this was. Not a version, a full on cover that took enough of the original to be familiar but became a massive stadium rock song under the care of somebody who's really starting to look like a rock star.
Standing O from home too.
Grade: A
Final Thoughts and Predictions:
Simon was right. This was probably the best show of the year. The first time a lot of these contestants really looked like they could end up stars. Particularly Jeff, who is looking like he's beyond this competition at this point.
So who goes home in the midst of all this? Well, Carlito, of course. Carlito's been near the bottom all competition, singing save-me songs more than taking a safe seat. Plus, he led off and is likely to get lost.
It will be a surprise to see Carlito in the final three, and a big surprise to see anybody else eliminated.