'The X Factor' Recap: Emblem3 Goes Home In A Shocker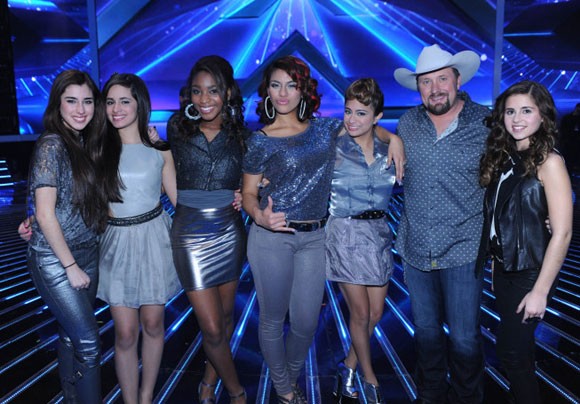 To me, this was the most shocking result I've ever seen in a reality show.
Yes, this was my own prediction, my own prediction from the very beginning to be exact, but just because it was mine alone, doesn't mean it was wrong.
After looking at the success of One Direction, it seemed to me that Simon Cowell and the rest of this show's producers were going to do their damndest this year to recreate that success with a boy group of their own. In Emblem3. they seemed to have that perfect group: A pop trio of cute boys who could actually deliver the musical and performance goods.
From the outset, they seemed poised to be created as the winners of this show. Simon Cowell as their guide was the perfect fit and he was clearly developing them into a group that could go on to be the American version of Drew Brees' favorite British quintent. That prediction came up one show short, and it hardly makes sense.
Especially after this week, when they really jelled as a true singing group and came across as recording artists rather than participants. It's a crazy week for them to go home after such strong performances, but apparently little girls and mad hatter tea parties were enough to derail what was clearly the hope of the show's creator and its producers: They wanted Emblem3 to emerge as big-time stars, but it never came together the way it should have, I suppose.
So of the remaining three. Who is going to take down the $5 Million? Sounds like it's time for the final power rankings.
1 (2) - Tate Stevens
With Emblem3 out of the way, there is nothing that's going to stop Stevens from taking down the $5 Million. The country niche is clearly stronger on this show than I realized, and he may have even transcended it at this point. It definitely helped him that he essentially said in last week's video that if he doesn't win his family will be destitute. He'll be the winner next week.
2 (3) - Carly Rose
The pint-sized wonder has hung tough this entire time, but I think Tate just has more going for him in terms of voters to trump his tweeny competition. At some point you have to recognize that voters have no reason to vote her the winner. She's 13! She doesn't need this. Tate is a middle-aged man and this is kind of his last shot. Carly Rose will lose out on the sympathy and that's going to see her settling for second.
3 (4) - Fifth Harmony
When they made the Final 13, I said they should change their name to First Out. Well, now they've offically made it to Last Out, but no matter the order, they'll be out all the same.