'The X Factor' Recap: Drew Ryniewicz Goes Home In A Shocker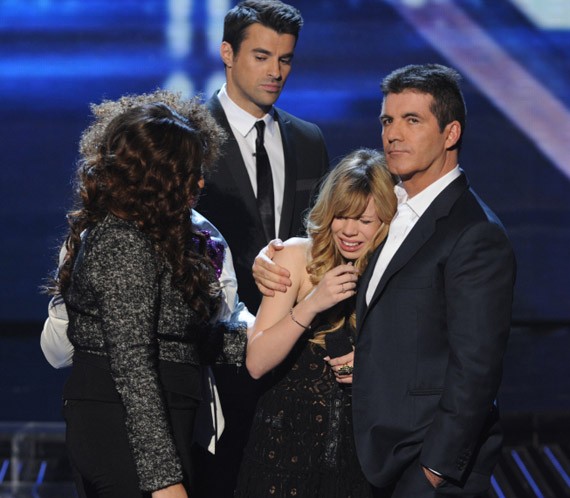 It's been a bad couple of weeks for the Molly Dewolf Swenson Scale.
One week after my favorite performer, Leroy Bell, bit the dust, my second favorite, Drew, left last night in a shocking result that didn't even seem possible after it happened.
Why? Because Drew seemed like the clear favorite and every single step of her elimination – being in the bottom three, having to sing, having three different judges send her home – were almost dreamlike. It was like watching a heavily favored NFL team get upset. You see the touchdowns, but they don't seem real as they're happening. That's what watching Drew get eliminated felt like.
It's a shame too. Not only was Drew my favorite contestant left, but she seemed like the only really unique talent on the show. Yes, Melanie has the big voice, but we've heard it before. Drew gave us a really cool jazz tone that sounded like it was coming from an aging legend – not a fourteen-year-old girl (which I still don't believe. Almonte, I say! Almonte!).
But Simon was right; Drew went home because of the way she was handled. We saw the same performance from her week after week and when it finally came time for her to show us something new (the Save-Me Song) the votes were out of America's hands. Instead, they were given to three judges who made a foolish choice in letting Marcus, who bottom-threed last week and will probably go home next week, stay in favor of someone with the chops to win.
I would have liked to see more of Drew, and I would have liked to see her finally given an uptempo song. I think she had a lot in store for us in the two-song shows, and now we've been robbed by Fric and Frac.
Oh, and Astro went home too, but I'm sure nobody's too upset about that. Let's get to the shaken up power rankings.
Power Rankings:
1 (Rank Last Time: 3) Josh Krajcik
He overcame his worst performance out of the lead-off spot and didn't suffer a scratch. Audiences must really love this guy. Also, this week, I got to thinking. The winner of this contest gets $5 Million. Are we really going to give one of the kids that much money? Doesn't seem that way.
2 (2) Melanie Amaro
She's got the big voice, but we've seen these types of singers fail over and over again in these types of competitions. Eventually the shine of her fake elimination is going wear off.
3 (4) Rachel Crow
The kid getting money theory is the only thing that's keeping me from putting her at the top. I think she just might win, but how do we give a 13-year-old all that money?
4 (6) Chris Rene
No matter how poor his singing or forgettable his performances, Rene just keeps skating by without even falling into the bottom 3. Now the competition's a little shallower, so I don't think it's going to keep working for him much longer. Though he does seem to have a solid fanbase.
5 (5) Marcus Canty
Two-straight bottom-threes and now the ire of Drew's fan base. I think he's gone next week.