'The X Factor' Recap: Double Dose Of Divas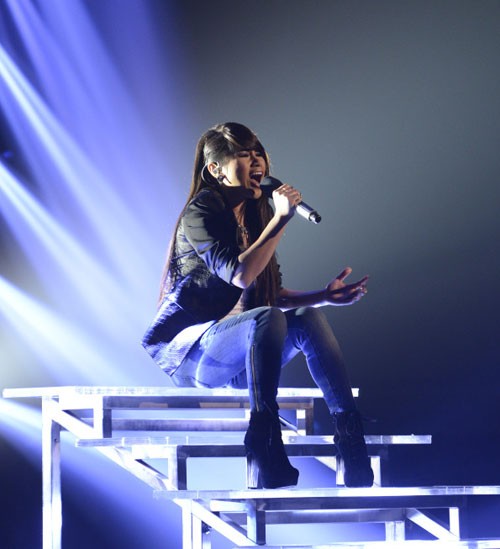 Ellona Santiago's First Song: "Applause" by Lady Gaga
Kelly Said: This was incredible.
Paulina Said: You're Ellona (that's why she makes the big bucks, folks)
Demi Said: You have the ability to take this competition.
Simon Said: You've gone from being a mouse to a little tiger. You're in it to win it (woah, dawg!)
The Verdict:
I don't know if I just got the wax out of my ears or everybody was right but me the first several weeks, but suddenly I'm totally onboard the Ellona bandwagon.
Her voice really is as big and diverse as the judges have been saying. She can flat blow and on this song she looks like a real diva on the faux-Red Carpet, but mostly in how she owns the song and the stage.
This is a star-making performance from somebody who is starting to look like the winner of this show.
Grade: A-
Ellona Santiago's Second Song: "If I Were a Boy" by Beyonce
Kelly Said: I think you should explore those softer tones just a little bit more.
Paulina Said: I love how you deliver. I love how passionate you are.
Demi Said: lasjflasjf
Simon Said: This is what we've been waiting for from you for a long time.
The Verdict:
Okay, so this song should be off limits for anybody on these shows. It's too good and the original vocal is too hot for anybody to really take on.
Ellona should have headed that advice that I just gave after it could have done her any good. She's just not good enough to sing this song. She can't put the original out of people's minds with an unplugged performance. It's too daunting.
She's fine here. She definitely exceeds karaoke. No real vocal issues other than that she isn't Beyonce. Sure, who is Beyonce other than Beyonce, but that doesn't mean you have to invite those comparisons - just an unwise song choice.
Saying that, she really did do about as well as she could have to shoot out of the hole in which she put herself. She just shouldn't have done it.
Grade: B
Alex & Sierra's First Song: "Say My Name" by Destiny's Child
Kelly Said: I was like, "Is this my song?"
Paulina Said: That spark of love. You have potential in the world to fill the space left by Sonny and Cher.
Demi Said: I felt like you were nervous.
Simon Said: I feel like I'm looking at winners here.
The Verdict:
What is happening here? I don't hate this performance. For once, Alex and Sierra aren't impossibly pretentiously hip. They actually sound like they're singing and feeling the song for once.
Unfortunately, they're still the worst of the night so far. Scratch that, fortunately they are because they need to go home four weeks ago.
Even on their best of performances, they're disjointed, horrifically pitchy and struggle to come together harmonically. This is as good as it gets for them, and it's still not much.
At least it wasn't horribly annoying.
Grade: C-
Alex and Sierra's Second Song: "Say Something" by A Great Big World feat. Christina Aguilera
Kelly Said: I feel like I was watching a performance on an awards show.
Paulina Said: You guys are edgy. You guys rock.
Demi Said: You guys playing instruments is magical.
Simon Said: This is my favorite performance of the entire season from anyone.
The Verdict:
Yikes. More honesty from these two. More real singing in a sea of candles. Sure, the dude's still got his ridiculous hipster hat and the chick's still got her fake tone going, but finally they seem more like musicians rather than people pretending to be musicians because it will make them look good.
Okay, that may have broke the limit on backhanded compliments. This was actually really good. Not just for this hipster duo, but for the world. That's really saying something for these two.
Grade: B+
Carlito Olivero's First Song: "Let's Get Loud" by Jennifer Lopez
Kelly Said: This fell flat for me, just a little bit.
Paulina Said: I am very proud for who you are.
Demi Said: You did a great job, but couldn't top last week.
Simon Said: I'd hate to lose you from this competition.
The Verdict:
Finally. After weeks of regression, Carlito skates through, makes the final six and turns back into the Starlito we saw in those initial shows.
I'm not sure what Pitbull is, but I think this is what he's supposed to be, right? A super-entertainer who just owns the stage and starts a party wherever he goes? That's what Carlito's doing as the stage turns into a South Beach club with him the ultimate Master of Ceremonies.
Solid vocal and even better performance as he holds nothing back and lets it all loose onstage like he was born to do this.
Grade: B+
Carlito Olivero's Second Song: "Stand By Me" by Ben E. King
Kelly Said: That was the best vocal I heard you do this whole competition.
Paulina Said: We're not going to lose you. That's not an option.
Demi Said: I wish there wasn't so much music in the background.
Simon Said: I'm really going to be upset if we lost you.
The Verdict:
Wow. Goodbye, Carlito. So long.
This was the type of performance that a band plays at a resort hotel in the after-dinner "party portion" that is just fun enough to make you ignore how watered-down your drinks are.
Worse than that. This is the guy who comes in and sings to an old folks' home and watches the oldsters shake just enough as to not break their hips.
So much for Starlito.
Grade: D
Final Prediciton:
Carlito's gone. That's for certain. He was the worst of the night and his begging for votes at the end and talking back to the judges isn't going to help at all. He's definitely out.
The second goner isn't so easy to determine. Restless Road is definitely safe because they are going to win. It's very hard to see them in sixth even after leading off and there's no way the judges would let them lose the save-me song. They're safe.
I want to say this is curtains for Alex and Sierra, but I've wanted to say that for weeks and Simon keeps helping them stick around. Rion was too good to go home, so the duo and little pixie should make the final four.
That leaves Jeff and Ellona. Neither has sniffed elimination, both seem very forgettable at times. Jeff pulled the military card last night while Ellona just rocked it. I'll take rocking over sympathy and say Jeff joins Carlito on the train home.
Though tomorrow seems ripe for a surprise.