'The X Factor' Recap: Double Dose Of Divas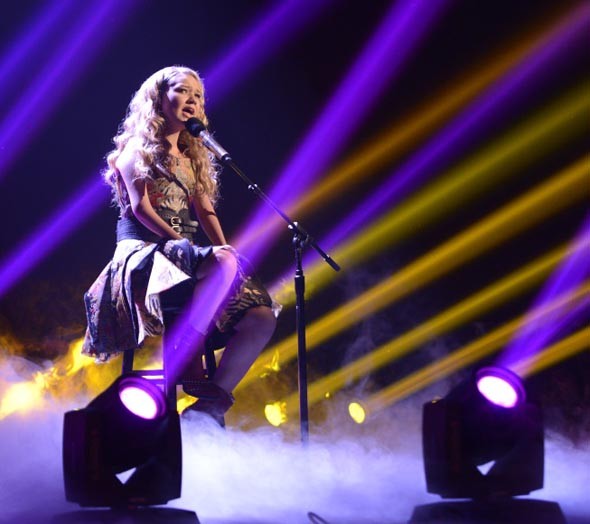 It was a double dose of 'X Factor' last night as each contestant had two cracks to make an impression on the judges and the voting viewers at home.
First, the contestants took on divas. Second, it was time for an unplugged performance where they unfortunately didn't unplug Alex and Sierra's mics. Too bad.
So who was up to the times-two task? Read on to find out...
Restless Road's First Song: "Red" by Taylor Swift
Kelly Said: You guys really worked out your diva song. Your vocals were really tight.
Paulina Said: I love the song. That was amazing.
Demi Said: I really enjoyed watching you guys grow as artists and musicians.
Simon Said: You guys have to be in the final.
The Verdict:
First off, it's important to note this is the best song off this album. Maybe Taylor Swift's best of all time. There. We're done.
Savvy pick from Simon here for his country trio. Super safe and super easy and they make it seem that way. As though they're not even trying. As though they're just singing along to the track together without any harmony or organization. Or musicality really.
At least the deep-throat kid got some screams when he did his solo. That was about the only part of this that wasn't a mundane disaster.
Grade: D
Restless Road's Second Song: "Wake Me Up" by Avicci
Kelly Said: You all meant every single word.
Paulina Said: I'm just proud to be here.
Demi Said: You're making me cry right now. That was so beautiful.
Simon Said: This is what I'd always hoped you'd end up being.
The Verdict:
Just when you thought you found a way to avoid hearing this song, here it is on 'X Factor'. Yay?
This song choice actually makes sense for Restless Road because it has the right almost-country/almost-pop flavor to really fit what they're trying to do as a country boy band. Plus its structure lends itself to be sung by a group.
Restless Road makes it a complete no brainer by delivering their best vocal performance ever on this song. Harmonies are finally there and not just present but completely pure and tight, with just the right amount of solos.
Bonus - we finally can understand the words to this song!
Grade: A-
Rion Paige's First Song: "See You Again" by Carrie Underwood
Kelly Said: You commanded presence like a diva would. It's always very genuine.
Paulina Said: I love the tone of your vocals Your voice is so unique.
Demi Said: Nobody has the fire like you do.
Simon Said: Not the best song choice.
The Verdict:
Never heard this song. Didn't really care for it. Didn't really care. Rion's just so good.
Rion has to be the least likely little teeny-weeny-ager on this show ever. Her voice doesn't sound young. Nothing about her plays young. She's got a huge maturity about her and a voice with decades of season in its sound. It's really quite remarkable.
This is another vintage Rion performance where she lets voice do the singing and the performing. Solid all the way through.
Grade: B+
Rion Paige's Second Song: "Glass" by Thompson Square
Kelly Said: Your vulnerability is what's so beautiful about watching you.
Paulina Said: You empower us.
Demi Said: Every word of that song is what you're about.
Simon Said: You just saved yourself on that second song.
The Verdict:
Wow. Just wow. A perfect acoustic performance. An absolutely stellar vocal. This is just a masterpiece of a talent show performance. Rion shows us how good these kids can be on this show with an astoundingly lived-in performance that lets us feel every inch of every word.
How is she thirteen again?
Grade: A
Jeff Gutt's First Song: "Without You" by Nilsson
Kelly Said: That was absolutely amazing.
Paulina Said: You rock. You remind me of Axl Rose.
Demi Said: You just showed you have the X-Factor.
Simon Said: You are quite boring as a person, but when you come onstage you completely transform.
The Verdict:
This supposedly counts as a diva song because Mariah Carey covered it. Even though it went to number one with Nilsson's version. Cheater!
Jeff does his Jeff thing by turning this into an industrial rocker with just enough hair metal thrown in to make it seem like he'll be in the touring company of 'Rock of Ages' next time around.
It's becoming a bit old hat and boring at this point to see him just do this over and over again. But when you got one move that works pretty well, you gotta keep going to it would seem.
Some variety would be much nicer though.
Grade: C+
Jeff Gutt's Second Song: "Daniel" by Elton John
Kelly Said: You should stay here and be in the semi-finals.
Paulina Said: You have your own personality.
Demi Said: It was good ,but it was a bit stale.
Simon Said: Vocally it wasn't as good, but the sentiment was strong.
The Verdict:
Here's the thing about this song. The original version is so horrifically bad, but the lyrics so great, that every subsequent version is much better than Elton John's. It's just math.
Jeff's certainly fits that mold and...wow! He actually breaks enough away from his alt-industrial-metal vocal stylings that we've finally got some range from Jeff.
And he can do it too. He can totally rock a nice acoustic ballad like this and sound totally authentic.
So he does have a bit more going for him.
Grade: B