'The X Factor' Recap: Breaking Down The Young Adults And The Groups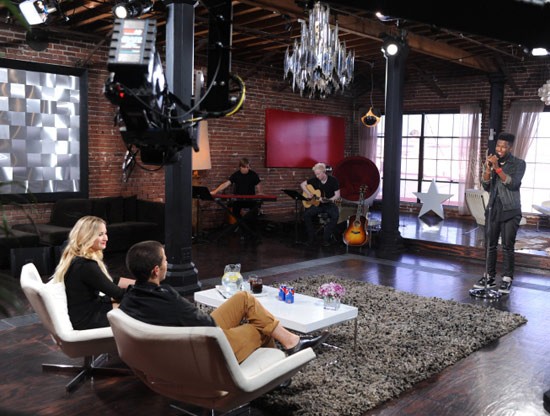 Even before I begin, this feels like a recap unfinished.
In a strange move, Fox decided to split the judges houses over two nights. Yes, this may have been because of this tiny little thing called the Presidential debates, and they're clearly trying to cram all the pre-Live Show eliminations in before the ALCS and World Series make things messy, but I can't help but think we'd have been much better off with one fewer episode of "Glee" than we are with this weird spacing problem. Especially when 45 minutes of last night's installment saw the quickest elimination show ever where the judges simply read the contestants' names.
Thrilling.
Still, it's recap time and even if this may seem half-finished, let's half-cap the groups and the odd 17-25 categories in the first half of the judges' homes round:
17-25:
Jennel
I'm not sure why the queen of vanilla made it this far. Her voice is unremarkable. Her look is unremarkable. Her…everything is unremarkable. And, believe it or not, her performance for the judges is unremarkable. She flashes a bit of a cool falsetto on "I Kissed a Girl", but, for the most part, it's just a karaoke performance from somebody with a  good enough voice to make you look up from your beer, but then look right back down when you realize her voice isn't going to give you anything beyond that first note.
Willie Jones
After forgetting his lyrics and being generally bad all through boot camp, I was amazed to see everybody's favorite Kid-N-Play/Garth Brooks move on to the judges's homes. Even more amazing was that he went for redemption on "Nobody Knows It" for his one shot in front of Ms. Lovato after butchering it during the little battle round. Most amazing of all, though, was that he absolutely slayed the song. He dropped a stick of vocal dynamite that showed an R & B upper register that we hadn't seen yet. Suddenly the likable kid seems he's got the chops too.
Jillian Jensen
I'm glad Nick Jonas said it so I don't have to. Jillian Jensen is sexy. Like smoking hot. And her voice, that sultry little rasp, it just adds to her whole vibe. She's the one I'm most hoping will stick around.
Nick Youngerman
I have to admit. I have no idea who this guy is. When they put him through, I'm pretty sure it was the first time I saw him on the show. Let's hope it's the last. He went for a bizarre cover of "Tik-Tok" that, if it weren't for a cool guitar arrangement, would have seemed like a complete joke. Actually it did anyways. I'm with Demi when she said he was probably annoying. He was.
Paige Thomas
Other than looking vaguely like Rihanna and losing battles to Leopard Face, nothing has really stood out about Thomas and that's probably because she's incredibly mediocre. Without the hoopla swirling around her performance, Paige was incredibly bland as she did her best to make us want to turn down her rendition of "Turn Up the Music". Something tells me they'll keep her around due to her weird rivalry with Leopard Face, but, despite her look, she's just not a star.
Leopard Face
As per usual, Leopard Face looked gorgeous, was incredibly annoying and absolutely slayed her song. This was a bizarre choice with "I'm Sexy and I Know It" by LMFAO, but perhaps it was just her way of showing see can sing anything. I think she can and I think she might be a star. She's definitely a lock to move on and be one of the first true villains we've seen on this type of show.
GROUPS
Playback
The first of the thrown-together solo groups, Playback features the blond faux-hawk kid, some rapper and four other people who made it their duty to stand in the background and not get in the way. They made a good decision as the rapper had some flair and Faux-hawk really sang the teeth out of a modernized Hall and Oates tune. The first formation seems like a wise one.
Emblem3
The douchey surfer dudes acted like douchey surfer dudes. Moving on…
Sister C
The group that Britney Spears memorably dubbed "annoying" did their best to shed that label. What they did instead was become a bit more fembotish than annoying. They've got the harmonies, the look and the voices, but they may as well have been mannequins, they were so stiff. Somewhere Steve Jones is doing nothing memorable in approval.
Lyric45
This is the matchup of everybody's favorite ridiculously self-important nickname Lyric Da Queen and the Duo One45. This one seemed inspired as Lyric's rhymes blended perfectly with R & B harmonies of One45. Marc Anthony thought she was a star. This seems like the best group of the bunch.
Dope Crisis
Read the name. 'Nuff Said.
Lylas
The last of the solo mashups sang like a bunch of solo artists. That weren't in a group at all. Their grand plan was to sit idly on stools and take turns singing, randomly overlapping and singing the last lyric together. Simon, Marc and all of America were appalled. They're the one of the twelve we saw last night that's sure to go home.
Check back tomorrow for the breakdown of the Teens and the Over-25s.