'The X Factor' Recap: Breaking Down The Final Three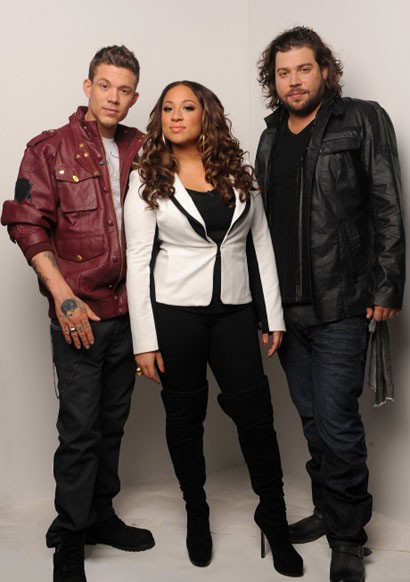 There are so many things I could write about last night's results show. I could write about the super-awkward group number. I could write about the Youtube clips of the contestants' families (seriously, they couldn't send out a real camera?). I could write about Florence & the Machine destroying the world and making Nicole Scherzinger look like an early-round cast-off by comparison. I could write about how I watched the entire show in about 17 minutes thanks to the power of DVR.
I could write about all that, but it doesn't matter because we have a final three! Let's break down their chances heading into next week's finale.
The Case For:
She's the best signer left by a considerable amount. She has the ability to absolutely go out and kill a song – nobody else can really do that. She has the best mentor in Simon and won't get steered wrong with lame song choices or overwhelming staging in the finale. Nobody but Melanie has a chance at delivering a truly "wow" performance next week.
The Case Against:
She's a girl. Voting in these shows has been dominated by young girls for what seems like the last half-decade. These young girls have demonstrated a continued preference for guy singers. Just look at how many of the superior girls went down in order on this show – It's clear the girls are in trouble with voters on this show.
Odds of Winning: 2-1
The Case For:
Strangely, he appears to be the most popular contestant on the show. Nobody gets bigger cheers. Nobody gets more buzz around the web. Nobody seems to skate by without a threat of a vote-out more easily than Chris. He has a big-time following.
The Case Against:
He's clearly the worst singer left. He can't really carry a tune and doesn't have the ability to really blow away the audience with his performances. Yes, he's got charisma to beat the band, but in this final it's not going to be enough. He needs to beat the other contestants. I'm not sure he has the talent to do that.
Odds of Winning: 3-2
The Case For:
His big growl of a voice has become increasingly the vogue vocal styling for rockers these days and he does it well. He seems more emotionally connected to his performances than the other contestants, and I think that feeling will be palpable with the audience. If it resonates through to the viewers at home, he has a chance to do something the other contestants can't.
The Case Against:
His mentor. I could see Nicole putting him in a dance number. Forcing him to rap. Giving him a show tune. There's nothing beyond the pale for this mentor. She just hasn't known how best to present any of her contestants and I worry about Josh's song choice. That and he can be kind of creepy. Creepy isn't good.
There you have it. The finals handicapped. Check on Thursday morning to see how they fared in the finals.