The 'X Factor' Recap: A Slugfest On The Finale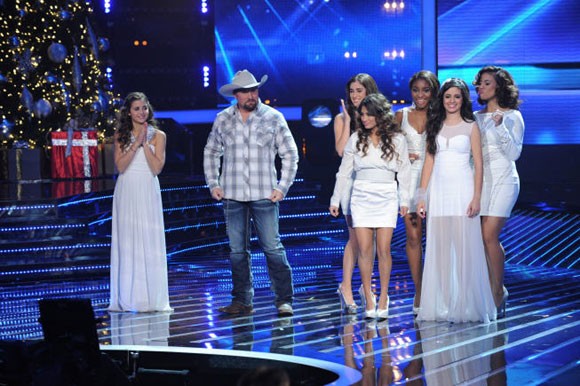 No intro today. Instead, donate to the Sandy Hook Relief Fund.
And now…Let's get to the recap!
Carly Rose's First Song: "Feelin' Good" by Michael Buble
LA Reid Said: You topped everything you did so far.
Britney Said: It's shocking how bright your star is.
Demi Said: You're going to inspire so many young girls to follow their dreams.
Simon Said: You sang it better tonight than you did the first time.
The Verdict:
I can barely watch this.
Ever since they started putting the sub-18s on these talent shows I just can't stand it: Little kids doing moves and attempting to have swagger like they're in their late 20s.
It's awkward. It's weird. It's creepy to watch them strut their stuff out there and try to sell an adult song like a pro. Kids should be singing kids songs on the Disney channel, not trying to kill a big number like this – it just seems out of context.
The other issue here is that the usually flawless Carly had so many flat notes on her vocal. It never reached where she was trying to get it to go and it all just sort of fell out in a bit of a mess.
It wasn't a bad vocal; it just wasn't up to her soaring standards. When you couple that with such an awkward performance, this is a dud to start to the show.
Grade: C-
Carly Rose's Second Song: "How Do I Live" by Leann Rimes
The Verdict:
Ugh. Who knew Carly could deliver such a horrible vocal.
Airless, lilting, no power whatsoever. She missed almost every note and with a power ballad couldn't even belt – her signature move.
At least she was better than Leann Rimes. I'm not sure what that was. She clearly didn't know the lyrics and sounded like a drunk yodeler yelling at her boyfriend at the end of a long night of karaoke.
Then they sang together and it sounded like two singers got into a car crash with a broken cassette tape skipping as their backing music.
Just three solid minutes of terrible.
Grade: F
Carly Rose Sang "Hallelujah" by Leonard Cohen
LA Reid Said: Was it a $5 Million winning performance? Not up to me. (Thanks)
Britney Said: Get out your checkbook, Simon.
Demi Said: You not only looked like an angel, but you sang like a ridiculously talented angel.
Simon Said: You looked great. Sounded great. Love that song. Beautiful Version.
The Verdict:
Carly had two choices here to bring the hammer: "Alone" by Heart or this song. She chose the drearier of the two and the results were…boring.
Carly's voice failed her tonight. She just didn't hit the normal Carly notes and she chose songs too big for her britches. She shouldn't be singing one of the most adult songs ever written about the failings of romance – how could she possibly be able to connect with something as mature as this?
She doesn't. It just seems out of place. Like why is this little kid singing this song? That's all I could think.
Even as her voice soared at the end to finally flash the Carly magic we'd seen all season, all I could think is that she has absolutely no idea what she's singing about right now.
And I have no idea why she chose this song.
Grade: C+