The 'X Factor' Recap: A Slugfest On The Finale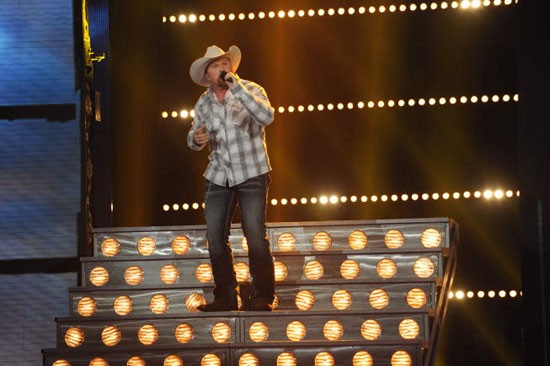 Tate Stevens' First Song: "Anything Goes" by Randy Houser
LA Reid Said: I thought it was good, but I wanted groundbreaking.
Britney Said: When you do right down-the-middle country, you are right on.
Demi Said: You turned that performance into a stadium performance. I'm obsessed with you.
Simon Said: You sang it brilliantly. You are Made in America.
The Verdict:
Every time I say Tate is a pro, and this time was no different, except that it was.
Tate was actually better than he'd ever been on this performance. He seemed more connected to the song than ever. His voice sounded purer and more solid than it ever has. He just nailed it on every level – a total country superstar without even trying.
I've never seen him this in the zone. It definitely wasn't a competition entry – it was a concert performance, and one that I'm sure most country fans want to see.
Grade: A
Tate Stevens' Second Song: "Pontoon" by Little Big Town
The Verdict:
When Tate introduced Little Big Town as his friends, didn't you just assume they'd just gotten off nine months on the road, where they opened for him?
Country pros with a country pro – this was a collaboration on the CMA Awards, not a contestant singing with a major recording artist – they definitely seemed like equals
Grade: B+
Tate Stevens Third Song: "Tomorrow" by Chris Young
LA Reid Said: You've consistently come out and delivered.
Britney Said: That was great. I always enjoy what you do.
Demi Said: I'm gonna miss seeing you perform on this stage.
Simon Said: In a year's time, we're going to hearing about your record sales.
The Verdict:
I've said it all year. Pretty much every single performance. Tate does not need this show. He's done already. He's a finished product. He's an absolute country star. He looks like one. He sounds like one. He performs like one.
He's ready to record a top 10 country record every year for the next twenty and he proved it every single time he picked up the microphone on this show.
This was just the superlative on top of all the superlatives.
Grade: B+