'The X Factor' Recap: A Pair of Shocking Eliminations + Power Rankings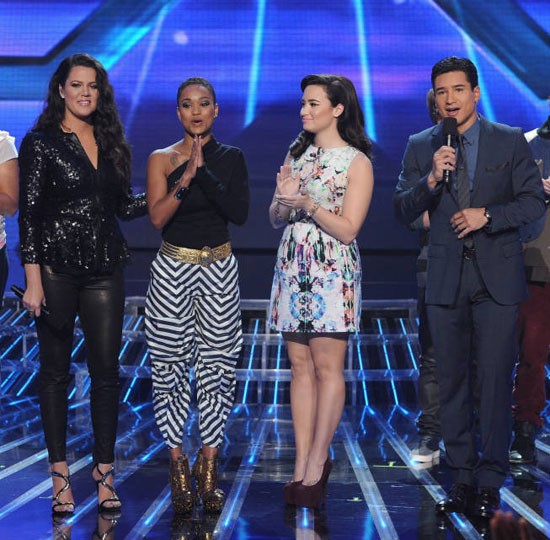 I never thought I'd actually care about a sing-off.
The contestants this year haven't exactly inspired much devotion from yours truly. Besides Leopard Face, they've mostly just been kinda there. No transcendent performances, no big-time charisma, nothing really appealing. Just contestants in a singing contest.
So I didn't feel a thing when I saw Paige Thomas get robbed after the best performance of the season so far. Didn't care at all. She's not a star. She doesn't deserve to win. Even if that performance was slick and cool, she was probably gone next week anyway. So good riddance.
Vino Alan was another story. He sang his teeth out in his save-me performance. He took advantage of a perfect song choice and just let his voice soar to the top of the theater. He made Diamond look completely amateurish by comparison with her breathy cabaret performance.
To see the judges go down-the-line against Vino was something of a travesty. Simon has said all year that they base their votes on that performance alone, and there was nothing to suggest Diamond deserved to stay more than Vino based on the sing-off. Vino got jobbed, simple as that.
At least he got to see a glimpse of his future with Josh Krajcik's boring mess of a creepshow performance. That was basically the best case scenario for Vino's career - a muddle dull every-song like that one. Maybe he should go back to violently overreacting when he considers his performances sub-standard - there;s at least some shred of entertainment in that future.
As for those who still have a shot to win. Here's this week's power rankings:
1 (Rank Last Week: 1) – Emblem3
This week, they got within 1% of the top spot and saw a pop performer and a dude singer go home – voting blocs they're likely to absorb on their way to victory.
2 (3) – Carly Rose
America' sweetheart is becoming a real threat to topple Emblem3 as she seems to outdo herself each week. She's going to need to be flawless to end up on top though.
3 (2) – Tate Stevens
I just don't see Tate's voting bloc growing as the competition thins out. Carly Rose and Emblem3 especially will pick up more voters, leaving Tate and his Cowboy hat riding far behind.
4 (8) – Leopard Face
She's officially a wild card at this point as there isn't anybody else like her left on the show. She flashed some of the huge voice we saw earlier with her performance this week and actually has the ability to kill a few songs in the next weeks and sneak up into the top 3. No chance of winning though.
5 (7) – Fifth Harmony
The second-best group is going to continue to get votes siphoned as the pool shrinks. They'll be lucky to make the semi-finals.
6 (6) – Diamond White
The second best kiddie has been falling in the standings each week and really seems to have no shot at winning this show.