'The X Factor' Recap: 17 Get Cut To 12 On The First Live Show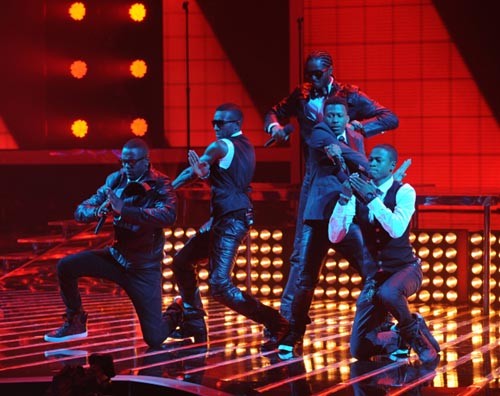 THE GROUPS
The Stereo Hogzz sang "Try a Little Tenderness" by Otis Redding
LA Reid Said: I must admit it was really good.
Nicole Said: That was foolproof and solid all the way around.
Paula Said: Thank you so much for working so hard.
Simon Said: Paula, you did a really good job. I love this band!
The Verdict:
This was a performance in too distinct sections. The section that featured the group's leader singing the song basically as a solo with some light harmonies underneath and some pretty nifty dancing around him, and the section where it broke down into some kind of strange hip-hop number.
I much preferred the former. Their leader has a great voice and could've easily made the top three in the boys group. That part was a great current R&B record, and considering they tackled such an old-school classic, that showed some real artistry.
I definitely could've done without the hip-hop portion which seemed like it came from a different group – one that belonged in a high school talent show, not on the pop charts, which is where the R&B portion seems to be headed.
Grade: B-
The Brewer Boys sang "Rich Girl" by Hall & Oates Mashed Up with "Faith" by George Michael
LA Reid Said: Paula, I got a sense this was a little bit outside your comfort zone. I don't know if I was blown away.
Nicole Said: As a teenager I would have had you all over your walls.
Paula Said: I think you nailed it. I'm very proud of you.
Simon Said: I thought it was very throwaway. This to me didn't shine.
The Verdict:
Good God if that didn't start out like a slow collision. Absolutely nothing good came of the Hall & Oates version. Poor solo singing, dissonant harmonies and just utter boredom.
This improved a little bit with "Faith" as there was at least an element of fun to what they were doing as the Kidz Bop dance troupe or something like that joined them onstage.
I have no idea what the ending was – with the weird bluegrass/Irish folk rock spin on Hall & Oates at the end. I don't understand why you'd sing a soul song like that. I don't really understand anything about this performance.
Grade: D
Intensity sang "The Clapping Song" mashed up with "Footloose" by Kenny Loggins
LA Reid Said: That was really impressive and thoroughly entertaining.
Nicole Said: You're like my little pumpkin patch of little pumpkins. (What?)
Paula Said: You rose to the occasion.
Simon Said: That was the equivalent of a music miracle.
The Verdict:
Look, I'm sure that everyone had a fun time watching the cast of High School Musical 27 waste about 2 minutes of my life, but I thought it was pure torture. Especially since several of the singers that got solos couldn't sing a note.
Grade: F
Lakoda Rayne sang "Come on Eileen" by Dexy's Midnight Runners
LA Reid Said: If the four of you walked into my office right now, you'd be signed to a worldwide recording contract.
Nicole Said: You make girl groups look good.
Paula Said: You made me really proud.
Simon Said: This is better than I could have thought.
The Verdict:
I thought I was going to start hating this performance the moment the song went up to the speed on the record, but once it hit that stride, I was blown away by how good their harmonies sounded. It actually got better in the part that seemed destined to be 30 seconds of corn.
Of course, I totally liked the beginning too. Loved the slowed-down country arrangement of a pop song, and completely dug how well they worked together and how they arranged the vocals.
I'm really looking forward to what they're going to do next. I just really liked everything about them, and if they settle into their pop/country wheelhouse, they're going to be really fun to watch.
Grade: B+
Paula's Final Decision:
While I couldn't stand Intensity for a second, I do think Paula made the right decision in cutting The Brewer Boys. There wasn't much going on there, and they didn't have much of a shot going forward.
Plus, I look forward to at least getting a good laugh out of Intensity every week. And, Vote For the Worst, I think you have your horse for this year's race.