'The X Factor' Recap: 17 Get Cut To 12 On The First Live Show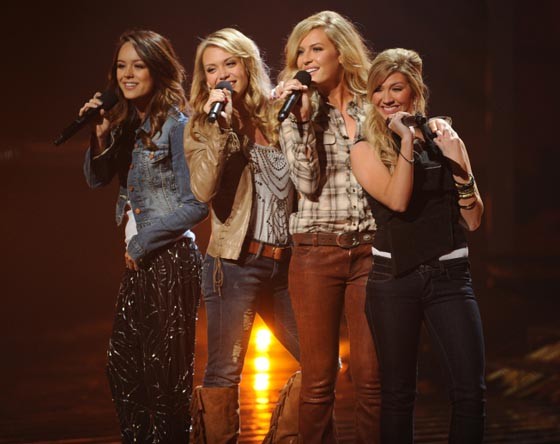 With 17 performances last night, 'The X Factor' was clearly all about the contestants and the judges, with little time for anything else.
I'll get to all that in a moment (to the tune of about 3,300 words), but before I do that I'm going to the unthinkable – defend human hat rack Steve Jones.
When I heard what tonight was going to be (17 performances with four eliminations) I didn't understand how they could do it in less than three hours. After all, the most we ever got from 'American Idol' on a two-hour show was 13 performances, and that went about 15 minutes over.
So how did they manage to get it all in? By having world-class pocket square model Steve Jones essentially yell at everybody to keep the show moving, cutting of contestants, judges and I'm sure performances if he could have.
It was a completely thankless job and he actually managed to do a pretty good job keeping the show moving at a tight 150 minutes.
I guess we've found a use for him after all – as a jerk holding the same function as the music on an Oscar telecast.
Anyway, enough of that. Let's get to last night's show!
THE BOYS
Astro sang "Jump" by Kriss Kross
LA Reid Said: That was amazing.
Nicole Said: I couldn't think of a better way to kick off live performances.
Paula Said: This is what you're going to be doing for the rest of your life.
Simon Said: You've just come out on this stage and killed everybody.
The Verdict:
I don't know that there's anything I didn't like about this. Astro came out with enough swagger to start at Wide Receiver for any NFL team and still have enough left over to think he had a shot hitting on Scarlett Johansson.
I loved the way he worked the crowd, I loved the way he added his own lyrics, and I was absolutely impressed by his ability on the mic. This is a kid with a great flow who can really rap, changing up rhythm and absolutely slaying the mic.
I really can't find anything wrong with it, even if I still find him bratty.
Grade: A
Chris Rene sang "Love Don't Live Here Anymore" by Rose Royce
LA Reid Said: I'm very impressed. You did a great job.
Nicole Said: I don't know that I would've picked that song for you.
Paula Said: I wish you the best of luck. (About as critical as Paula gets)
Simon Said: I don't think you're the one of the best singers in this competition, but you're one of the best recording artists in this competition.
The Verdict:
One thing was abundantly clear about five seconds into this performance – Chris can't really sing. He was flat almost the entire time and had absolutely no bottom on his voice. At times, you could barely even hear him over the backing track. There's just no oomph there on stage.
Having said that, he does handle the rhythm and melodies of the song very well. I also enjoyed the arrangement. He stripped it down and put some flavor on it – kind of like a Ryan Tedder record – which seems like the type of artist this guy could be.
I feel like there's something there, but we didn't really see it in this performance.
Grade: C
Phillip Lomax sang "I'm a Believer" by The Monkees
LA Reid Said: lajgljasgljdsg
Nicole Said: That was amazing. You were radiating up there.
Paula Said: You did it mighty fine.
Simon Said: Tonight you were like a racing driver put into a tractor. It was too cheap and cabaret.
The Verdict:
Kudos to Phillip for stepping out of his comfort zone and not doing a swing revival song. Instead, he went with some ancient pop rock (though more of the atrocious Smashmouth version than the original) in what I assume is some attempt to gradually evolve into something modern by the end of the show.
He probably should have stopped his evolution before this point. This performance was a total Cruise ship act. Between the go-go dancers, the ridiculous suit and the cheesy fireworks, there wasn't anything about this that seemed like a star-making performance. Or even a mediocre singer-making performance.
Plus, there was the small problem that he didn't really sing. He just sort of screamed the song as he tried to overcome the corny backing track and all the cheese being processed around him. There wasn't much in this performance to get behind.
Grade: D
Marcus Canty sang "Do You Really Want to Hurt Me?" by Culture Club
LA Reid Said: You know I love you man.
Nicole Said: You just make it look too easy.
Paula Said: I feel like I've been watching a veteran on stage.
Simon Said: You gave it everything I would have wanted.
The Verdict:
Here he is! The contestant who I've been pretty sure is nothing more than a figment of LA Reid's imagination, as I don't remember seeing him at any point in this competition.
Here he put a cool New Edition-esque soul spin on the Culture Club standard and worked the stage like he's been sitting here on the finals the entire time, just waiting to pounce – maybe that's where he's been this entire time.
There were a few iffy spots with his vocals, but it wasn't anything too damning, and those were smoothed over by the cool radio-friendly R&B voice he flashed throughout. It's too bad this was the first time I got to see him.
After this, I think I may remember him.
Grade: B+
LA Reid's Final Decision:
We're one-for-one on the judges' decisions as LA Reid sent Phillip Lomax out. He was clearly the weakest of the boys and the one who didn't really have a shot at making a contemporary record. He went out with class, so it's hard to gloat in it, but I've been anticipating his early exit this entire time.