'The X Factor': Meet The Final 40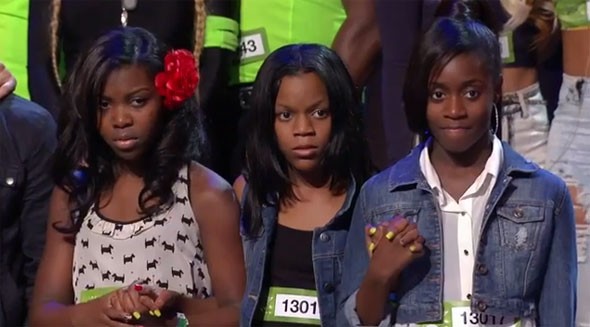 In a season that's trying its best not to make 'The X Factor' look like 'The X Factor', last night's episode just completely dismantled the whole show into something completely unrecognizable.
Firstly, there's not going to be any boot camp this year. No battles, no judges' homes. Nothing. It's just a big skip straight to performing back in the arenas. Something called the Four Chair Challenge - a blatant rip-off of 'The Voice' (it appears) as it seems this show is sharply focused on getting down to the live show roster as quickly as it can.
Or drag it out with its Four Chair Challenge for half the season. It will be one of the two.
Either way, RIP Boot Camp. RIP Judges Homes. It's a totally different show this year. Better? That all depends on those four chairs it seems.
But that's not all that happened last night. Because the show is so different this season, we also got the complete top 40 already last night. No second chances. No more singing. Just a quick and brutal cut-down based on the initial audition. If there's any illusion remaining that the judges actually pick the contestants rather than the producers, it was shattered by that cut-down: Do we really think the judges remembered all these singers from several cities well enough to make decisions between them? Doubtful.
No matter how they were chosen, here are the groups and how they break down:
GIRLS:
Khaya Cohen
Bree Randall
Jamie Pineda
Simone Torres
Rion Paige
Danielle Geimer
Rylie Brown
Primrose Martin
Ellona Santiago
Ashly Williams
Mentor: Demi Lovato
A good mentor and a good selection here. Last year, Demi took a really terrible group of girls and actually made them competitive for a half-second before the competition caught up with ol' Leopard Face and she ended up a judge rather than a mentor.
This year, she's got a lot more talent to work with headed by Danielle Geimer and Khaya Cohen who each have real chops and unique voices to add to the show.
Demi would be wise to put them through. If that's even her decision.
BOYS
Carlito Olivero
Chase Goehring
Timmy Thames
Isaiah Alston
Tom Olstad
Al Calderon
Josh Levi
Isaac Tauaefa
Carlos Guevara
Stone Martin
Mentor: Paulina Rubio
Simply based on their mentor, it's hard to make much of a case for anybody in this group. It's kind of like Britney from last year (CarlyRose notwithstanding) and Paula from season one: Paulina does not seem ready to put together any sort of roster or group of performances o challenge the other judges' crews.
Since Tom Olstad is the only guy I remember (and also has no chance of moving through since he doesn't have "T he Look",) there's even less hope for any of the dudes.
Enjoy Stone Martin, everyone.
OVER 25s
Lillie McCloud
Jeff Brinkman
Rachel Potter
Kristine Mirelle
Victoria Carriger
James Kenney
Allison Davis
Denny Smith
Lorie Moore
Jeff Gutt
Mentor: Kelly Rowland
Kelly's got herself a fan favorite in Jeff Gutt, one of the best auditions in Jeff Brinkman and an absolutely talent in Lorie Moore.
That's all well and good, but it doesn't really matter because Kelly also has...SANTA CLAUS! Well, actually Denny Smith a rockin' pastor who sound like an old blues man and looks exactly like Jolly Old St. Nick.
It's a longshot for him to get through, but if he does, you'd have to think a Kris Kringle doppelganger has a shot at winning a lot of votes from the public.
If there's ever a wild card for a show like this, it's certainly Santa. Take note, Kelly.
GROUPS
Glamour
Good News
Yellow House Canyon
Alex and Sierra
Roxxy Montana
Wild Thingz
Girls United
Country Guys (formed by judges)
Little Kids (formed by judges)
Trio of Girls (formed by judges)
Mentor: Simon
Again, SImon gets the groups. The producers really are desperate to find an American One Direction out of this show and Simon may just get the groups until either it happens or the show gets cancelled.Bet on the latter.
There's certainly not a One Direction coming out of this mediocre bunch. Maybe he's right and there is a hole in the market for this country boys and they seem like a lock for the final four, but nobody else from this list seems like they have a chance of making the final five.
The big shock is that AKNU, the best group from the audition rounds, didn't make the cut. I'd give these groups a much better chance if they'd let them in, but instead they producers seem content with a nice parade of the half-lame.
Good luck, Simon.
Check back next week when we recap the...FOUR CHAIR CHALLENGE!